Stable collection 1917–1991: treasure collection of the John Oxley Library
By Lynn Meyers, Specialist Librarian, State Library of Queensland | 14 October 2021
During the First World War, military conscription was a topic of fierce debate across Australia. Fervent pro-conscription advocate Prime Minister Billy Hughesopen_in_new ordered referenda in October 1916 and again in December 1917. Both referenda were defeated, the topic of conscription polarising the nation. Queensland's Labor Premier Thomas Joseph (T.J.) Ryan was the only State premier to oppose conscription. He was widely acknowledged as a leader of the anti-conscription movement, announcing his position in a speech to Parliament in November 1917.
Portrait of The Honourable Thomas Joseph Ryan, leader of the Queensland Labor Party from 1912 – 1919. Negative number 109574, John Oxley Library, State Library of Queensland.
State Library of Queensland holds several collections providing insight into the complexity and divisiveness of the conscription debate, but the Stable Collection 1917-1991 is considered a treasure among them.
Queensland's Captain Jeremiah Joseph (J.J.) Stable (1883 -1953) had been appointed the Commonwealth Government Senior Assistant Censor at the time. On 27 November, during the height of the 1917 referendum campaign, Prime Minister Billy Hughes instructed Captain Stable, under the provisions of the War Precautions Act, to enter the Queensland Government Printing office and seize all copies of Hansard no. 37 because it contained Premier T.J. Ryan's un-censored, anti-conscription speech delivered in the Queensland Parliament a week earlier on 22 November.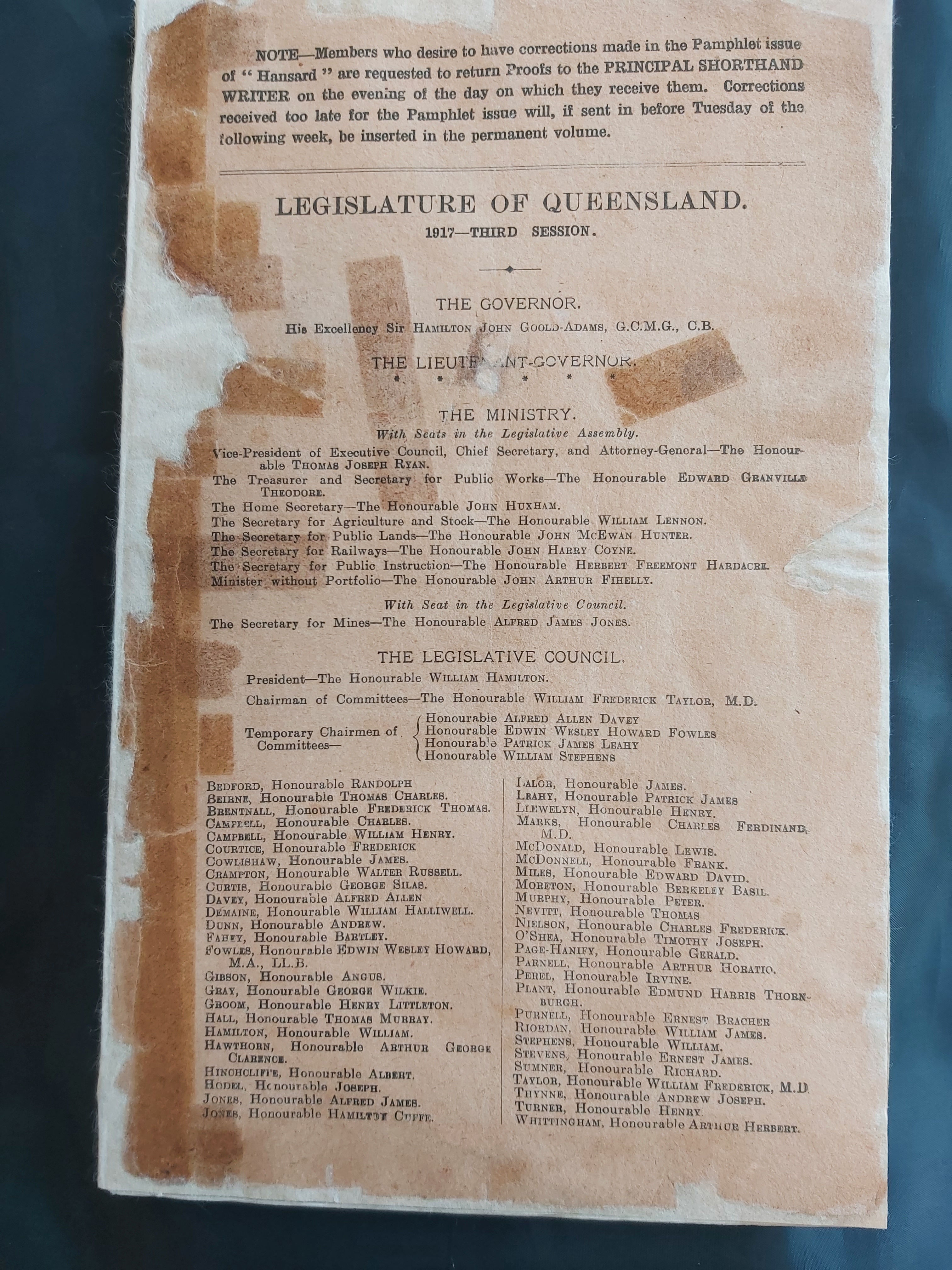 The Hansard no.37 Queensland Parliamentary Debates preserved among J.J Stable's personal papers held by the State Library of Queensland.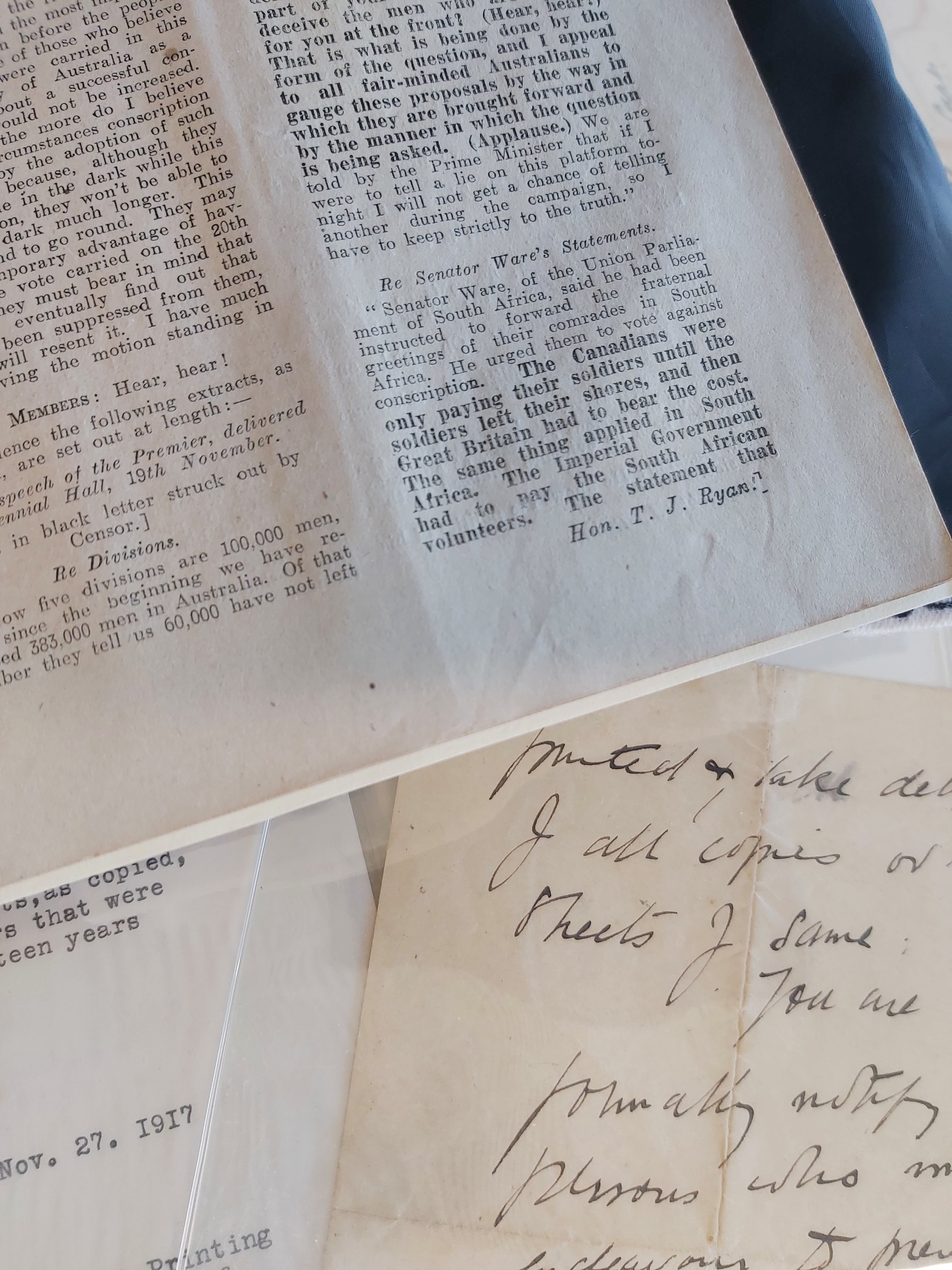 Queensland Premier T.J. Ryan's speech recorded in Hansard no.37 and handwritten letter addressed to Captain J.J.Stable by Prime Minister Billy Highes. Photo by State Library.
Accompanied by a cohort of soldiers from the Victoria Barracks, Stable ensured the destruction of all but three copies of the publication.
The J.J. Stable collection, comprising the handwritten letter from Prime Minister Billy Hughes, other correspondence, memoranda, newspaper clippings and a surviving copy of Hansard No. 37 is held in the library's Rare and Restricted collection.
Visitors to the John Oxley Library Reading Room can request to view the material from the Level 4 desk on weekdays - Monday to Friday only.
Professor Jeremiah Joseph Stable, lecturer in English and former member of The University of Queensland Senate. Fryer Library, University of Queensland Photograph Collection, UQFL466 AH_P_48open_in_new.
After the war, Stable resumed his academic career at the University of Queensland. In 1923 he was appointed the McCaughey Professor of Modern Languages and Literature. He served as Dean of the Faculty of Arts for seven years and Dean of Commerce for six years. Source: Australian Dictionary of Biography, Vol. 12, 1990open_in_new.
Lynn Meyers, Specialist Librarian, State Library of Queensland
Collection:
Postscript:
Read about other treasure collections from the John Oxley Library
Comments
Your email address will not be published.
We welcome relevant, respectful comments.