Today's opening hours
| opening hours | mon | tue | wed | thr | fri | sat | sun |
| --- | --- | --- | --- | --- | --- | --- | --- |
| Infozone (level 1) | 9am–5pm | 9am-5pm | 9am-5pm | 9am-5pm | 9am-5pm | 10am-5pm | 10am–5pm |
| State Reference Library (level 3) |  9am–12pm and 1pm–4pm |  9am–12pm and 1pm–4pm |  9am–12pm and 1pm–4pm |  9am–12pm and 1pm–4pm |  9am–12pm and 1pm–4pm | 10am–12pm and 1pm–4pm | 10am–12pm and 1pm–4pm |
| John Oxley Library (level 4)  | 10am–1pm and 2pm–5pm | 10am–1pm and 2pm–5pm | 10am–1pm and 2pm–5pm | 10am–1pm and 2pm–5pm | 10am–1pm and 2pm–5pm | 10am–1pm and 2pm–5pm | 10am–1pm and 2pm–5pm |
| The Edge |  - |  - |  - |  - |  - | - | - |
| Library Shop | 10am-5pm | 10am-5pm | 10am-5pm |  10am-5pm | 10am-5pm | 10am-5pm | 10am-5pm |
Contact us
Location

Cultural Centre, Stanley Place, South Bank
South Brisbane, Queensland
Telephone
Online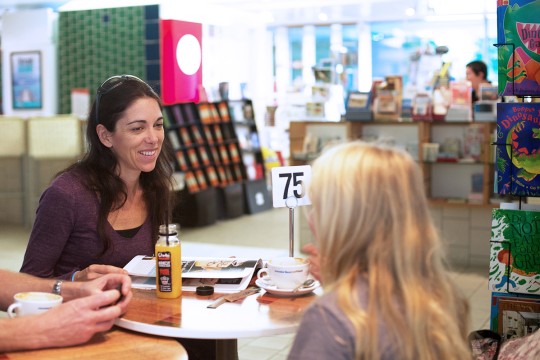 Part of the Mantle & Cook Group, the Library Cafe offers a range of delicious dishes for young and old that show style, taste, and vision. Using the freshest ingredients, The Library Cafe brings a unique cutting edge in flavours and style to its menus while promoting a combination of seasonal local and Australian produce.
Everything in the Library Shop has been carefully chosen for you by our knowledgeable and experienced staff who are delighted to help you find what you need. 
What's on
Explore events, exhibitions and workshops at the State Library.