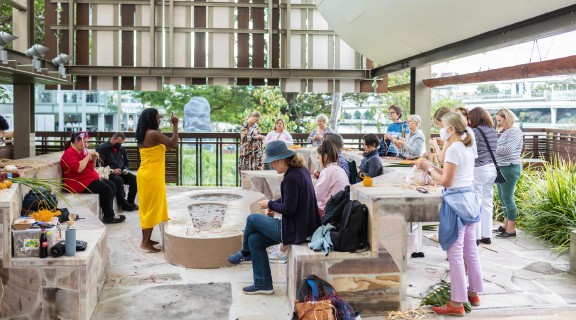 State Library of Queensland collects, preserves and shares the documentary heritage of Aboriginal and Torres Strait Islander people across the State. Through consultation and collaboration, the State Library's collections serve as a central point of access and programming, including exhibitions and showcases, family history workshops, language research, and contemporary storytelling.
Aboriginal and Torres Strait Islander Languages
Aboriginal and Torres Strait Islander languages are storehouses of cultural knowledge and tradition, but sadly these languages are endangered to the point that many of them may disappear in the next few decades. In Queensland, over 100 Aboriginal and Torres Strait Islander languages and dialects were once spoken. Today around 50 of these remain spoken (in varying degrees), with less than 20 being used as first languages.
Language is intrinsically linked to Indigenous peoples' way of life, cultures and identities. The use and expression of language brings meaning to cultural heritage and articulates the intricate relationships between Indigenous peoples and their connection to their land and community. In 2019 State Library celebrated the United Nations' International Year of Indigenous Languagesopen_in_new and we look forward to building on this legacy during the International Decade of Indigenous Languages 2022-32.
Check out the Indigenous Languages blog or find out more below to explore the Aboriginal and Torres Strait Islander language activities and resources.
Vicki McDonald, State Librarian and CEO attending the Indigenous Languages Research Discovery Workshop in the Talking Circle, kuril dhagun, June 2019.