The Ron and Ngaire Gale Photographic collection: Treasure collection of the John Oxley Library
By Tom Jordan, Queensland Memory | 29 November 2021
In 1980, International trade and Public Relations consultant Ron Gale and his wife Ngaire left their Sydney lifestyle to retire in the heat and tropical humidity of North Queensland.
But when they got there, Ron and Ngaire found the beauty and vibrancy of the Far North too compelling to spend their days relaxing, gardening, and playing lawn bowls as one may do after a busy career.
Instead, the couple developed an interest in recording the dazzling whites and greys of the harsh saltpans in the Gulf of Carpentaria, the lush greens of the rainforests, the rich reds and rusty browns of the dry outback, and the brilliant peacock-blues of the Great Barrier Reef. To do this they taught themselves the art of landscape photography- a practice neither had much interest in before moving up North.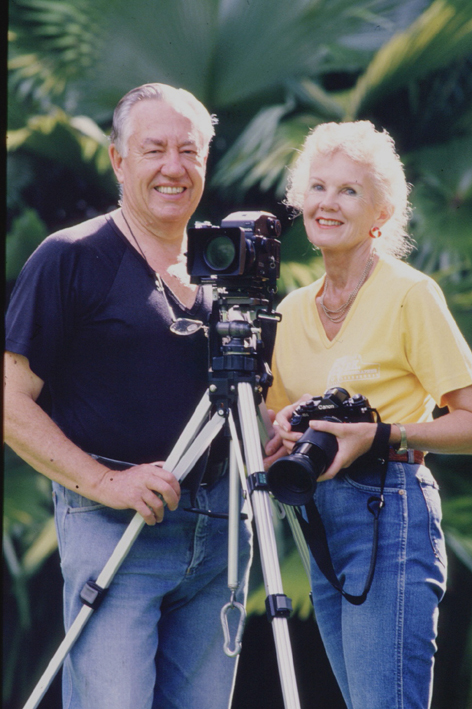 Ron and Ngaire Gale pose with a 35mm and a medium format camera, 1986
Ron Gale, born in Gunnedah, New South Wales in 1928, met Ngaire in Wellington, New Zealand. They were married in Sydney in 1950. After a brief stint in Adelaide, and 25 years based in Sydney, they travelled extensively to China and South Korea through Ron's work as a trade and public relations consultant. According to an article in The Daily Sun in 1985, Ron was the first person to organise a tourism television commercial featuring the Great Wall of China.
The couple moved up from Sydney after Ngaire was advised by her doctor that she should live in a warmer climate. By the time they arrived in Cairns around 1980, Far North Queensland was entering into an international tourism boom. The Far North Queensland Promotion Bureau had been formed in 1978, signifying a change in focus from the agriculture and forestry sector to the tourism sector and destination marketing. The Cairns International Airport, completed in 1984, allowed overseas travellers to bypass Brisbane and fly direct into North Queensland. Serious investment in tourism infrastructure was led by Japanese investors who built hotels and expanded the reef boat fleet.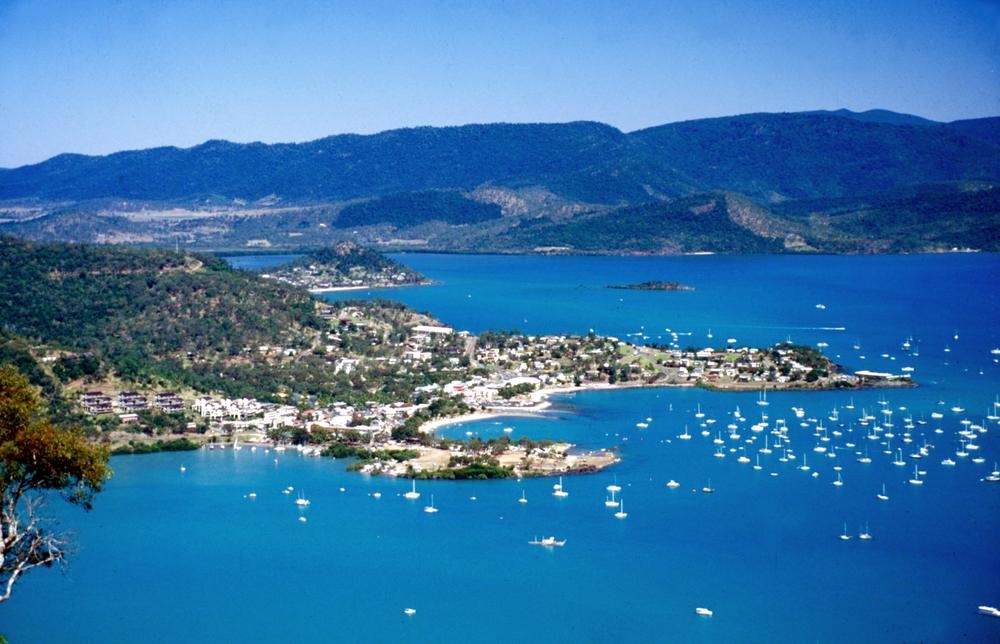 Aerial view of Airlie Beach, 1985
As experienced business-savvy PR professionals, Ron and Ngaire recognised opportunity early on. Armed with 35mm and medium-format cameras, a keen sense of adventure, and a natural flair for entertaining and informative travel writing, the Gales began working on their contribution to this new, tourism-focussed Far North.
The result was three publications highlighting the best that Far North Queensland had to offer: Cairns, Cape York and The Gulf; Townsville: Gateway to the Tropical North; and Australia's Whitsundays, all published in 1986.
Ron and Ngaire Gale tourism books trilogy
The project was all-consuming for Ron and Ngaire. Over a period of five years starting in the early to mid-1980s, they took approximately 50, 000 photographs in their quest to capture on film the unique and visually exciting contrasts of Tropical Queensland. A significant portion of the photographs make up the bulk of the Ron and Ngaire Gale collection held at State Library.
For Ron and Ngaire, it wasn't only the 'steak' of the photo they were looking to capture. They were also motivated by the 'sizzle', combining the beauty, and the magical qualities of light, mood, and charisma of each scene. Their photos captured the unique aspects of each region and highlighted the contrasts and diversity in each environment.
Cairns to Port Douglas Road, Queensland, 1985.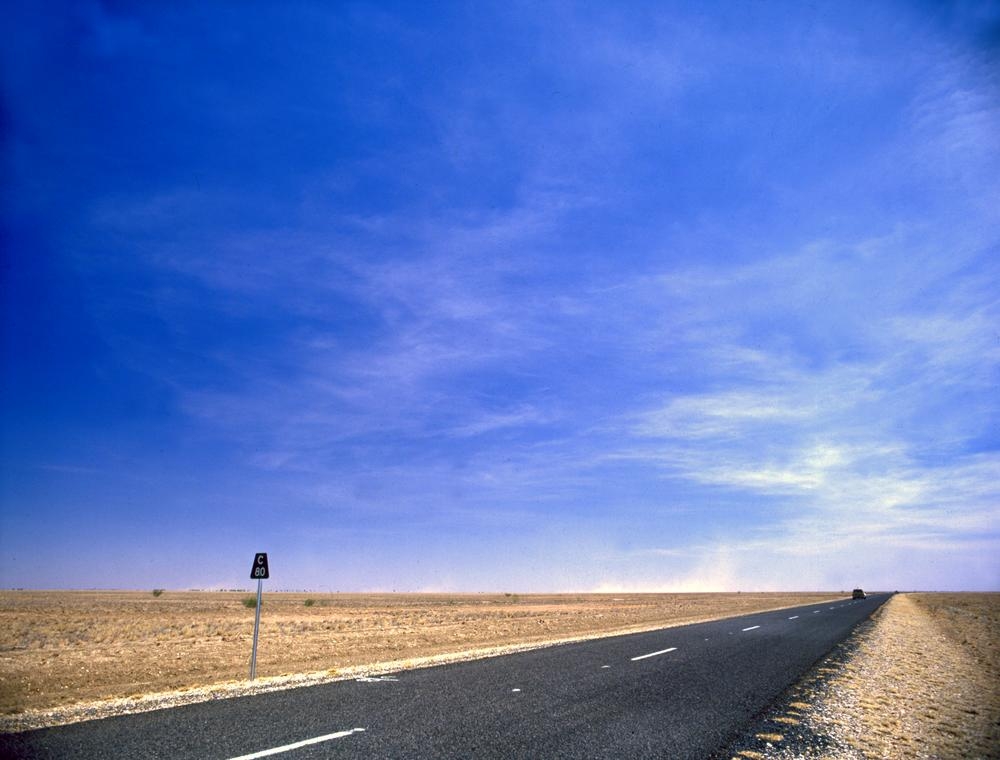 Incredible blue skies above the road 80 kilometers from Cloncurry, 1986.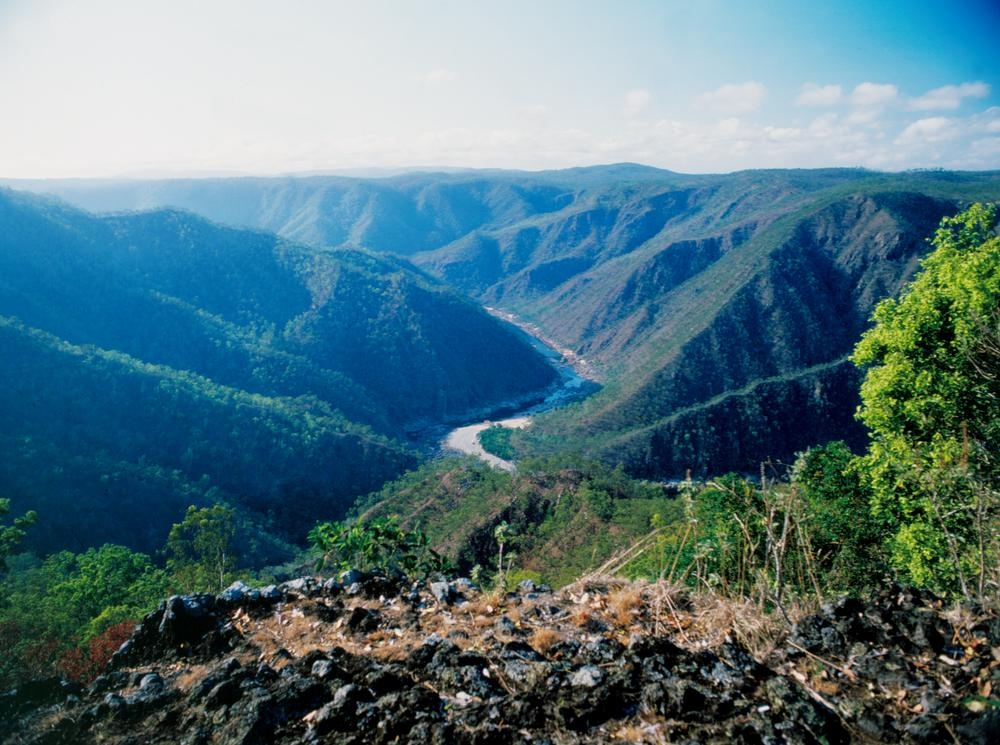 Panoramic views of the Herbert River flowing along the Herbert Gorge, 1986.
Ron described his photography as attempting to capture the light at the split second that it could not be repeated.
"
The majority of our shots are one-offs simply because you can go back the next day with all the same conditions but the exact picture you wanted will be gone.
Ron Gale, Whitsunday Times, 1990.
This quest for the perfect picture where ever they went led to the large amount of photographs they took.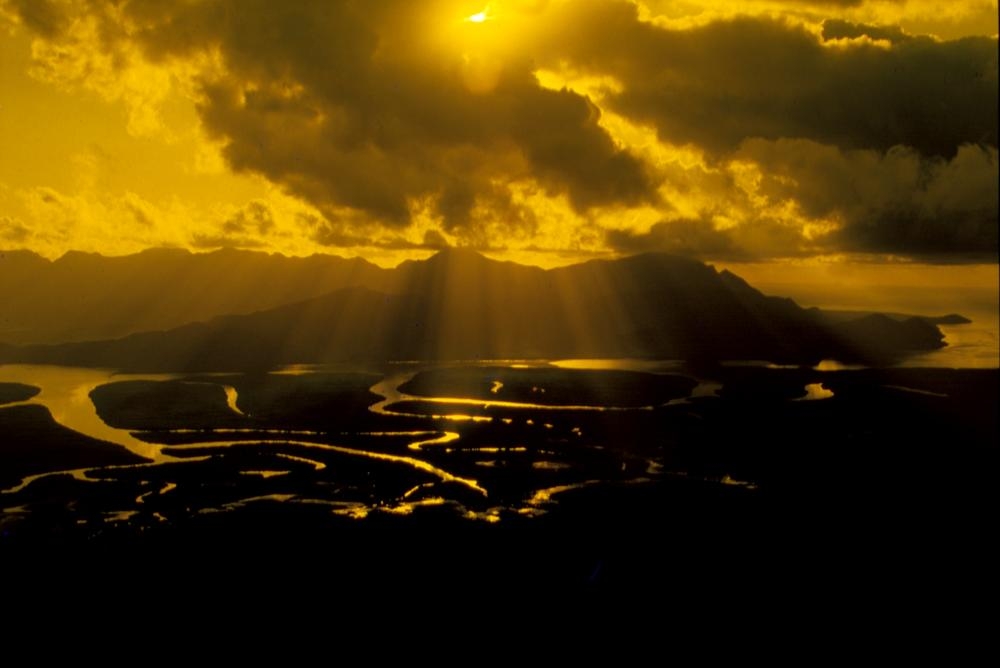 Sunrise over Hinchinbrook Island, Queensland, 1984.
The Gale collection also includes images Ron and Ngaire captured for other projects. Several photographic slides were taken during an archaeological dig in a remote area of the Gulf. Ron and Ngaire were attached as photojournalists.
The newspaper clippings and files included in the collection (7965) provide context. Among the images are photos of an RAAF Iroquois Helicopter transporting rocks containing fossils to and from the dig site. A single image of the inside of a Flying Doctor Service aircraft may seem mysterious until one reads that Ron sustained a head injury on the dig, prompting an emergency airlift to Mt Isa hospital.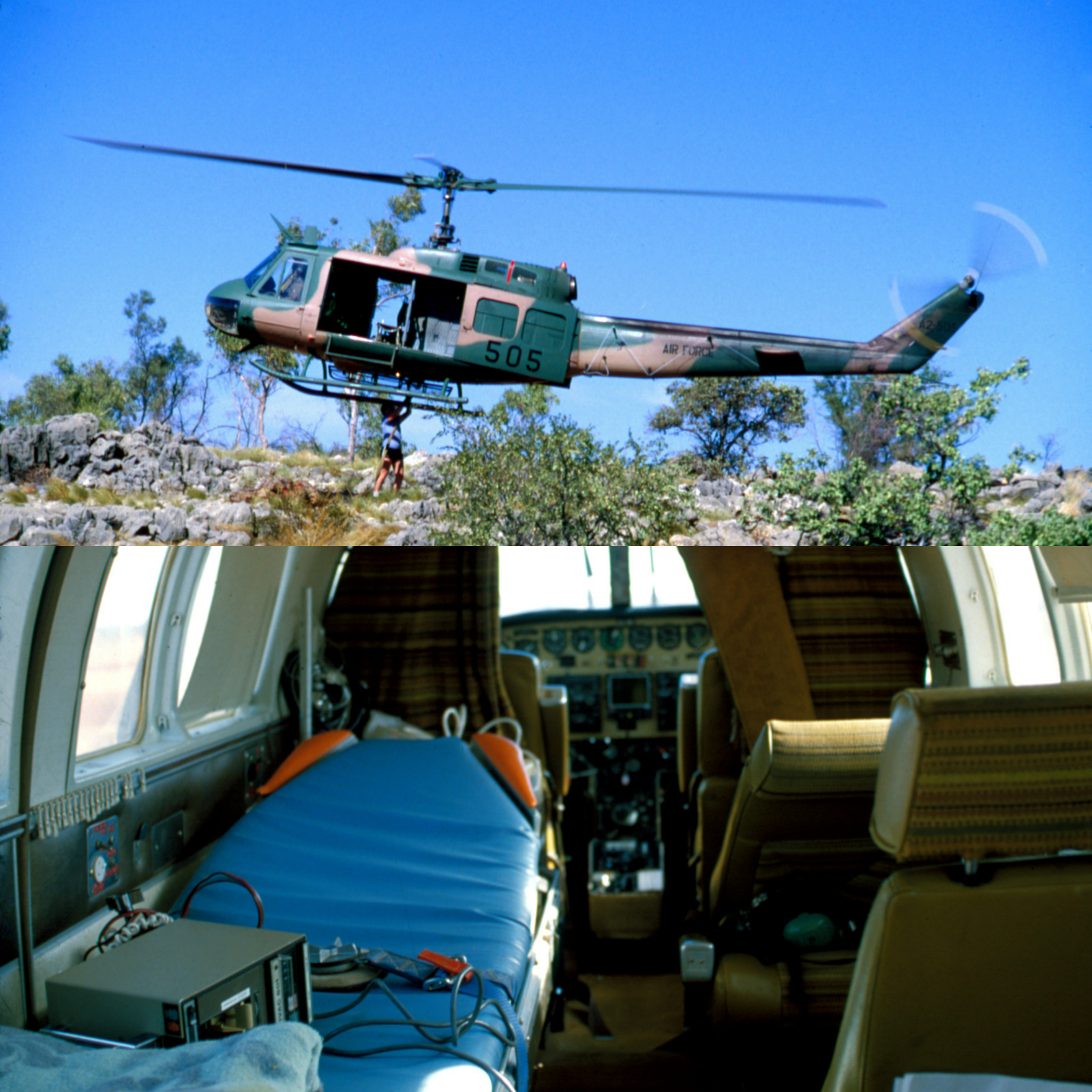 Top - Royal Australian Air Force helicopter assists in the collection of fossils at Riversleigh Plateau in the Gulf, North Queensland 1985.
Bottom - Inside a Flying Doctor Service of Australia aircraft, Mount Isa 1985, 7435 Ron and Ngaire Gale Collection, John Oxley Library, State Library of Queensland.
Other images include the Aboriginal dance festival in Laura, rough transits between locations over creeks and bulldust in a muddy 4X4, and Australian fauna one invariably encounters when travelling through North Queensland.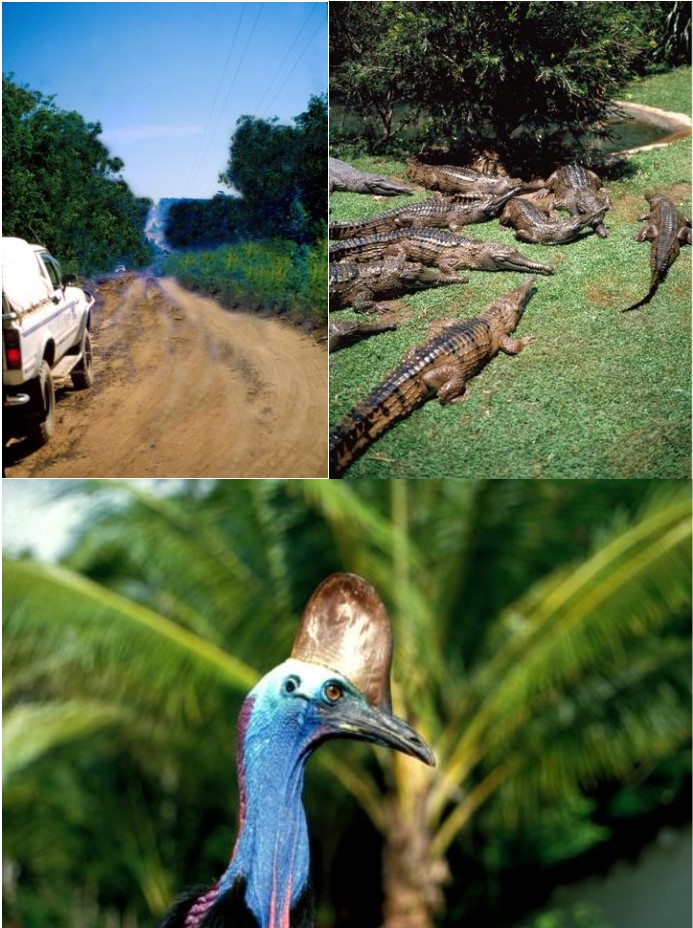 The Cape York road, Eminent Cassowary in Cardwell Shire, crocodiles at Wild World Tropical Zoo.
Even a particularly thirsty horse was photographed outside a pub in the Gulf of Carpentaria.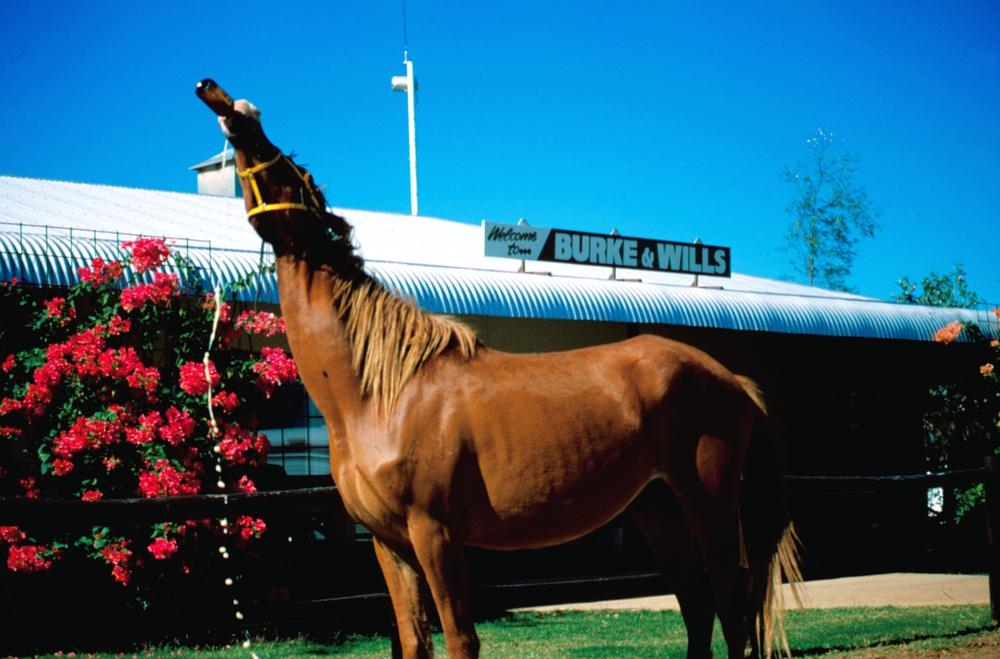 Chestnut horse drinking from a bottle of beer Gulf of Carpentaria, 1989.
Referred to as the 'Albe Mangels of the older generation' by the press, and as 'latter day hippies' by their children, Ron and Ngaire left North Queensland in the early 2000s to move closer to family. Ngaire passed away some years ago, but Ron now lives on the Sunshine Coast near Caloundra in 2021.
The contrasts and diversity that are apparent in the Ron and Ngaire Gale collection perfectly encapsulate the landscape and environment that Far North Queensland offers. The collection which is made up of thousands of slides is an important and valuable resource documenting Queensland regional areas at a time when large-scale tourism was just taking off.
Through their images, one can experience the moving stillness of the rainforests and the awesome silence of the lonely outback plains that Ron and Ngaire experienced in their quest for the perfect 'sizzle.' Nearly 1000 of their photographs are digitised and available to look through on the catalogue One Search.
Note: On the 1st of December, 2021, 3 days after this blog was published, Ron Leslie Gale passed away at his residence in Little Mountain, Queensland, aged 93 years. State Library thanks Ron and Ngaire Gale for their significant donation promoting the natural beauty of the state of Queensland.
Collections:
7435 Ron and Ngaire Gale Collection ca. 1980sopen_in_new
7965 Ron and Ngaire Gale Collection – Scanned images, newspaper Clippings, and documents relating to the Gales
6463 Ron and Ngaire Gale (Stock photos) Collection 1980-1990
Read about other treasure collections held in the John Oxley Library
Comments
Your email address will not be published.
We welcome relevant, respectful comments.