(I'm) Stranded / No Time, The Saints 1976: treasure collection of the John Oxley Library
By Anna Thurgood, Engagement Officer, State Library of Queensland. | 24 February 2021
The 7" vinyl single featured represents a piece of music history, influencing generations of bands around the world. Released in September 1976, months ahead of the Sex Pistols' and The Clash's debuts, the unknown band The Saints' single (I'm) Stranded / No Time propelled the Brisbane boyhood friends to the forefront of a new underground punk music movement.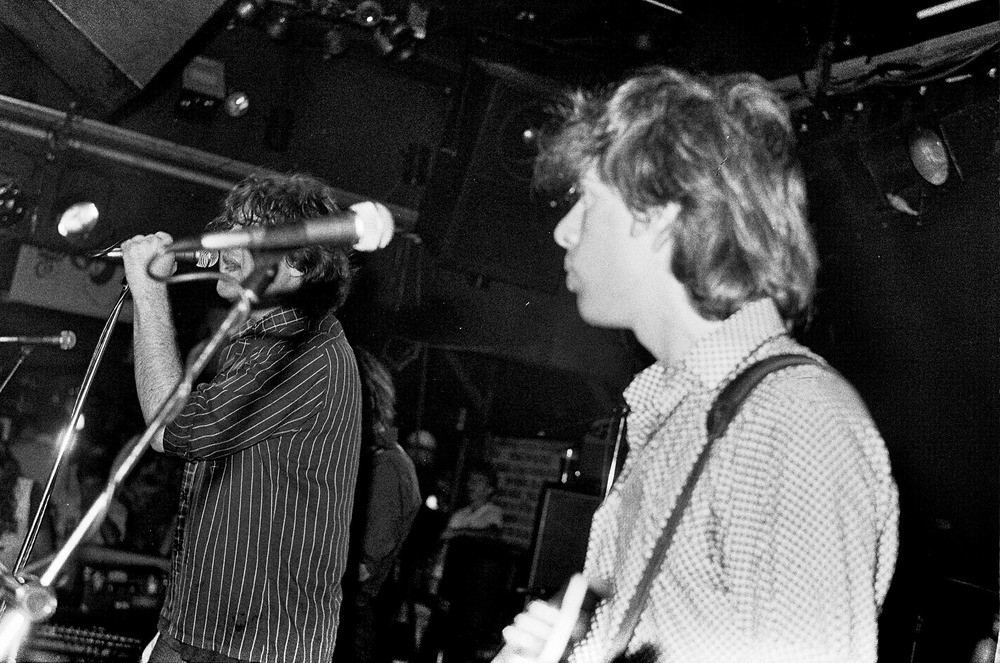 Untitled (The Saints performing at the National Hotel, Brisbane), 1980. 29127 Paul O'Brien collection. John Oxley Library, State Library of Queensland. Image number: 29127-0005-0034.
The band, named after the popular 1960s television character Simon Templar (aka 'The Saint'), brought a strong DIY ethic to everything they did. With police breaking up their shows around Brisbane and arresting members of the audience, bookings dried up. Chris Bailey (singer-songwriter, later guitarist) and Ed Kuepper (songwriter, guitarist) converted their share house in Petrie Terrace into the 76 Club, establishing their own marketing and promotions company, Eternal Promotions. When no local record company showed any interest, they pooled their money and hired a recording studio in West End along with producer Mark Moffatt to record the two tracks, (I'm) Stranded and No Time. The 500 vinyl copies were released under their own label, Fatal Records, making it the first independently produced rock single in Australia. Largely ignored here in Queensland, Eternal Promotions sent the disc to radio stations and magazines in the UK, where it was picked up and distributed by a small label, Power Exchange.
Punk rock band The Saints on stage at Brisbane's Pig City concert, July 2007. Photographer Leif Ekstrom. John Oxley Library, State Library of Queensland. Image number: 7336-0001-0320
The song (I'm) Stranded was the product of growing up in the deeply conservative state of Queensland that existed under long-serving Premier, Joh Bjelke-Petersen. While its central theme of isolation and alienation came from the band's experience of life in Joh's police state which felt a million miles from anywhere, it resonated with disillusioned teens worldwide. After its release in the UK, it was immediately noticed by Sounds magazine reviewer John Ingham, who declared it "the single of the week and every week", triggering a meteoric rise for the band.
Major label EMI signed The Saints and an album was recorded in one weekend, also titled (I'm) Stranded. It was inevitable the band would move to England, as they were generally ignored by Australian media. Relocating in mid-1977, it was realised they didn't fit the generally accepted idea of a 'punk band', being more adventurous musically and utterly rejecting the 'look' that was central to the whole movement. The band also clashed with EMI over how they should be marketed.

7" vinyl record published by Fatal Records, Australia in archival folder, HLP PUN SAI 470, John Oxley Library, State Library of Queensland. ACC: HLP PUN SAI 470. John Oxley Library, State Library of Queensland.
The Saints released two more albums, Eternally Yours and Prehistoric Sounds, but the members drifted apart by early 1979. Bailey stayed on in Europe, but Kuepper and drummer Ivor Hay returned to Australia. They all remained musically active. The original band reformed for a few gigs in 2007 and 2008.
State Library of Queensland secured this rare piece of Queensland's music history in 2016 to commemorate the 40th anniversary of the song's release.
Anna Thurgood, Engagement Officer, Collection Engagement, State Library of Queensland
Collection: (I'm) Stranded : No time / The Saints : Chris Bailey, vocals - Ed Keupper, guitar, vocals - Kym Bradshaw, bass - Ivor Hay, drums
Read more: Brisbane post-Pig City by Andrew Stafford / John Oxley Library "Out of the Port" series
Read about other treasure collections from the John Oxley Library
Comments
Your email address will not be published.
We welcome relevant, respectful comments.