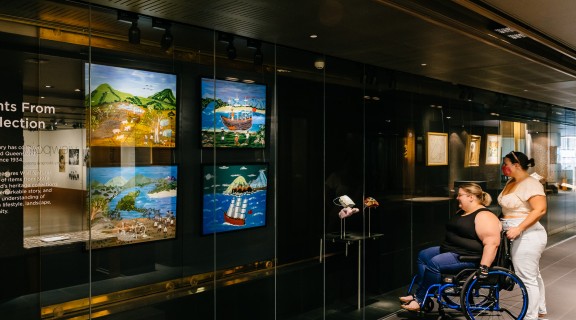 State Library is a place for all visitors and staff. It provides accessible spaces, resources and services that embrace Queensland diversity.
Access to and around the building
All entrances and areas in the State Library building at South Bank are wheelchair accessible. Additional facilities include:
Signage and wayfinding across South Bank
Mobility car parking spaces available
Lifts operating from the car park to all levels of the building with spoken voice advising levels within the library and handrails
Accessible toilet facilities on each level with signage that includes raised tactile and braille signage
Carers room with accessible toilet, and baby change facilities located in Infozone
Courtesy wheelchair and walker available on request for visitors with low mobility to access State Library events, exhibitions and resources
Wheelchair height reception and information desks
Raised tactile and braille signage at entrance of library and on all exterior and interior lifts, Auditorium 1 and 2 and The Edge
High desks for wheelchair access desks are located on levels 1-3 and The Edge
Hearing augmentation in Auditorium 1
Hearing aid induction loop with personal assisted listening devices available in slq Auditoriums 1 and 2 and The Edge; devices are worn as an in-ear monitor or as a personal induction loop for those patrons utilising hearing aids
Hearing loop signage in the form of the International Symbol for deafness in slq Auditoriums 1 and 2 and The Edge Auditorium
Portable wheelchair lift available in Auditorium 1, The Queensland Terrace and The Edge
Wheelchair-accessible lift available in Auditorium 2
Wheelchair-accessible water bubblers on levels 1-4 and The Edge
Certified guide, hearing and assistance dogs, wearing their identity card on their coat or harness are welcomed in State Library
Visibility in an emergency, exit signs and warning systems throughout the building
Adaptive technology and computer access
State Library offers a range of adaptive technology devices for access and inclusion to use the collections and resources. Please note no bookings are needed to use these resources. They include:
Clearview Speech desktop electronic magnifier
Compact 7HD portable hand-held electronic magnifier
MaggyLamp - table-top magnifier with built-in light, available on level 3 and level 4
Canon Visualiser - closed circuit magnifier that enlarges text and images on a screen/monitor, available on level 2
Magnifying glasses (hand-held) - request at Information Desks on levels 1-4
ZoomText – screen magnification software with speech, available on levels 2-4 with large print keyboards. Headphones are required when using this equipment. These are not supplied but may be purchased at the Library Shop
OpenBook - software that transforms scanned text into speech, available on levels 2-4. Headphones are required when using this equipment. These are not supplied but may be purchased at the Library Shop.
Adaptive technology computers are available on levels 2-4. These provide access to:
ZoomText and OpenBook software
State Library's website and the Internet
Catalogue, eBooks, databases and eResources
Word, Excel, PowerPoint
Wheel-chair accessible public access computers are available at The Edge (in the Digital Media Lab and Fabrication Lab) and on levels 1-4 of the State Library building at South Bank.
State Library membership is required for computer access.
More information
Further assistance is available over the phone, in person, or through the ask a librarian service.
Visitors are encouraged to provide feedback on our inclusive spaces and services through the online feedback form, or by speaking to a staff member.