Real Estate map collection: treasure collection of the John Oxley Library
By Queensland Memory, State Library of Queensland. | 24 February 2021
Among the significant collections of the State Library of Queensland, the unique and sometimes colourful and graphic Real Estate mapsopen_in_new and plans were created by various Queensland real estate firms during the mid-1800s to the mid-1900s to promote land sales and to appeal to the potential customer.
With more than a thousand maps making up the collection each one provides detailed background information on the parcels of land that was subdivided and auctioned, the surveyors involved and in some cases, the names of the people who purchased the land. They are helpful for researching and investigating urban development over several decades, informing the history of Brisbane's suburban development and growth in domestic architecture.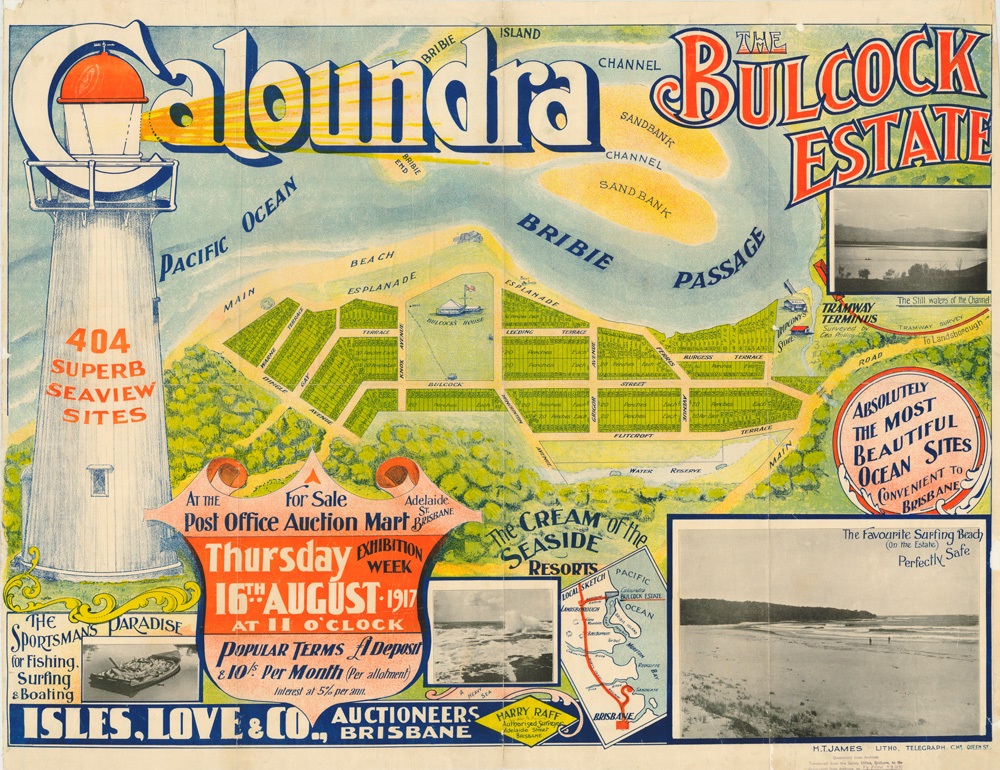 Bulcock Estate Caloundra / Isles, Love, Land Agents ; Geo. Phillips, and Harry Raff, Surveyors, John Oxley Library, State Library of Queensland.
Several well-known agents and auctioneers are featured in this map collection.
Blocksidge & Ferguson Auctioneers donated folios (5) of the company's original estate map records and index to State Library in 2011 along with early company records. The folios and handwritten index highlight the chronology of sales handled by the firm by year, estate name and suburban location. Audiences can access the digitised version of the index online.
Other firms and companies linked to the sale of land in South-East Queensland included James Love and James Thomas Isles who established Isles, Love & Co., setting up their offices in Adelaide Street in Brisbane's CBD in the early 1900's. The Cameron Bros. were often linked to surveyors R.D. Graham & Son and T.S. Henzell and Ernest C. Henzell advertised land and real estate in the local newspapers from their agency at the corner of Albert and Adelaide Street in the central business district of Brisbane City. Auctioneers Arthur Martin & Co. were often linked to land sales in various coastal locations on Moreton Bay, the Torquay Estate being auctioned at Redland Bay on the same day as H.R.H Prince of Wales birthday, 9 November in 1885.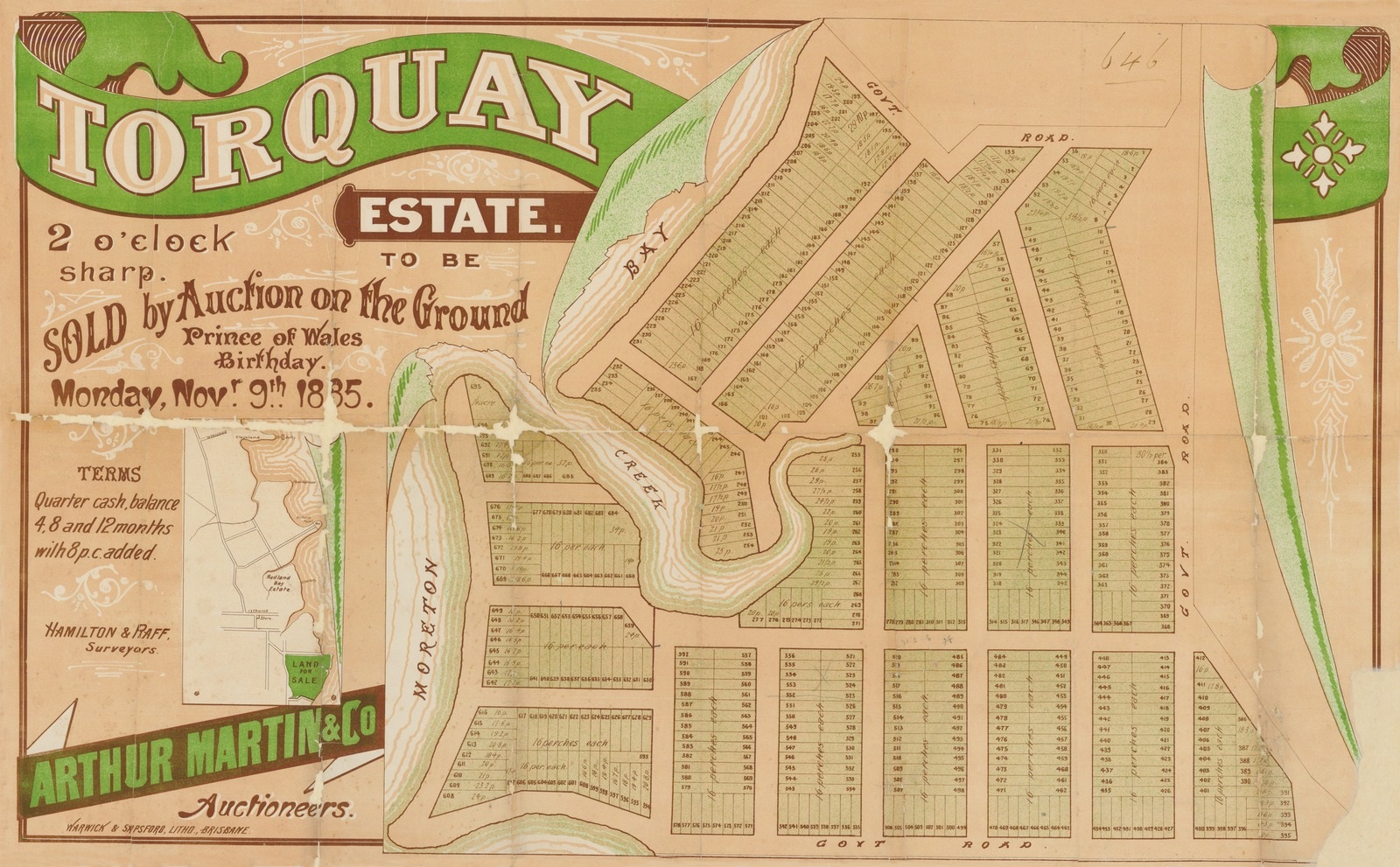 Torquay Estate in Redland Bay was to be sold by auction on 9 November 1885. The map was digitised for the collections of the State Library as part of the "Henzell and Cameron Maps Project in 2005. John Oxley Library, State Library of Queensland.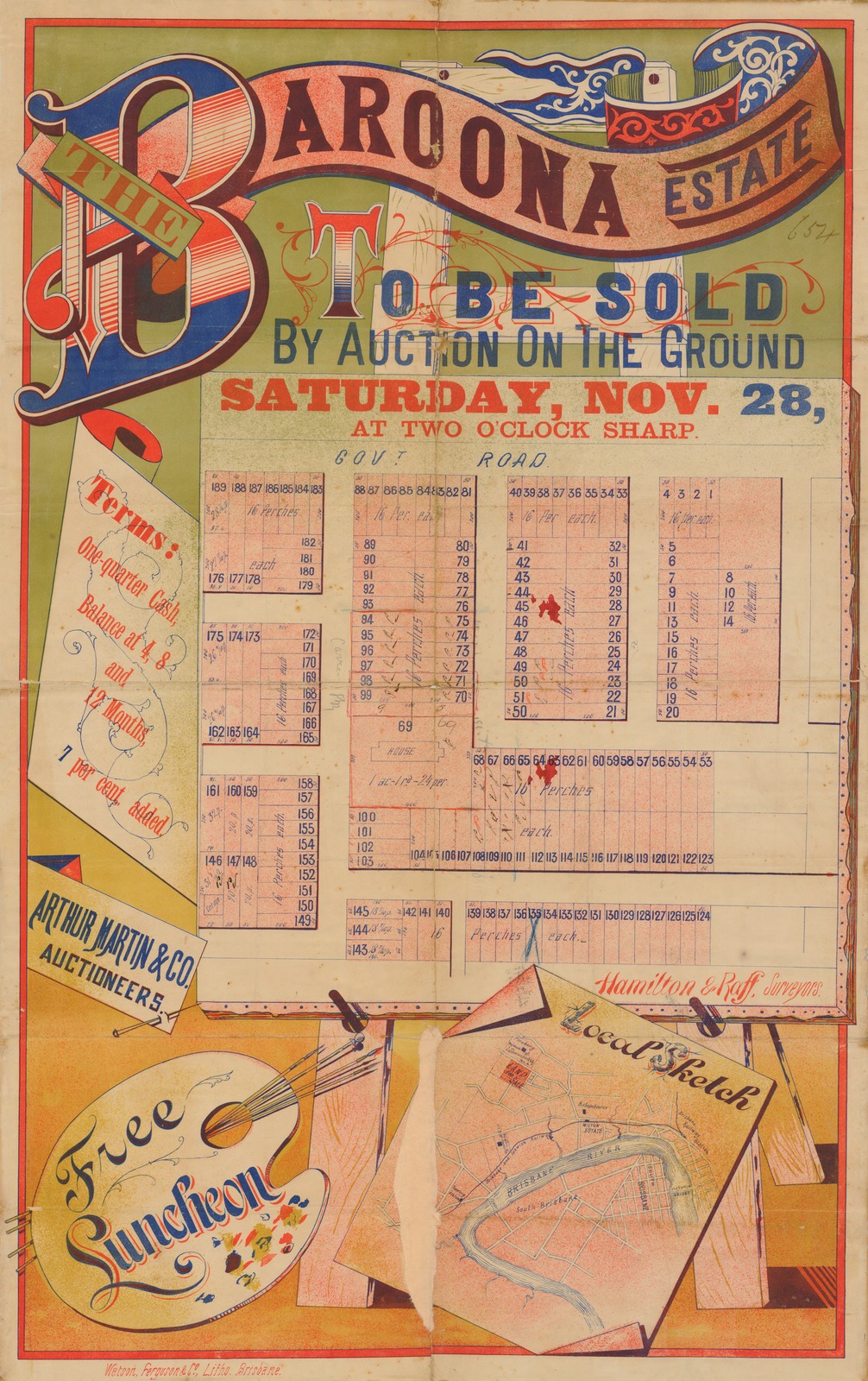 The Baroona Estate to be sold by auction on the ground Saturday, Nov. 28, at two o'clock sharp, 1885. John Oxley Library, State Library of Queensland.
State Library encourages you to browse the real estate map collection online. All digitised Estate Maps can be accessed on the State Library's catalogue One Search, or you are welcome to browse a selection via Flickr, Explorer or browse by location through Historypin.
Catherine Cottle, Specialist Librarian, State Library of Queensland
Collection:
Read about other treasure collections from the John Oxley Library
Comments
Your email address will not be published.
We welcome relevant, respectful comments.