Queensland's Gympie-Gympie: the world's most painful plant
By Stacey Larner, Librarian, Queensland Memory | 13 December 2021
One of my favourite parts of State Library's Entwined: Plants and People exhibition was the section dedicated to two of the Dendrocnide species, D. moroides and D. excelsa. Known colloquially as the gympie gympie (from the Gubbi Gubbi/ Kabi Kabi name for the plant, gimpi gimpi), gympie stinger, and giant stinging tree (D. excelsa), this plant has the dubious honour of being arguably the most painful plant in the world.
There are certain trails in south-east Queensland notorious for being overrun with gympie-gympies. West Canungra Creek Circuit in the Green Mountains section of Woonoongoora (Lamington National Park) is particularly scary, along with some of the more popular trails at Cunningham's Gap.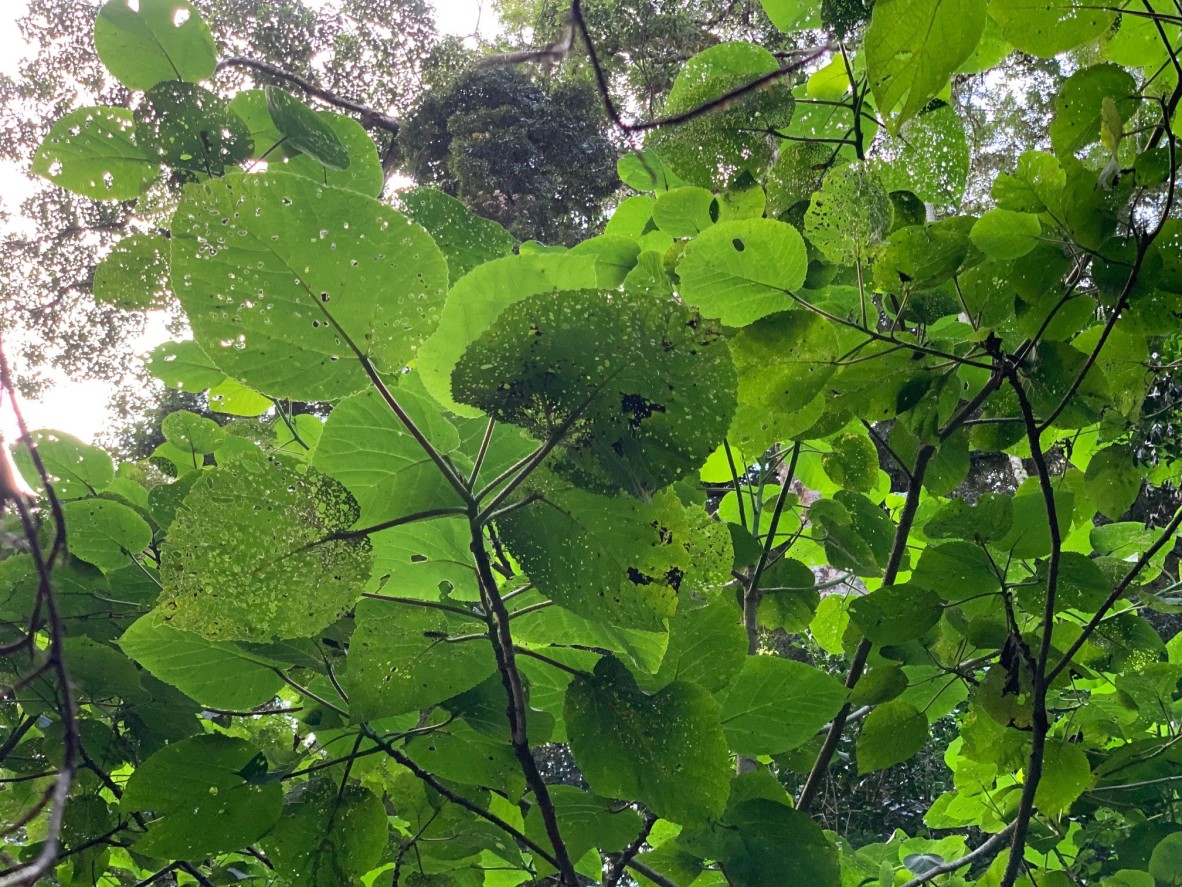 Dendrocnide excelsa along West Canungra Creek Circuit, Woonoongoora (Green Mountains section). Photograph by Stacey Larner.
Two women in this photograph from the John Oxley Library collection below appear to be blissfully unaware of the danger lurking in the background.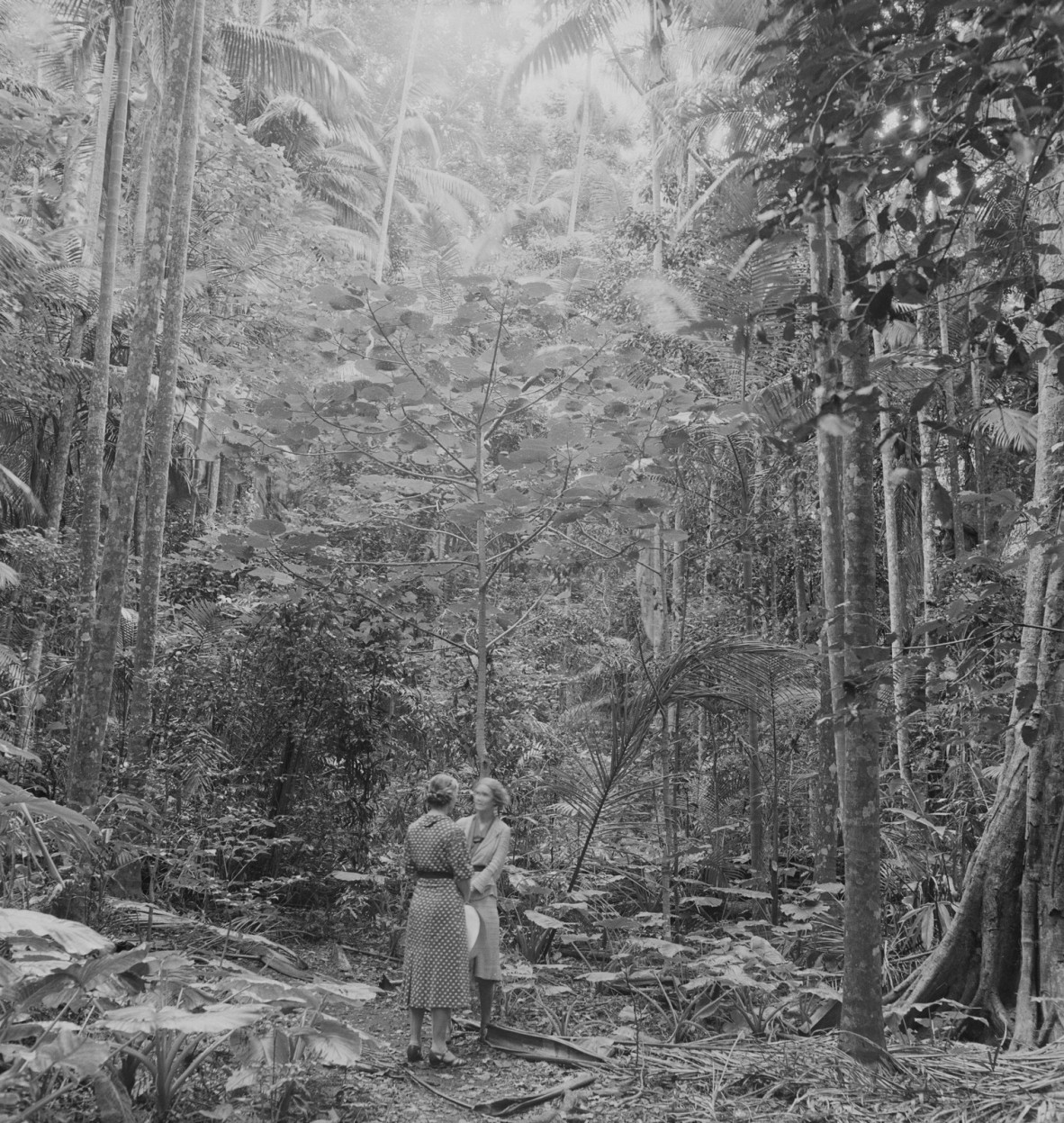 Two women in a clearing amongst palms in the grove at Tamborine. 32086, Arthur McLeod acetate negatives and glass plate negatives, John Oxley Library, State Library of Queensland. Image number 32086-0005-0014.
Banks' Florilegium, Dendrocnide moroides, Plate 313, Banks' Florilegium. Image courtesy Natural History Museum.
Every part of the plant is covered in silica hairs which act like hypodermic needles. If touched, they inject a venom which causes excruciating pain that can last for days, even months. University of Queensland researchers Professor Irina Vetter (pictured below with her potted gympie gympie) and Dr Thomas Durek and their teams at the Institute for Molecular Bioscience recently discovered that the plant produces a neurotoxin similar to that of a spider or cone snail.
Professor Irina Vetter with her pot plant. Image courtesy of Irina Vetter.
Needle-like hairs of Dendrocnide moroides. Irina Vetter, 2020. Image courtesy of University of Queensland.
Another discovery made during research for the Entwined exhibition was the existence of the painting by Ellis Rowan, shown below. Rowan, a prolific botanical artist, often painted bouquet-style paintings, as well as painting plants in situ and with insects and small animals. The eye-watering inclusion of gympie-gympie leaves and berries in the bouquet is slightly sinister, for those it might catch unawares.
Ellis Rowan - Clerodendrum floribundum R.Br., family Lamiaceae, Galactia tenuiflora (Spreng.) Willd. ex Wight & Arn., family Fabaceae, Dendrocnide moroides (Wedd.) Chew, family Urticaceae, Mackay, Queensland, 1887. Image courtesy National Library of Australia
Entwined: Plants and People might have ended but it's still possible to purchase Kindred Spirits: plants and people from the Library Shop. With text by Shannon Brett, featuring images from State Library's collection and more, it explores the ancient and ongoing connection between First Nations people and plants in Queensland.
Other blogs relating to Entwined: plants and people
Comments
Your email address will not be published.
We welcome relevant, respectful comments.