The grand florilegiums of Joseph Banks and Ferdinand Bauer
By Stacey Larner, Librarian, Queensland Memory | 28 October 2021
Banks' Florilegium : a publication in thirty-four parts of seven hundred and thirty-eight copperplate engravings of plants collected on Captain James Cook's first voyage round the world in H.M.S. Endeavour 1768-1771
The Banks' Florilegium was the dream of Sir Joseph Banksopen_in_new, a wealthy botanist who persuaded the Royal Society to let him join James Cook's first voyage around the world. Banks and fellow botanist Daniel Solander classified hundreds of plants collected on the Endeavour voyage, which circumnavigated the world over three years, making landfalls at Madeira, Brazil, Tierra del Fuego, the Society Islands (Tahiti), New Zealand, Australia and Java. The young Sydney Parkinson was responsible for the botanical sketches, producing 955 from 30,000 specimens collected. He was able to finish the early paintings but by the time they reached Australia, he was unable to keep up with the collectors. Adding dabs of colour and brief notes to each sketch, he worked rapidly to keep ahead of the wilting of the specimens. Sadly Parkinson died of dysentery after leaving Java. Banks was determined to publish a grand florilegium of his collection from Parkinson's drawings, hiring five painters and eighteen engravers to create finished watercolours and fine copper plates over thirteen years. 743 plates were completed, but Banks never published the florilegium. On his death the plates were bequeathed to the British Museum.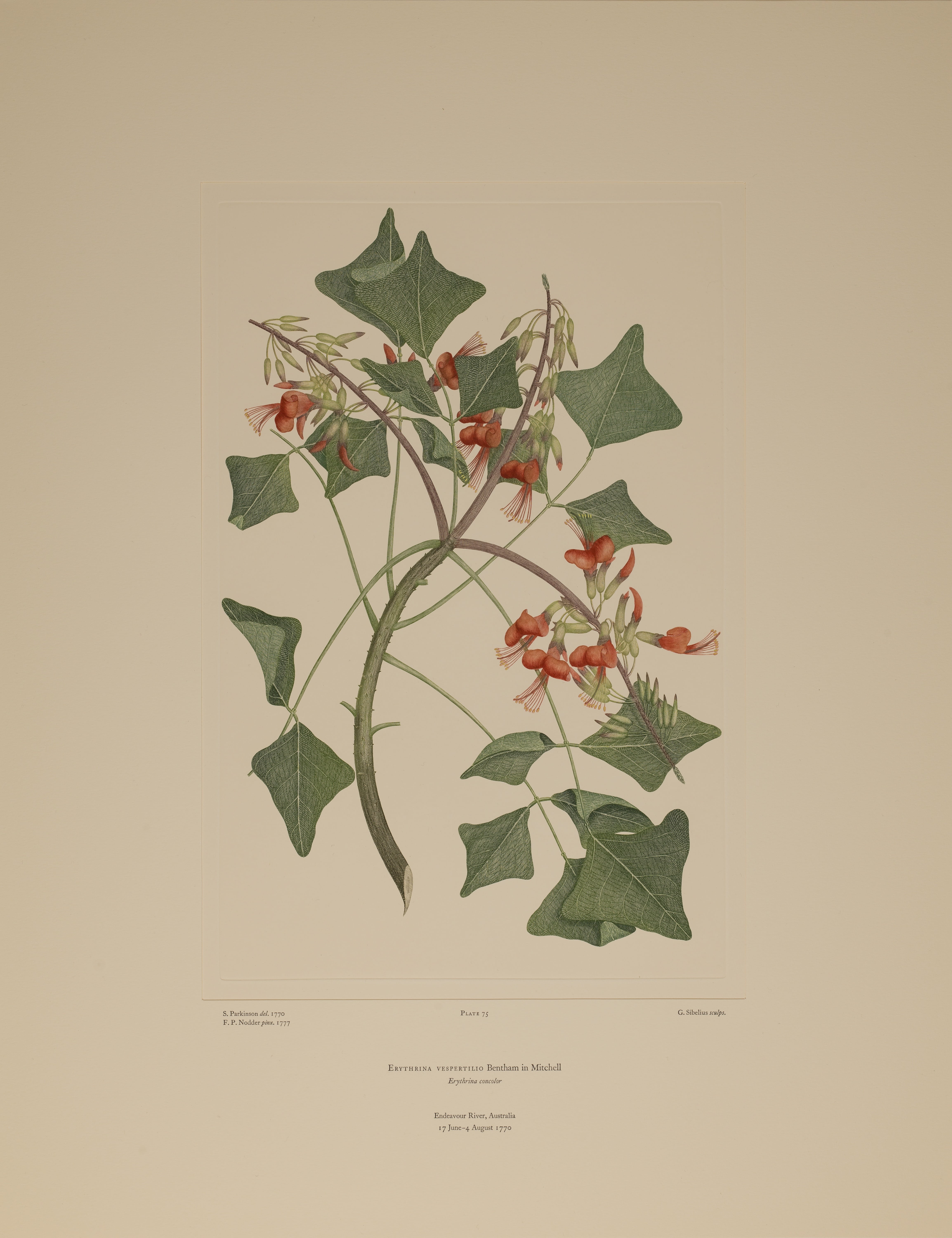 The Banks' Florilegium was a tremendous scientific and artistic achievement, however the Endeavour voyage had profound consequences for the people of the countries visited, including the First Nations peoples of Australia.
Illustrationes florae Novae Hollandiae
Ferdinand Baueropen_in_new was chosen by Banks to accompany Matthew Flinders on his circumnavigation of Australia in 1801-1803. When he returned to England he began the meticulous work of creating large-scale illustrations to accompany Robert Brown's account of the voyage. After seven years of work only 15 plates had been completed. According to Franz Bauer, Ferdinand's older brother, Ferdinand had been unable to find colourists and engravers that met his high standards and so insisted on engraving and colouring all the plates himself. The end product is stunning, a true testament to Bauer's skill, reinforcing his place as one of the world's greatest botanical illustrators. Bauer's method was a complex colour-coding system, rather than the colour indications used by Parkinson: literally painting by numbers. The State Library of New South Wales created a fascinating visualisation of Bauer's process, titled Painting by Numbers.
Alecto Editions
Both the Banks' Florilegium and Illustrationes florae Novae Hollandiae were published as limited editions by Alecto Editions—Illustrationes, in 1989, and the Florilegium between 1980 and 1990. The traditional printing method "à la poupée"open_in_new enabled a multicoloured result from a single copperplate impression. To achieve this, different coloured inks are applied to the copperplate with wads of fabric. Fine botanical details required hand-finishing with brushes.
Don't miss your chance to see these beautiful artworks on display in the slq Gallery. Entwined: plants and people exhibition closes on November 14, 2021. You can also grab a copy of Kindred Spirits: plants and people, available for purchase from the Library Book Shop. With text by Shannon Brett, featuring images from State Library's collection and more, it explores the ancient and ongoing connection between First Nations people and plants in Queensland.
Other blogs relating to Entwined: plants and people
Comments
Your email address will not be published.
We welcome relevant, respectful comments.