Mabo v State of Queensland
By JOL Admin | 22 August 2016
Queenslanders grew up hearing the name Eddie Mabo. Many of us recall the land rights case which took 10 years to resolve and included a trial heard by Justice Martin Moynihan in the Supreme Court of Queensland, 27 February 1986. The High Court ruling was handed down in 1992.
Mabo Day is celebrated each year in June. 2017 marked the 25th anniversary of the High Court of Australia's ruling recognising traditional ownership of the land in the Torres Strait.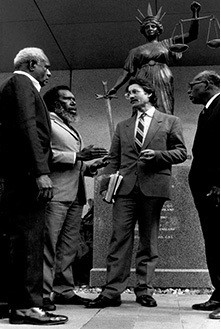 Eddie Mabo, from Land Bilong Islanders. Courtesy of Trevor Graham-Yarra Bank Films. http://aiatsis.gov.au/explore/articles/mabo-case
Library at the University College of Townsville, Queensland. The library was designed by James Birrell and constructed in 1968. It was later renamed the Eddie Koiki Mabo Library in 2008. The University is now known as the James Cook University. (Description supplied with photograph). Collection 6523 Royal Australian Institute of Architects photographs and plan, 1968-1975. John Oxley Library, State Library of Queensland.
Comments
Your email address will not be published.
We welcome relevant, respectful comments.