30th anniversary of the historic Mabo decision
By Robyn Hamilton, Queensland Memory | 5 May 2022
Cultural Care statement (disclaimer)
Users are advised that this Aboriginal and/or Torres Strait Islander material may contain culturally sensitive imagery and descriptions which may not normally be used in certain public or community contexts. Annotation and terminology which reflects the creator's attitude or that of the era in which the item was created may be considered inappropriate today. This material may also contain images, voices or names of deceased persons.
The 3 June 2022 marks the 30th Anniversary of the historic Mabo decision, a 1992 legal case that marked the first formal recognition of Indigenous land rights in Australia. Mabo and others v Queensland (No 2) (1992) – more commonly known as 'Mabo', acknowledged Aboriginal and Torres Strait Islander peoples' unique connection with the land, as the High Court of Australia overturned the legal doctrine of terra nullius ('land belonging to nothing, no one') which implied that no-one held ownership of the land until the arrival of European settlers.
Bryan Keon-Cohen, Ron Day, Eddie Mabo and Martin Moynihan at ANZAC Park, Mer Island, May 1989
The Mabo decision was named after land rights activist Koiki 'Eddie' Mabo, a Meriam man from the Torres Strait who challenged the Australian legal system and fought for recognition of the rights of Aboriginal and Torres Strait Islander peoples as the traditional owners of their land. Eddie Mabo and four other Meriam people began legal action in the High Court of Australia in 1982, and continued their struggle for recognition for 10 long years. Tragically, Eddie Mabo passed away five months before the High Court's decision.
Eddie Mabo's momentous achievement is celebrated each year as Mabo Day, 3 June as part of National Reconciliation Weekopen_in_new.
Eddie Mabo with some members of the Mer community who welcomed the Supreme Court party to Mer Island, May 1989
State Library of Queensland holds several collections relating to the Mabo decision and the Mabo family, including:
A selection of items from these collections are currently on display in the Talbot Family Treasures Wall on Level 4 outside the entrance to the John Oxley Library.
The exhibition Legacy: reflections on Mabo will be open in the Philip Bacon Heritage Gallery on Level 4 from 28 May 2022 until 9 October 2022.
A new six-part podcast, Hi, I'm Eddie, was launched on Mabo Day 2022. In this series, host Rhianna Patrick takes you on a journey to get to know Eddie Mabo and the case to understand the legacy he left behind.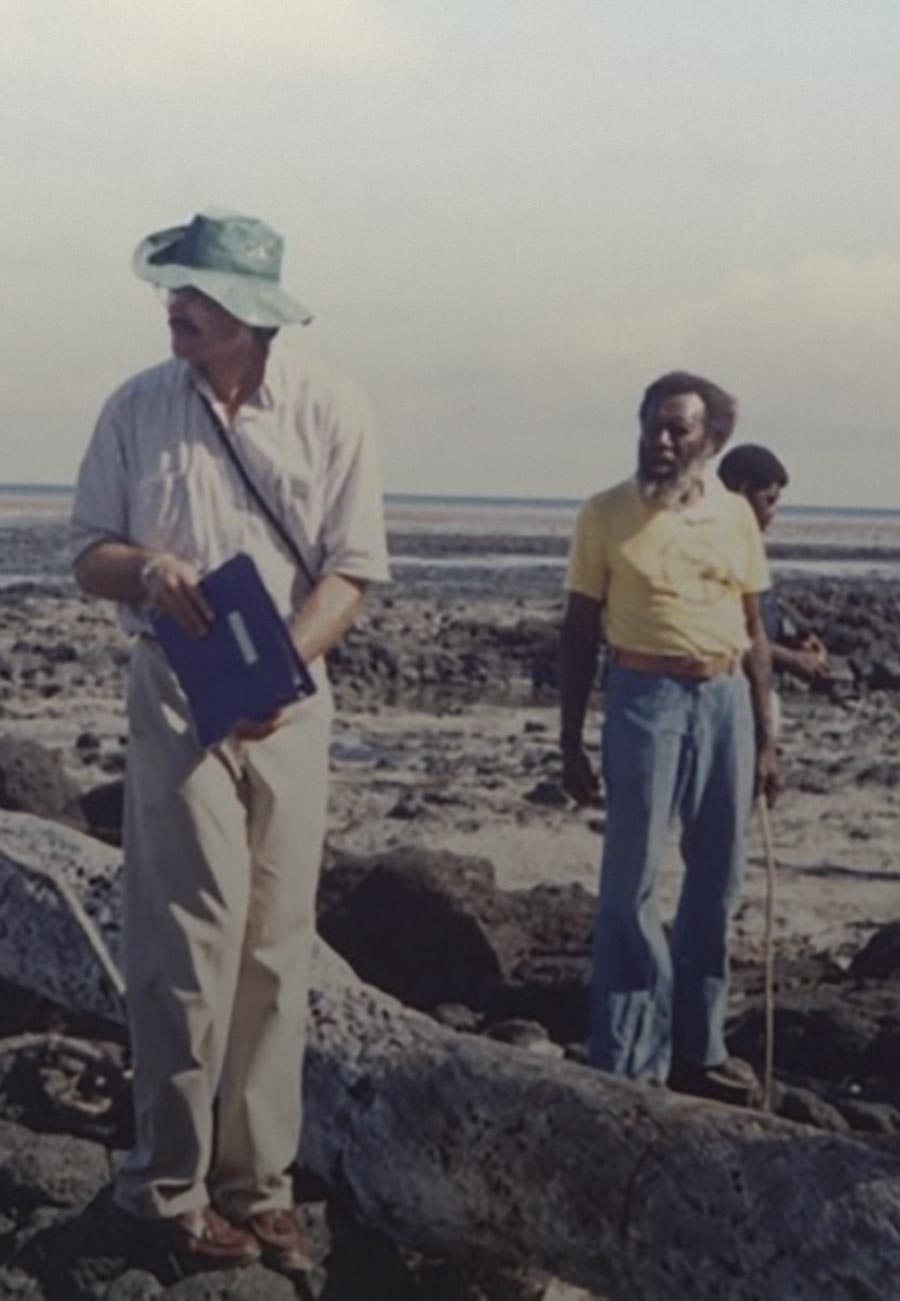 Eddie Mabo (middle) and traditional owners lead a site visit on Mer Island. Collection 29122 Album of Photographs relating to the Mabo Case on Mer Island, 1989.
Comments
Your email address will not be published.
We welcome relevant, respectful comments.