Jersey Culture: wear your heart on your sleeve!
By Naomi Takeifanga, Exhibitions | 4 November 2021
For international #AskaCurator day, I interviewed my colleague Louise Hunter about her experience curating her first exhibition at State Library Deadly Threads. So grab a cuppa and immerse yourself behind the scenes of this vibrant showcase of shirts, polos and jerseys created by Aboriginal and Torres Strait Islander peoples from across Queensland. Deadly Threads is an acknowledgement of the significance of these wearable objects as symbols of identity, celebration and unity. When you see the clothing displayed together, you get to understand the history and pride held within these everyday objects. They have been developed to protest, commemorate special occasions and historical events and tell stories of Aboriginal and Torres Strait Islander history and cultures, and together they are a beautiful celebration of culture.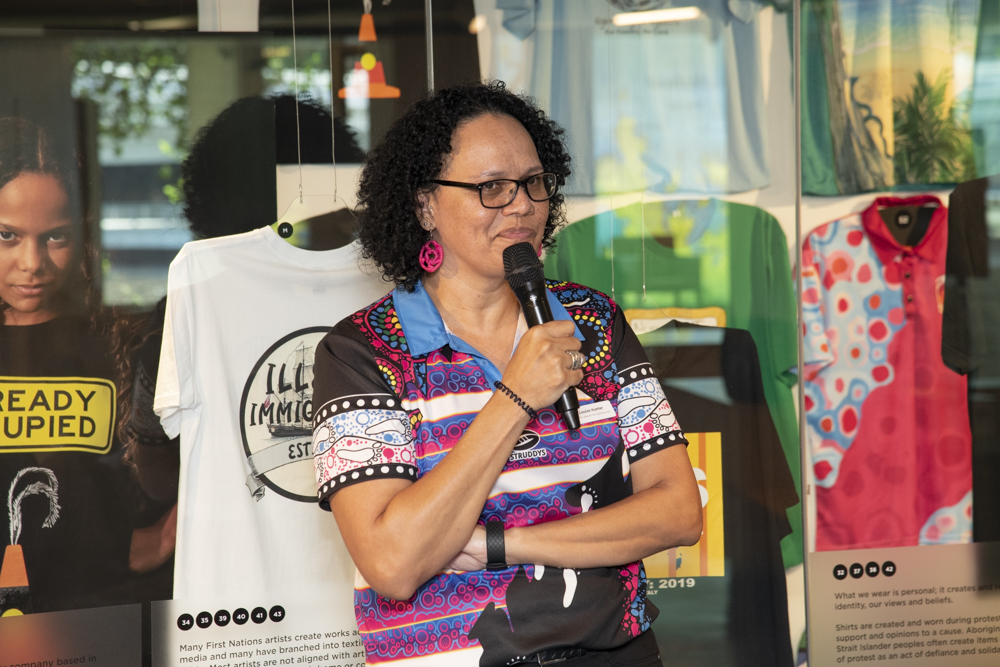 Louise Hunter, Deadly Threads curator giving exhibition tour
This exhibition is exciting to walk through with highlights including historic, rare shirts from the Mabo Family Collection that celebrate Mabo Day and the 1992 Mabo decision; the iconic Queensland Rugby League legend Johnathan Thurston's boots; ten years of the Deadly Choices health check shirts by the Institute for Urban Indigenous Health (IUIH) and T-shirts designed by acclaimed, contemporary artists Vernon Ah Kee, Richard Bell, and Libby Harward.
Deadly Threads opened at State Library on 27 March and closed on 10 October 2021, if you missed it there is much to explore on the Deadly Threads exhibition webpage. The exhibition has now opened at Cairns Art Gallery, closing on 23 January 2022. Cairns Art Gallery have worked with the curator to add more content to the exhibition.
Deadly Threads exhibition view
Let's jump into the interview with #slqDeadlyThreads curator Louise Hunter, firstly I asked Louise what was the most important message she wanted to convey through the exhibition?
"Deadly Threads is about expression of identity; we express ourselves daily in the items that we choose to wear. Deadly Threads is a showcase of many items that First Nations people (and our allies) have chosen to create, purchase and wear.
Every day we rise in the morning and decide what to wear; the items we choose are another way of expressing our identity, our likes and preferences, whether it be a work uniform, a shirt to support a cause or protest, celebrate a special occasion or to support our favourite sports team.
For Aboriginal and Torres Strait Islander people the items in our wardrobe can tell a story, so Deadly Threads reflects our wardrobes."
Conrad (CJ) Ahwang Muluyligal – Zenadth Kes man wearing THIS IS ABORIGINAL 2019 shirt designed by Richard Bell.
State Library works with a number of staff and external curators to bring exhibitions to life. In the case of Deadly Threads, Louise Hunter who leads State Library's Indigenous Services team in Cairns was invited to curate this exhibition based on her love of the content and strong community connections to ensure this was a story created and told by Aboriginal and Torres Strait Islanders. With this knowledge, I was keen to know how Louise approached curating this exhibition?
"Discussions about an exhibition highlighting the creation of shirts, jerseys and polos by First Nations people in Queensland had been held for several years prior to the exhibition. The approach was to showcase items from across Queensland and once the collection started to come together themes such as protest, sport, culture, health and items created to celebrate the aspects of Aboriginal and Torres Strait Islander culture emerged..
I started to identify items for the exhibition in late 2019 and all of 2020 and the COVID19 pandemic affected my approach. Social media was a valuable resource to find items for potential acquisition and I also used my professional and personal contacts. These included individuals, family groups, artists, organisations and businesses as well as sporting clubs, either local, representative and professional.
I called many of these people or contacted them via social media. It was a very time consuming process but I value those conversations as they helped establish a relationship and led to the acquisition or loan of the item/s."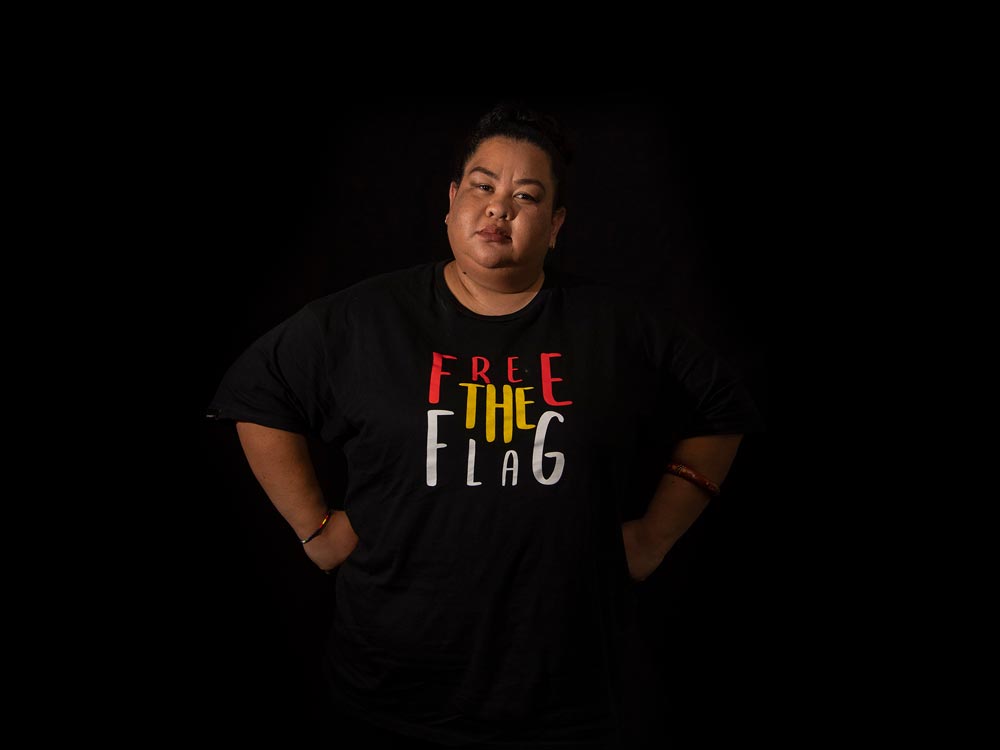 Semara Jose, proud Gudjul, Kuku Yalanji & Darnley Island woman wearing Free the Flag shirt.
As curators we can get very attached to particular objects in exhibitions, as we unlock the stories behind an object that significantly grew our knowledge or enabled us to view our personal biases and change our perspective. My favourite object in Deadly Threads is the 2018 Palm Island 100 years commemoration polo, as it was gifted from the Palm Island community after, together with colleague Lesley Acres, we worked closely with community representatives to curate an important exhibition. This polo represents to me my personal journey of growth in understanding the traumatic history of Palm Island and Our People, visiting a community that is so rich, vibrant and most importantly a contrast to the headlines commonly associated with the island.
So, I asked Louise what her favourite object was in the exhibition, and while staying incredibly unbiased, she does give us a hint!
"I do not have a favourite item from Deadly Threads as I don't want to show any preference to a particular artist, individual or family. I enjoyed every moment of talking to mob across the state, to find out more about their pieces. I have gained many new friends in this process.
The images and digital stories in the exhibition show another layer to the items; another way to express connection to Aboriginal and Torres Strait islander people and our allies.
If you know me personally, you will know which items I already had in my wardrobe and what I've bought…. so, you could draw a correlation to that. There is an image of me in the exhibition…. Maybe that is my favourite item (smiley face!)"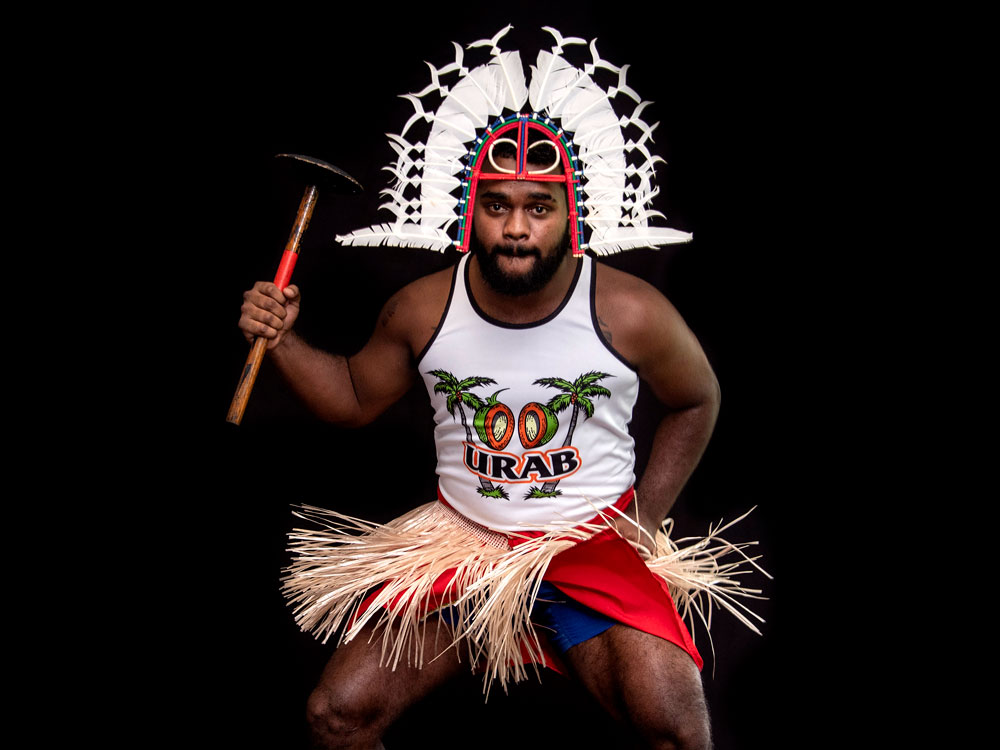 Munro Stephens, a Porumalaig man with connections to the Magaram Tribes of the Meriam Nation, Gudaw Maluligal Nation Torres Strait and the Thankakwithi tribe of Mapoon, is a Urab dancer wearing Porumalgal Warrior traditional costume.
I asked #slqDeadlyThreads curator, Louise Hunter about the importance of First Nations agency and ownership in the development of Deadly Threads?
"Deadly Threads is an expression of identity, items that have been developed by mob, created by mob for mob. Items contained in the exhibition were created by mob for their community to wear. The definition of community being whomever chose to wear an item.
These items were not created for Deadly Threads; that is the beauty of each piece; and that is powerful in itself. So Deadly Threads is a vehicle of expression of identity and empowerment, allowing creators of pieces to tell their story to masses in a different way, via an exhibition.
The collection is far more than what is on display in Deadly Threads; there are approximately 400 pieces in the collection of which approximately 190 on display, and there is intent at the State Library to continue to collect these items into the future.
It's great to know that the collection will expand, and I would like to see the collection have items from every Aboriginal and/or Torres Strait Islander family and/or community group from across the state. It would be fantastic for future First Nations generations to research history referenced from items worn."
I asked Louise about the item she gets the most questions about and her hopes for the legacy of Deadly Threads? #AskaCurator
"Louise answered, "JT's (Johnathan Thurston) boots are the one item in the exhibition that is "doing its own thing". JT was one of the first sportspersons to showcase his pride in his identity via his boots. More sportspeople have joined in expressing their pride or support by having artwork on other items, like boots, headgear and other items.
In response to the legacy of Deadly Threads, an underlying element is the changes in technology and how that has affected or improved the way items are produced. In the future it would be great to explore how technology has influenced the production of items. It would also be fantastic to see the collection in 10 or 20 years Deadly Threads #2 showcasing stories at that time. Imagine as a curator exploring the current stories with a futuristic lens?"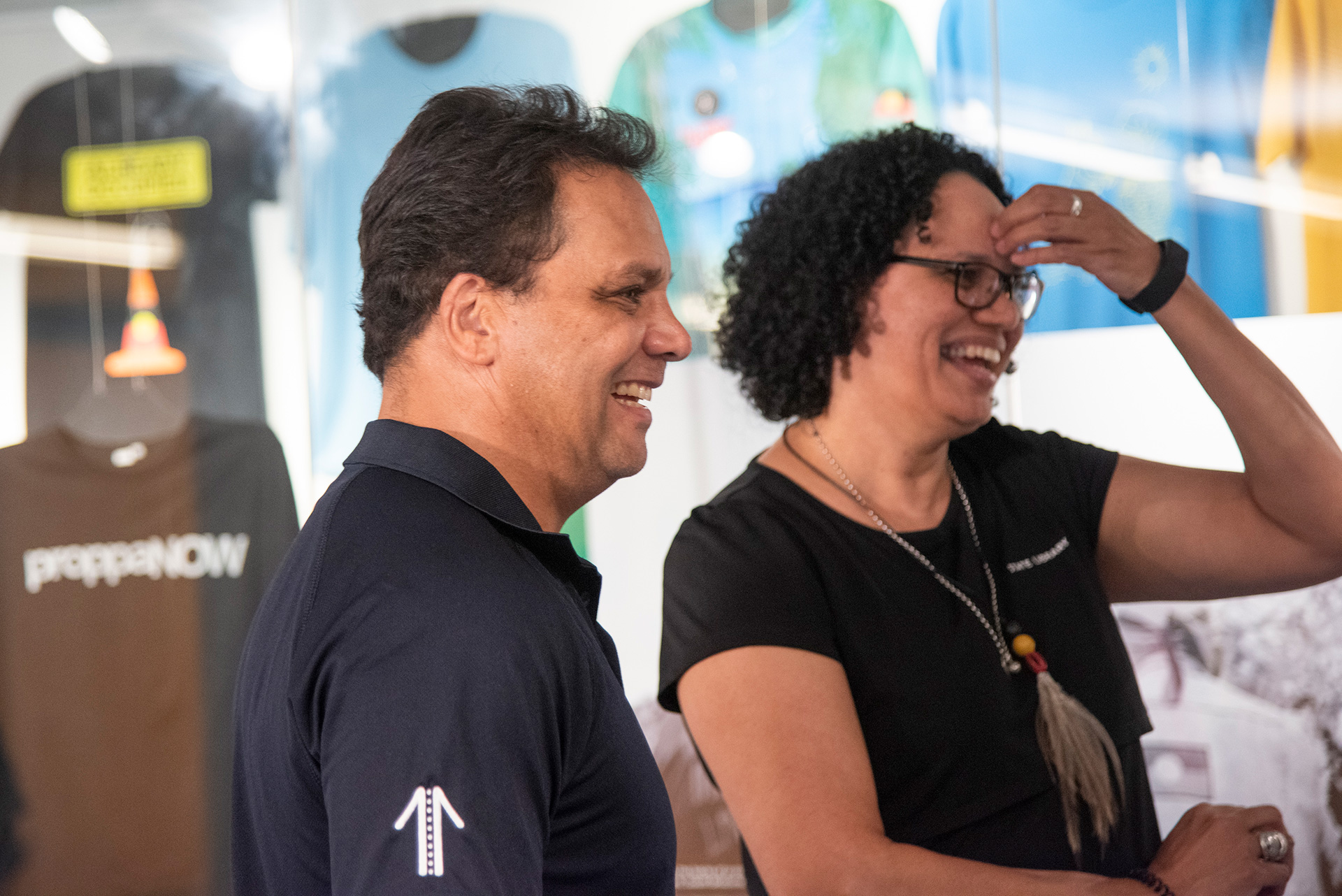 Deadly Choices ambassador, Steve Renouf with Deadly Threads curator, Louise Hunter
Louise acknowledged all the generous lenders to the exhibition, noting there are many items on loan from community in Deadly Threads as many of the individuals have a personal enduring connection to their items and still want to wear them or keep them in their wardrobe. State Library would like to thank each person that has loaned items for display in Deadly Threads, and Louise promises you'll get them back to wear again soon!
I personally would like to thank Louise again for taking the time to answer these questions! I certainly now have a much better understanding of the value of these objects, and I hope you do too. If you have not been able to see the exhibition in person, check out the great website that also has 5 amazing digital stories of community sharing their perspective.
Comments
Your email address will not be published.
We welcome relevant, respectful comments.