Behind the Seams: installing Deadly Threads at the State Library of Queensland
By Amelia O'Donnell, Collection Preservation | 1 July 2021
Deadly Threads is an exhibition that showcases Aboriginal and Torres Strait Islander design expressed through sporting jerseys, memorial and protest t-shirts, and original art works. These collections have been generously loaned or donated to State Library by communities from all over Queensland and are showcased at kuril dhagun.
Over 170 sporting jerseys and t- shirts are on display: a selection of more than 250 items were added to the State Library collection as a result of the exhibition. Highlights include a pair of Jonathan Thurston's football boots, a dance costume from the Urab dance group of Poruma Island (Coconut Island) in the Torres Strait, a selection of Eddie Mabo memorial t- shirts, and an original artwork for the design of the North Queensland Cowboys' 2016 Indigenous Round jersey by Torres Strait Islander artist Sharon Phineasa.
Many staff were involved in making this exhibition a reality. This blog post looks behind the scenes at how the jerseys, t- shirts, and artworks were prepared for exhibition by State Library's Preservation Services team.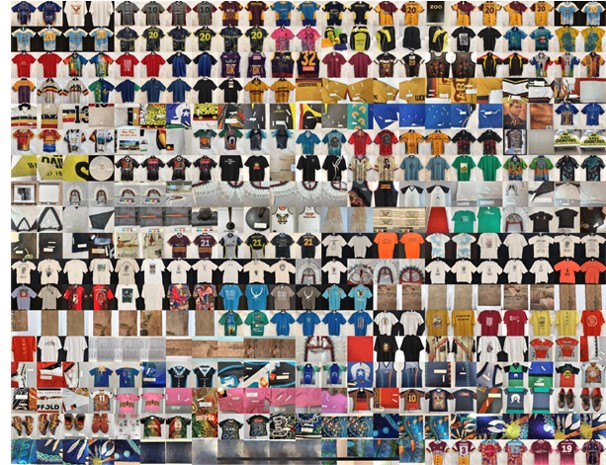 Some of the items included in the Deadly Threads exhibition. Each item is photographed as part of conservation documentation record keeping.
Preserving the collection
Many of the sporting jerseys and t-shirts for the exhibition were acquired new. This means harmful products like commercial- grade starches, optical brighteners, and bleaches may still be present in the garments after manufacture. Over time these chemicals can deteriorate the fabric, affecting physical properties and vibrancy of colour. To prevent this from happening each shirt was washed in a bath of gentle, p-H- neutral detergent to remove the harmful chemicals. Louise McCullagh, specialist textiles conservator, visited State Library to demonstrate correct washing techniques to the Preservation Services team who then undertook washing all 250 items over a 2-month period.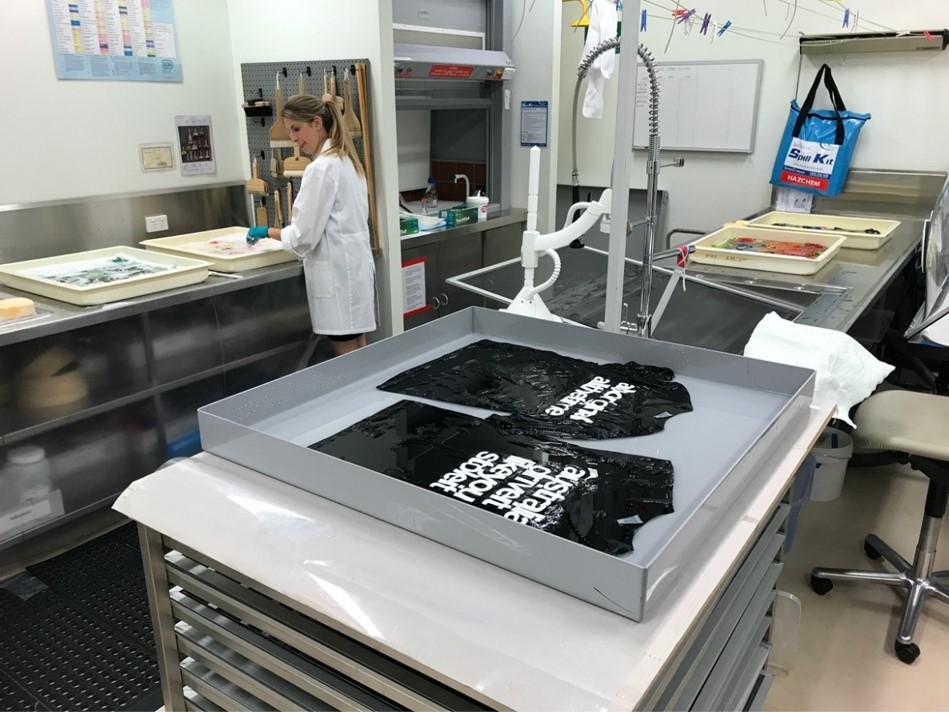 Textiles Conservator Louise McCullagh washing collection items in the Preservation Services lab at State Library of Queensland.
Textiles Conservator Louise McCullagh and Conservation Technician Hannah Nguyen, handwashing jerseys in a pH- neutral detergent bath.
Exhibiting the collection
A bespoke, magnetised mounting system was designed to secure the garments to the showcase walls without the use of adhesives, tacky tapes, Velcro, or pins. The use of these kinds of fixings can cause permanent damage to textiles by staining, stretching, or tearing them. All the items in the exhibition, whether acquired, donated, or loaned, are precious and treated with great care. Our aim is to preserve the collection for future generations to access and enjoy. Any materials or mounting techniques used on the items must be reversible and not cause any damage.
Exhibition Curator Nadine Draper, working with an install technician attaching the bespoke magnet mounting system. Each jersey is fitted onto a custom shoulder- shaped mount which is then magnetised to metal washers drilled into the wall and covered with a soft barrier layer. The jersey is held up on the wall using the strength of the magnets.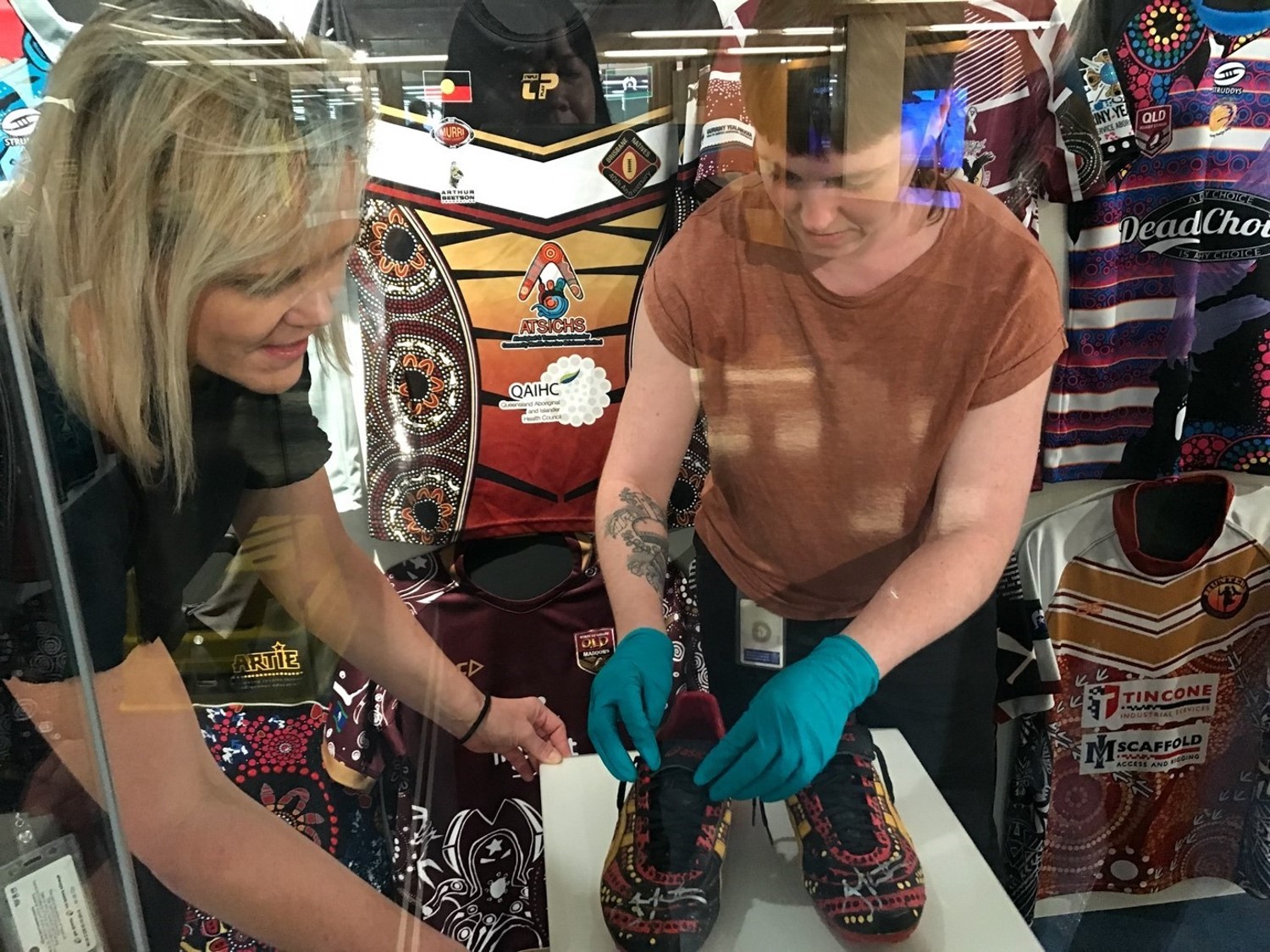 Senior conservator Rachel Spano and Conservation Technician Graduate, Amelia O'Donnell installing Jonathan Thurston's football boots.
Back view of a dhari (head dress) and dance costume from the Urab dance group of Poruma Island (Coconut Island). The custom hanging system was designed with the assistance of Queensland Museum staff. Exhibition curator, Louise Hunter, consulted on the cultural protocols of how best to display the costume.
Preparing and installing a textile collection of this size was quite different to the work undertaken by Preservation Services who usually work on paper- based heritage collections. It presented many challenges, and to achieve the outcome of a safe, aesthetically pleasing way to display the collection pushed the team to develop new techniques and skills. It was a privilege to work alongside Exhibition Curators Louise Hunter and Nadine Draper. Their expertise and specialised knowledge of the collection and the stories behind each item wove through the process from preparation to install. The reward of this process was to see the collection on display, popping with colour and looking deadly!
Deadly Threads: where did you get that shirt? Is on exhibition at kuril dhagun, Level 1, State Library, until 15 August 2021. You can watch videos and digital stories about the exhibition on our Deadly Threads Vimeo showcase.
Comments
Your email address will not be published.
We welcome relevant, respectful comments.