Who's Who in Australia
By Fiona Dixon, Librarian, Information Services | 24 September 2020
Series: Our favourite State Library eresources
People often ask us what our most loved eresources are. Admittedly we all have a favourite, or two, or three. It's hard to pick as there are so many wonderful State Library eresources available. In this series our Librarians and Library Technicians share with you their most favourite eresources and how they've been used to solve research queries.
Next in the series we look at Who's Who in Australia, a big favourite of Librarian Fiona Dixon.
So why is Who's Who in Australia so fabulous?
Who's Who in Australia is an iconic biographical reference title containing over 12,500 entries covering Australians from all fields, including business, politics, the arts, sport, law, entertainment and academia. It is an invaluable resource for businesses, students, journalists, associations, government and academics.
Best of all, you can access Who's Who in Australia online from home with your free State Library membership.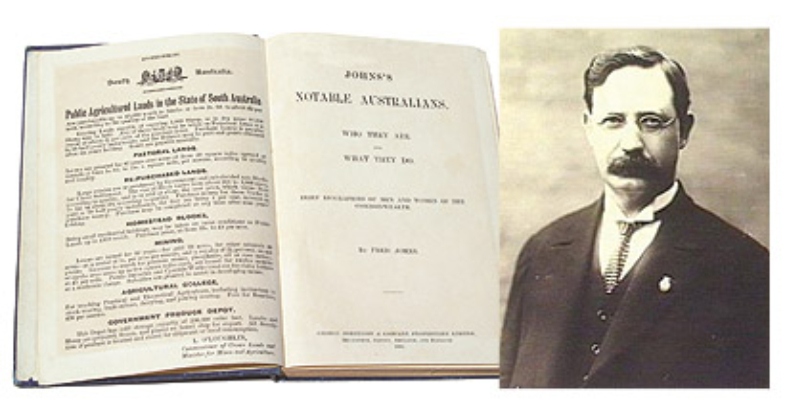 Notable Australians and Fred Johns. Image from Who's Who in Australia.
What is Who's Who in Australia?
Who's Who in Australia is one of Australia's oldest and most respected reference titles. First compiled by Fred Johns and published as Notable Australians in 1906, subsequent editions were popular and the first Who's Who in Australia was published in 1927. The tradition of annual editions continues, and the work is recognised for its prestige and accuracy.
Who's Who in Australia contains over 12,500 biographical entries on key Australians. Each entry provides details about the person's education, post nominals, awards, career, honorary positions and committees, family details, clubs, recreation, publications and contact details. The online database is updated regularly, providing an insight into contemporary Australian life.
How to use Who's Who in Australia
Who's Who in Australia's Quick Search screen gives you fast and easy access to search for a person by name, or use the Advanced Search to access records by position, awards, post nominals, recreations etc.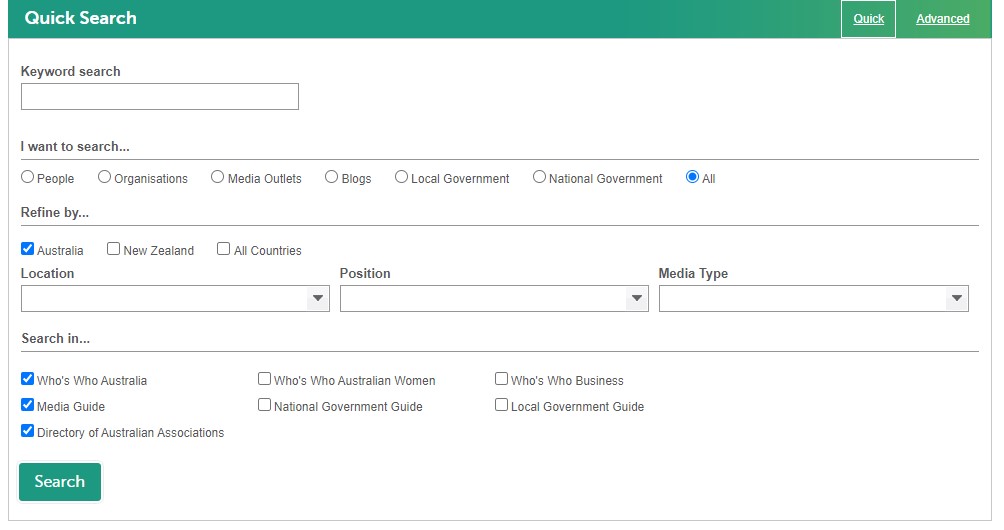 Quick Search screen. Who's Who in Australia.
The results screen provides tips on improving your search.
Results screen for Ash Barty. Who's Who in Australia.
Other features
State Library of Queensland's subscription also provides access to Margaret Gee's Australian Media Guide and the Directory of Australian Associations, searchable separately or at the same time as Who's Who is Australia through the same interface.
Media Guide gives you access to information about people working in the media industry, as well as media organisations throughout Australia. Search a position (everything from Advertising Editor to Weather Presenter) or media type and location to get in touch with over 25,000 media contacts, outlets, bloggers and social media influencers. The comprehensive profiles include job titles, positions and subjects of interest.
The Directory of Australian Associations provides access to all specialty interest groups in Australia, including the non-profit sector. It contains details on more than 3,500 organisations and 10,000 people, such as members and office bearers. This is an easy way to make contacts in your market or sector.
Join now and start searching Who's Who in Australia, Media Guide and the Directory of Australian Associations.
Look out for the next blog in this series #FavouriteEresources
Comments
Your email address will not be published.
We welcome relevant, respectful comments.