Oxford Reference
By Kirsten Perris | 16 April 2020
Series: Our favourite State Library eresources.
People often ask us what our most loved eresources are. Admittedly we all have a favourite, or two, or three. It's hard to pick as there are so many wonderful State Library eresources available. In this series our Librarians and Library Technicians share with you their most favourite eresources and how they've been used to solve research queries.
Continuing with our series, one of Library Technicians Kirsten Perris tells us why Oxford Reference is one of her favourites.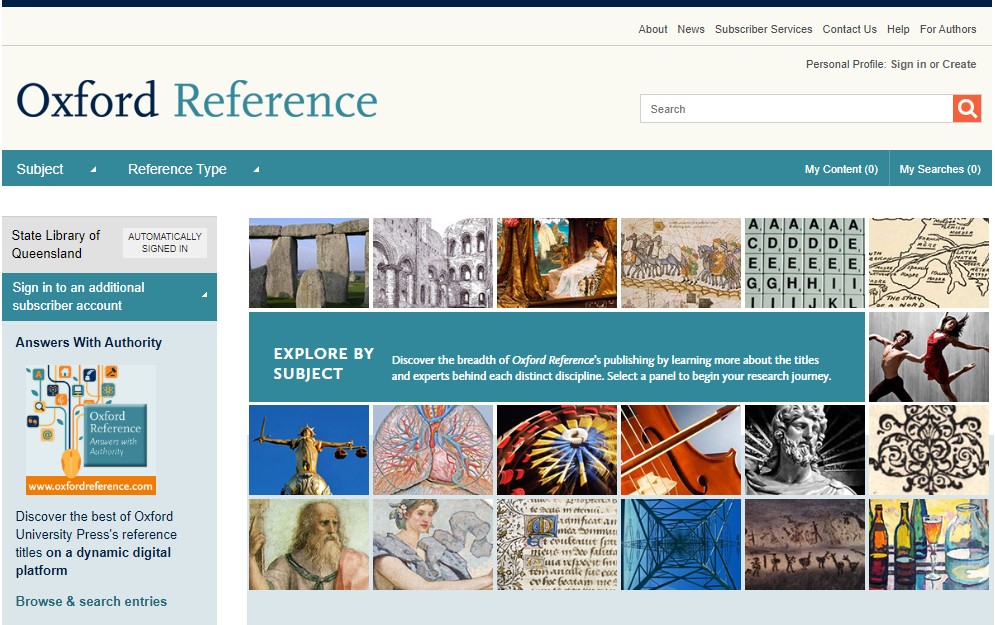 Oxford Reference database
So why is Oxford Reference so fabulous?
The database can be used by people of all ages and is especially useful for students looking to gather information for assignments. It covers 25 different subject areas, including archaeology, classical studies, religion, media studies and so much more.
Best of all, you can access Oxford Reference online from home with your free State Library membership.
The Oxford Reference database brings together Oxford University Press's dictionaries, companion books and encyclopaedias. It combines Oxford Quick Reference and Oxford Reference Library, which includes over 2 million entries.
You can access various levels of information. Quick Reference provides great short answers. The general reference information provides a basic understanding of a topic. And the more in-depth articles on specific topics give greater depth of information, which comes in handy when writing essays and completing school assignments.
There are so many ways you can use this database:
Do a search using the search box at the top, then narrow your search from there.
Explore by subject and gain an overview of the subject, hear from a featured author or see all the books that are available on that subject.
Browse and search by entries or by books and organise these by title, author, current online version or length of article.
Why not try out the free Research Tools in Oxford Reference?
There are Subject overview pages on over 300 000 unique terms
270 historic timelines arranged by century, area and theme
Essential quotations for just about every topic or find your favourite author such as Douglas Adams (a personal favourite).
"
"The Answer to the Great Question Of…Life, the Universe and Everything…[is] Forty-two." The Hitch Hiker's Guide to the Galaxy (1979) ch. 27 – Douglas Adams
So, whether you are looking to broaden your knowledge, find an answer to settle a family debate or help your child with their assignment, Oxford Reference should have what you're looking for. You can even create a personal account within the database to save searches or articles, make annotations, get the correct citation and share articles if needed.
If you aren't already a member, join up and explore.
Look out for the next blog in this series #FavouriteEresources
Comments
Your email address will not be published.
We welcome relevant, respectful comments.