Family history research: how State Library can help
By Kirsten Perris, Library Technician, Information Services | 31 July 2020
What is family history?
Family history research involves the use of various resources that help unearth facts and stories about one's ancestors. It allows you to find out who they were, where they came from, what they did and how they lived their lives.
How to begin?
If you've not yet done any family history research, then the first step is to create a family tree with what you already know. This allows you to work out where you need to start your search for information.
The first steps are:
Trace back from yourself – start with your birth certificate, then your parents' marriage certificate, and so on
Use pedigree charts and family group sheets to help record the information you find.
Use birth, death and marriage records to help you trace backwards.
Exhaust all Australian sources before starting overseas research.
Maintain a record of all sources used, your purpose and the results.
Family portrait of the Boyden family of Flaxton, Queensland; date unknown, John Oxley Library, State Library of Queensland, Negative number: 194259.
Where to begin looking
Now that you have gathered your information, where do you go from there? Try some of the following resources to locate birth, death, and marriage records. You will use these time and time again, as you go back through the generations. Each resource can provide you with different types of information that together help you create a picture. Also, by searching more than one resource for the same person you can confirm you are on the right track.
Birth, death, and marriage records
Civil records
Civil records reflect births, deaths and marriages that were registered with the government following the introduction of compulsory civil registration. Certificates can provide information for further research. Access to certificates differ between states and countries due to privacy laws.
Access our Birth, Death and Marriage Records research guide for more detail.
Church records
Also know as parish records, church records of baptisms, marriages and burials are the main source of tracking major life events that happened before civil registration. These records can also supplement or substitute missing civil records.
Access our Australian Parish Records or England and Wales births, deaths & marriages indexes research guides for more detail.
Excerpt of baptism record 1854, NSW State Archives & Records, NSW register for births, deaths and marriages, Reg. no.42, reel SR 5015.
Cemetery records
Cemetery records allow researchers to trace their ancestors to a particular area and time. They may provide links to other members of the family buried in the same cemetery. Cemetery records include headstone transcriptions as well as official burial records.
Access our Cemetery Records research guide for more detail.
Newspapers
Newspapers can be used to locate obituaries, funeral, birth, and marriage notices; accidents, inquests and inquiries, shipping intelligence like passenger lists; as well as personal and social notices like descriptions of weddings or engagement notices. Sometimes the information reported about an individual may not have been recorded in any other source.
Access our Newspapers and family history research guide for more detail.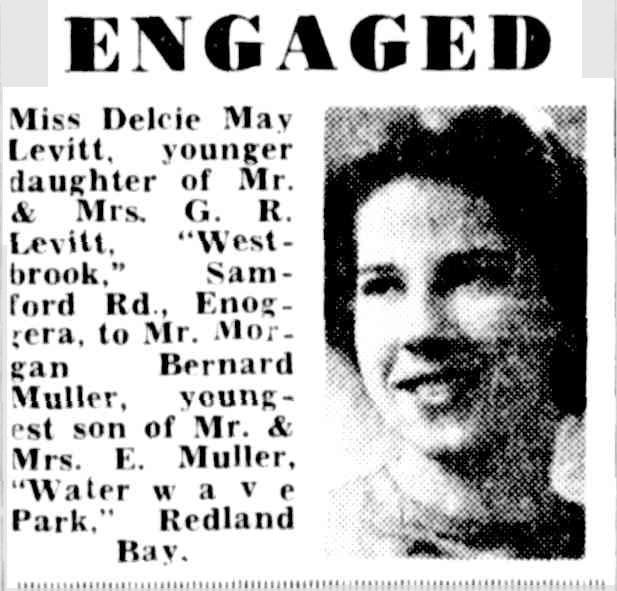 'ENGAGED', The Courier-Mail, 19 May 1945, p. 4.
Other death indexes
These include indexes to funeral directors' records, transmission of real estate by death, and police gazettes. Don't forget to also check biographical sources like pioneers' indexes and biographical registers.
Inquests
Inquests are magisterial inquiries held before a Coroner to establish the cause of death, the identity of the deceased; when, where and how death occurred, and whether any person is to be charged with a criminal offence. Early inquests were often published in the newspapers. Information found in inquests can be helpful in establishing death dates and may include family members' names, which can help establish relationships.
Wills, probate and intestacies
Wills often contain information that may be difficult to access elsewhere. Keep in mind a deceased person's estate is usually administered by the executor named in the will or appointed by the Supreme Court. Only approximately 5% -10% of all wills go to probate, so most wills no longer exist.
Access our Wills, probate and intestacies records research guide for more detail.
Will of John Fletcher, of Eaglehawk, 24 July 1924. Ancestry.com. Victoria, Australia, Wills and Probate Records, 1841-2009.
More information on these birth, death, and marriage resources, as well as other family history resources can be found in our family history research guides.
State Library of Queensland is a fantastic place for family history research, whether you're a beginner just starting out or a serious researcher on the trail of that elusive ancestor. So, visit us online or ask us a question. We are here to help.
Comments
Your email address will not be published.
We welcome relevant, respectful comments.