In early 2020, the State Library of Queensland put out a call for innovative and creative uses of our collections through a new initiative - the Digital Collections Catalyst in Residence. Dr. Keir Winesmith was successful with his proposal to use State Library's historic map collections to create machine learning models that visualise different possible futures for the city.
200 years of Brisbane from the Old Windmill
The Old Windmill, situated in Brisbane's Observatory Park just north of the city center, is the city's oldest building. It was built by convicts 200 years ago, making it both the longest surviving convict building and the oldest windmill tower left standing in Australia. It was originally built to process the wheat and corn crops from the Moreton Bay colonial penal settlement. However, as it is located in a somewhat windless location, it quickly became a place of punishment, with convicts being put to work on a treadmill to keep the arms and heavy millstone turning. At times, the convicts would be forced to do this with 8kg leg irons in the hot sun for 14 hours straight.
In the early-19th century, Brisbane was a small colony. In 1842, the region was opened to free settlers, and in 1859 Queensland was made a state, with Brisbane as its capital and it began to transform. Around this time there were significant changes all across Australia. The Gold Rush began in the early 1850s, bringing around 500,000 people to the gold fields, mostly immigrants. This prompted significant growth and broadened the ethnic make-up of Australia's population. In 1872 the Overland Telegraph was completed, giving Australia access to quicker communication with Europe, which went from taking months to just hours. This meant that Australia was no longer isolated from the rest of the Western world.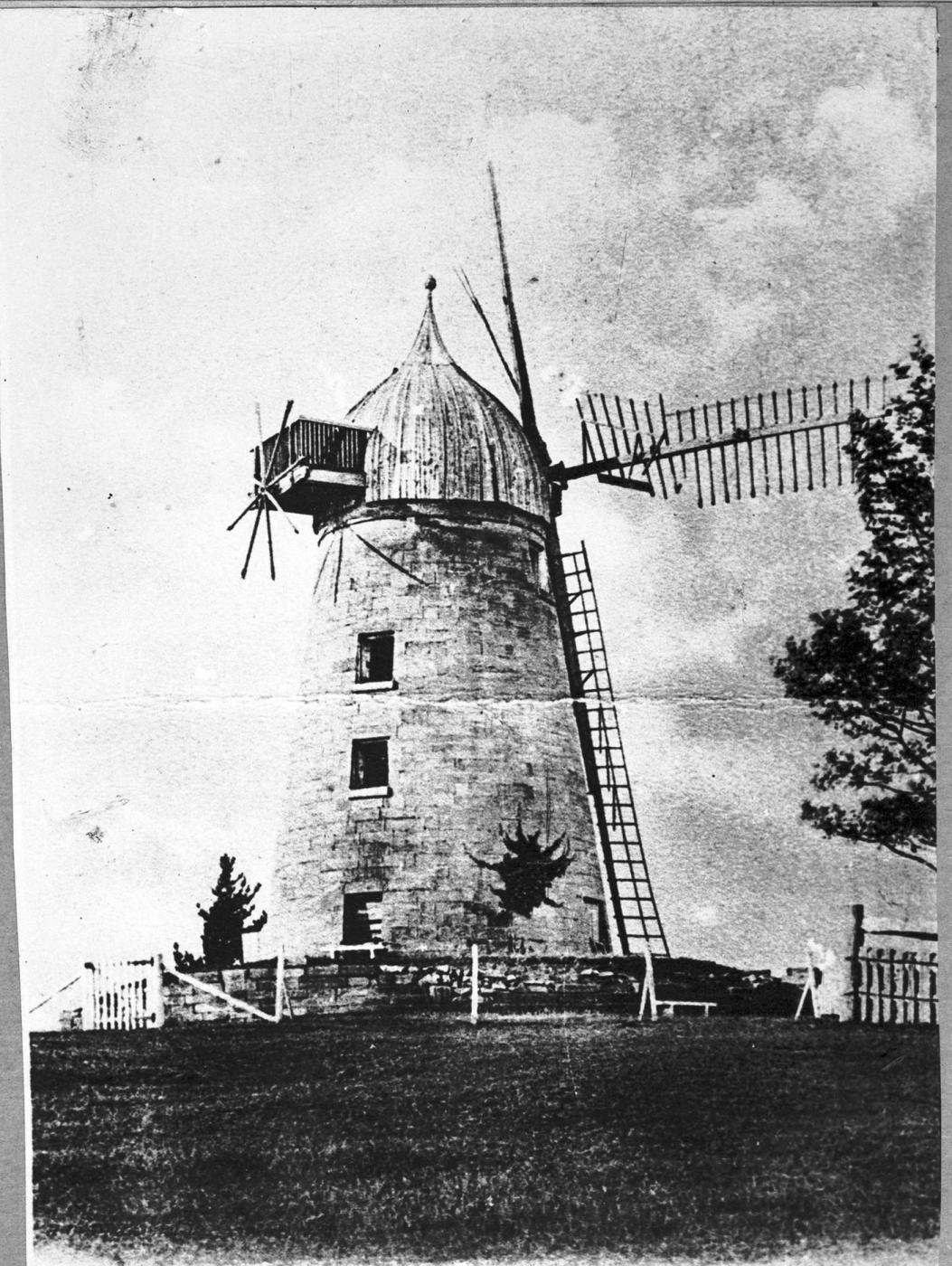 Credit: The Old Windmill, Wickham Terrace, Brisbane c1840. Discovering Queensland.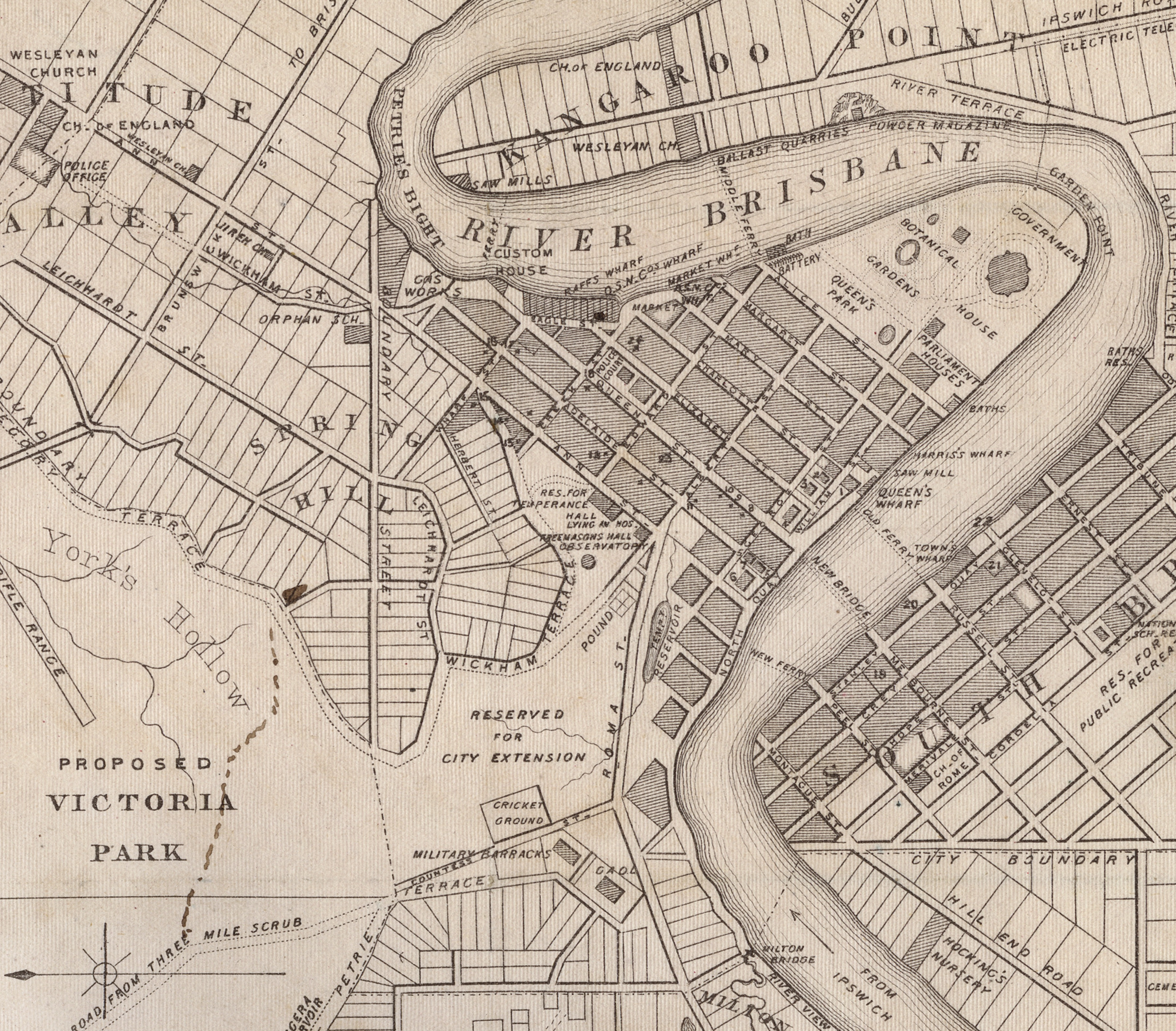 Credit: State Library of Queensland. Slater's Pocket Map of the City of Brisbane, 1865 ; https://hdl.handle.net/10462/deriv/34093
In 1855, the Old Windmill became a signal station to communicate shipping news between the entrance of the Brisbane River and the town. Then, in 1861 it was converted to a public observatory. This was carried out by John Petrie - a prominent contractor and mayor of Brisbane - who had the rotating caps and arms removed, and a time ball installed. A year later this panorama was captured by an unidentified photographer.

Credit: State Library of Queensland. Panorama of Brisbane in 1862 ; https://hdl.handle.net/10462/deriv/35957
Brisbane continued to grow, in 1876 the town's first railway station opened: Roma Street Station. This was followed by the roll out of horse-drawn and then electric trams in 1880 and 90s. The 1880s ushered in considerable changes for Brisbane, large land holdings were opened up to new landowners and speculators by the government. There are over 1,000 digitised land auction posters in the State Library's collection, hundreds of which are from the 1880s. The population grew in response to these changes, from approximately 6,000 people in 1861 to 88,000 by the 1891 census, mainly due to migration from Britain.
Towards the end of the 19th century, the Old Windmill was given a new role. The fire brigade began using its roof for night fire-spotting in the 1890s and at this point, it still had a functioning time ball.
Credit: Alfred Edward, 'Windmill, Wickham Terrace', 1895, sourced from the Museum of Brisbane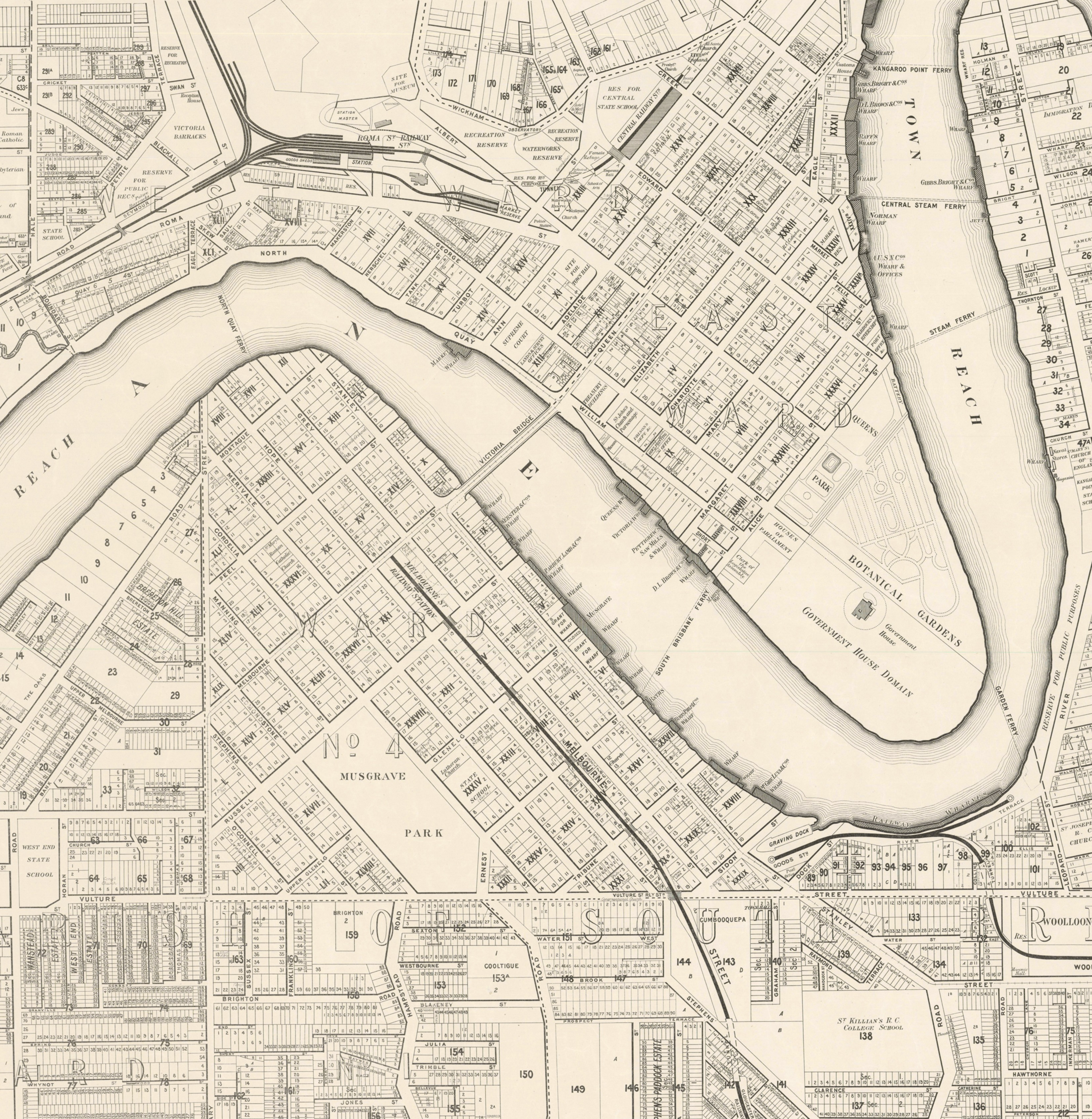 Credit: State Library of Queensland. McKeller's official map of Brisbane and suburbs, 1895 - Sheet 8 ; http://hdl.handle.net/10462/deriv/18649
History describes two significant waves of development in Brisbane. The first in the 1880s and 90s, which was characterised by an explosion of mapping and development. The two panoramas we've sourced were taken from the Old Windmill in 1862 and 1895 - either side of this incredible growth period. The second, from 1895, was taken by Alfred Henry Elliott and immortalised in the Museum of Brisbane's View from Hereopen_in_new exhibition. You can explore both panoramas below using the white arrows.
The second wave came in the 1970s and 80s as the city prepared for the 1982 Commonwealth Games and Expo 88. Now, in 2020, we believe that Brisbane is undergoing another wave of change. So, it is a key moment in time for us to take a look back at the maps and photographs of Brisbane's past.
The Old Windmill is now faced by the tall buildings of Brisbane city, and backed by the hotels, restaurants and homes of Spring Hill.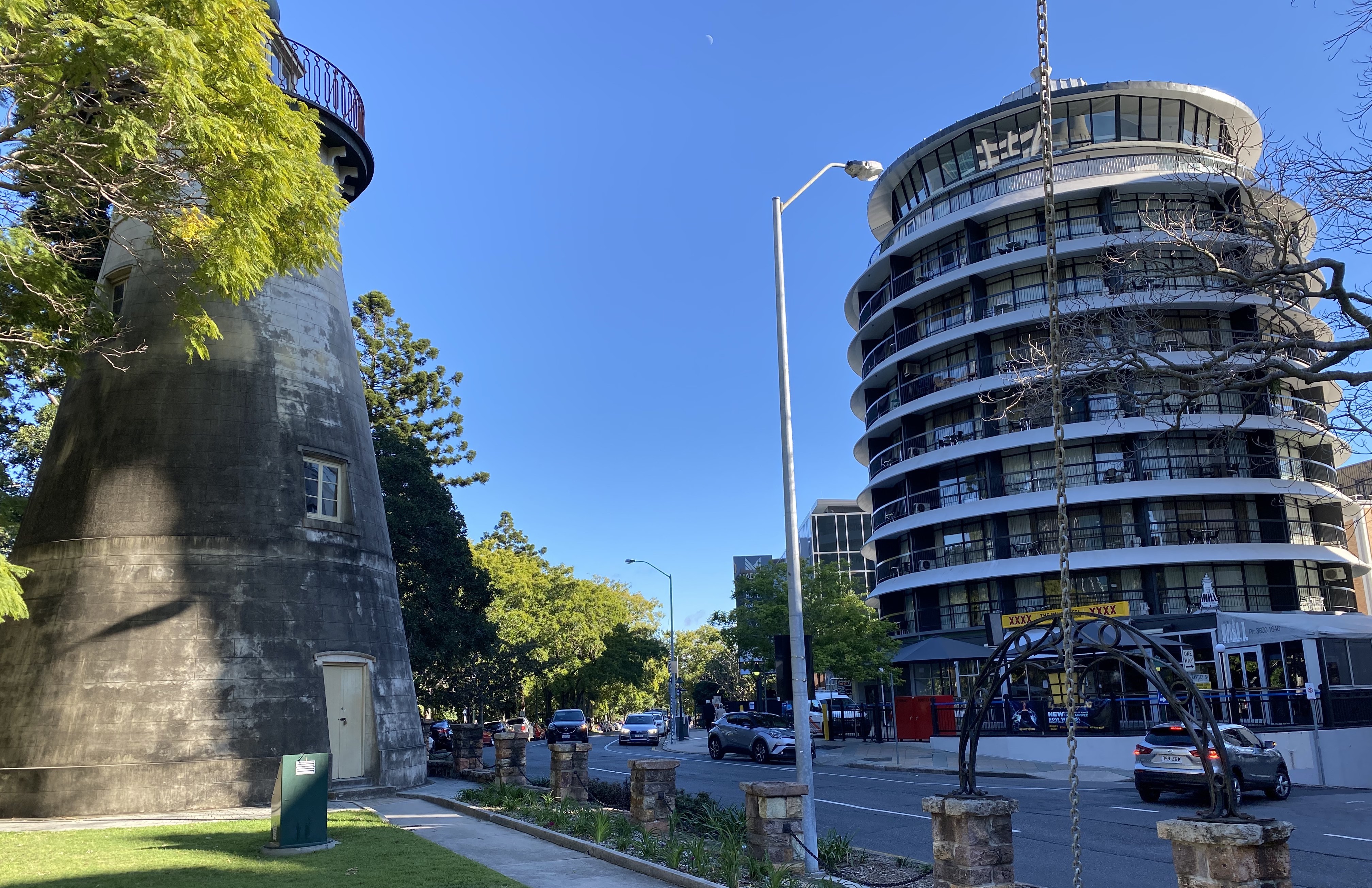 Credit: Old Windmill and Mill Tower Hotel, Keir Winesmith, 2020
Brisbane will continue to grow upwards and outwards, developing into something new. These panoramas allow us to contextualise our present. Indeed, now that the Old Windmill is nestled in the trees, we have created a replicable image from the top floors of the neighbouring Mill Tower Hotel, with the Old Windmill in the foreground. This image has been acquired and made open access by the State Library. It is a gift to Brisbane's future residents so that they can contextualise their city in 2036, 2050 or 2100, most probably with the Old Mill still sitting on its windless hill.
"
It's sometimes hard to remember, in the media whirlwind of the present day, that we are nothing more than the future's past.

Credit: Photography Keir Winesmith, composting Olivia Kelly, 2020
Endnotes

Images:
Slater's Pocket Map of the City of Brisbane 1865, APA-59 Nicholson Family Photograph Album. (2005).
https://digital.slq.qld.gov.au/delivery/DeliveryManagerServlet?change_lng=en&dps_pid=IE1183575open_in_new
Image number: APA-059-01-0001
The Old Windmill, Wickham Terrace, Brisbane c1840, Discovering Queensland.
http://mstrong.info/qsatwig/historic-places/brisbane/old-windmill-c1840.html
McKellar, A. R. (1895). McKellar's official map of Brisbane & suburbs. Brisbane: Surveyor-General's Office.
https://digital.slq.qld.gov.au/delivery/DeliveryManagerServlet?dps_pid=IE1003467&change_lng=
Elliot, A. (1895). Windmill, Wickham Terrace. City of Brisbane Collection, Museum of Brisbane. https://artblart.com/tag/bicycles-in-queensland/
Google Maps. (2020). The Old Windmill Observatory, Brisbane. https://www.google.com/maps/place/Old+Windmill+Observatory:+The+Tower+Mill/@-27.4633042,153.0131261,14.12z/data=!4m5!3m4!1s0x6b915a0253c6cf25:0x24ea21496b699cd6!8m2!3d-27.46574!4d153.0230711

References and Further Reading:
Stocker, J. (2018). 'The Old Windmill Digital Reconstruction'. Digital Cultural Heritage Conference.
https://digitalculturalheritageconference.files.wordpress.com/2018/10/the-old-windmill_brisbane-open-house-2018-report.pdf

Websites:
'Old Mill Brisbane', Must Do Brisbane.
https://www.mustdobrisbane.com/visitor-info-arts-culture-history/old-windmill-brisbane
'Old Windmill Tower', Brisbane Open House.
https://brisbaneopenhouse.com.au/building/spring-hill-heritage-tours-old-windmill-tower-spring-hill-reservoir/
'Old Windmill', Visit Brisbane.
https://www.visitbrisbane.com.au/brisbane/things-to-do/arts-and-entertainment/heritage-and-architecture/old-windmill?sc_lang=en-au
'Brisbane', Local Histories.
http://www.localhistories.org/brisbane.html
'Feb 12, 1851CE: Australian Gold Rush Begins', National Geographic.
https://www.nationalgeographic.org/thisday/feb12/australian-gold-rush-begins/
'Overland Telegraph', National Museum of Australia.
https://www.nma.gov.au/defining-moments/resources/overland-telegraph
'Experience the Old Tower Mill Treadmill Punishment as the Convicts Would Have', Courier Mail.
https://www.couriermail.com.au/questnews/north/experience-old-tower-mill-treadmill-punishment-as-the-convicts-would-have/news-story/7ed1c9c9dac3e5676e3e853070a9b66e
Next: About the Project
Mapping Future Brisbane was developed by me, Dr. Keir Winesmith, as part of the State Library of Queensland's Digital Collections Catalyst residency program.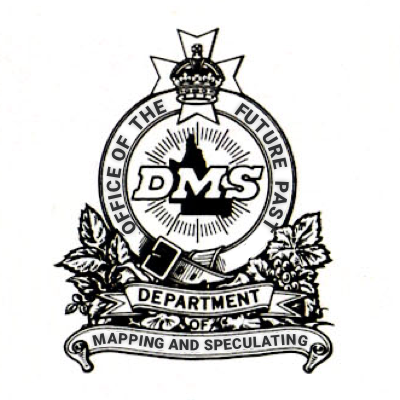 About the Digital Collections Catalyst
Dr. Keir Winesmith is the inaugural Digital Collections Catalyst for 2020. He has worked at the intersection of digital, culture and place for the last two decades. Keir created and collaborated on immersive and interactive cultural experiences in Australia, the U.S. and Europe, and in 2018 was named in Fast Company's '100 Most Creative in Business' for his work in this area. He currently leads a small strategic design agency and is an Adjunct Professor at UNSW Art & Design.
State Library created the Digital Collections Catalyst initiative for developers and creatives to support innovative and creative uses of our digital collections and collections data. We are interested in highly creative and experimental ideas that bring together technology with cultural heritage to inspire Queenslanders through State Library collections. Learn more about the Digital Collection Catalyst initiative here.