Your donations help maintain, enhance and expand State Library collections, facilities and services.
All donations $2 or more are tax deductible and every dollar goes towards our projects. Thank you.
Your gifts enable research of State Library collections to advance understanding about our State's history and development, and community support throughout Queensland.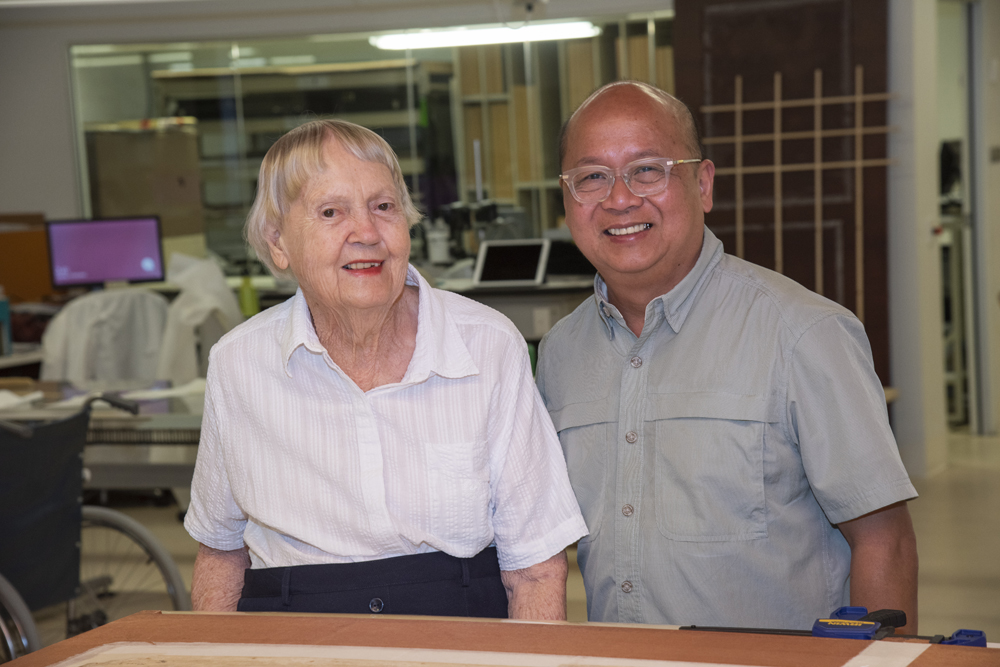 Mittelheuser Scholar-in-Residence
Dr Cathryn Mittelheuser AM is the generous benefactor of the Mittelheuser Scholar-in-Residence, a research project to advance the knowledge of professionals in the gallery, library, archive and museum sectors. In 2018, Eddie Jose, a world renown specialist conservator of Asian prints and paintings, was awarded the scholarship and came to Brisbane from the United States to conduct a five-day intensive workshop.
James C Sourris AM Collection
Students, teachers, researchers, and art-lovers are just some of the people who benefit from the James C Sourris AM Collection of artist interviews. This evolving collection, enabled through the generosity of Mr James C Sourris AM, provides an insight into the motivations, inspirations, and tribulations of some of Australia's most acclaimed visual creatives.
Queensland Memory Awards
Donations to the Foundation support the Queensland Memory Awards. This suite of fellowships and awards recognise the valuable contribution of individuals and organisations across Queensland in the investigation, preservation and celebration of Queensland's memory - past and present.
PCs for IKCs
The work of State Library in regional Queensland has caught the attention of Ashleigh Barty – current world number 1 in women's tennis, National Indigenous Tennis Ambassador for Tennis Australia, and proud Springfield resident. Ash has pledged her support to enable a computer to be placed in all 24 Indigenous Knowledge Centres (IKCs) throughout Queensland.
While the PCs for IKCs project is still in its early stages, positive impact across the community has already been achieved. In Wujal Wujal Shire Council, installation occurred in mid-2020 and community member Ray Sycamore visited the Indigenous Knowledge Centre to access online practice tests in preparation for achieving his learners' licence via the Queensland Transport website. "By being able to come to the IKC and regularly use the computer to access the internet, it built my confidence to go and complete the theory test and pass. This computer has assisted me to gain my learners and be able to get my full license so that I am able to leave the community on occasion, and not be reliant on others for transport."
Thank you to Ash and the Barty family for their continued support and interest in our work.
Inspire creativity
By leaving a bequest to State Library of Queensland, your legacy will advance library services, support free access to information and life-long learning for all, and safeguard Queensland's heritage and culture for future generations.
Learn more