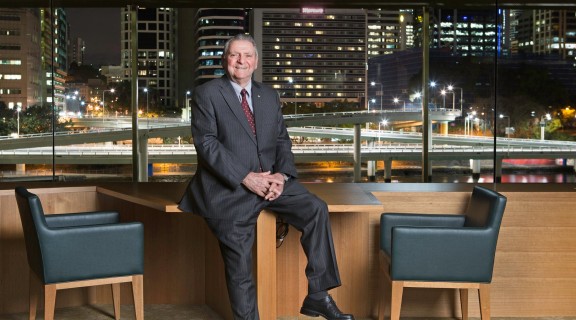 /

James C. Sourris AM collection of artist interviews
James C. Sourris AM collection of artist interviews
Gain a unique insight into the life and work of contemporary Australian artists through the James C. Sourris AM collection of artist interviews
James C Sourris AM is a long-time supporter and friend to many in the Queensland cultural community. His enthusiasm for contemporary Australian art and artists is evidenced through his private collection and the James C. Sourris AM collection of artist interviewsopen_in_new held by State Library of Queensland.
These interviews, embedded below, provide an insight into the motivations, inspirations and tribulations of some of Australia's most acclaimed visual creatives and enable research, student learning and personal enjoyment. There are three versions of each interview available - short (under 10 minutes), medium (approximately 30 minutes) and long-form (1hr+).
James and his sister Marica Sourris have been benefactors of the Queensland Library Foundation since 1998 and are honoured with naming rights of the Marica Sourris and James C Sourris AM White Gloves Room on level 4 of State Library.
This audiovisual collection speaks to the heart of James's lifetime of experience in cinematic entertainment and production. He was awarded the Order of Australia (AM) in 2011 for service to the arts and to the community through the development of the motion picture industry and through philanthropic contributions, particularly to the Queensland Art Gallery and the State Library of Queensland.
State Library acknowledges James and Marica for making this collection possible.
The James C Sourris AM collection of artist interviews
The James C. Sourris AM collection of artist interviews
The James C. Sourris AM collection of artist interviews consists of interviews with significant Australian artists and figures in the art world. It is a growing collection that provides insight and context to the practice of some of our most respected artists.
Each artist is profiled via three distinct recordings: a full-length interview between the interviewer and the artists, a 30 minute version, optimised for education purposes and a shorter version, generally 5 to 9 minutes in length that gives a quick taste of that person's artistic practice.
All of the recordings are transcribed and available for viewing online – via State Library's catalogue, OneSearch, YouTube or Vimeo. They can be used for research today but also by future generations to reveal insights about the artists and their practice, and to explore the artists' work in the context of their life story.
These engaging stories present a unique opportunity to learn a little more about a number of important artists.
The James C. Sourris AM collection of artist interviews is part of the Australian Library of Art at State Library of Queensland.
Education resources
The James C. Sourris AM collection of artist interviews offers a unique insight into the life and work of contemporary Australian artists. Supplemental education resources encourage students to delve into the lives and works of contemporary Australian artists such as Vernon Ah Kee, Judith Wright and Fiona Foley. The James C. Sourris AM collection of artist interviews education resources support the delivery of the Queensland Senior Visual Art syllabus and ACARA Visual Art outcomes.
Grade Levels: Primary years, Middle years, Senior years
Subject Areas: Visual Art
Additional resources
State Library education resources support your teaching and provide stimulating, authentic material to inspire students.