Where are they now: Allanah Hunt's incredible year
By Reading And Writing | 20 July 2022
Nearly a year on from 2021's big Queensland Literary Award announcements, we checked back in with Queensland Premier's Young Publishers and Writers Award-winner Allanah Hunt.
What's Allanah been up to? Oh, just writing two novels, completing two mentorships and becoming a doctor! Read on to learn all the exciting news from this hard-working young writer, and discover her tips for those just starting out.
Allanah Hunt, 2021 Young Publishers and Writers Award winner
Last year you won a Young Publishers and Writers Award. What have you been working on since?
I'm working on the edits for my completed novel, Forever and Ever, through the Boundless Mentorship with Text Publishing. My novel is about a teenage girl who falls pregnant to her Indigenous boyfriend, revealing hidden race relations not just in her community, but her own family.
I'm also working on another YA novel through the Next Chapter mentorship, Meet Me in Heaven or Hell. This is a very personal story to me as it explores a young woman living with endometriosis, which I struggle with in my everyday life. I want to give young girls more knowledge about endometriosis to empower them to seek a diagnosis much earlier than I did (which is vital for future quality of life).
What communities and resources would you recommend emerging writers tap into?
For emerging writers, I would recommend entering competitions that give feedback. The black&write! Writing Fellowship offers helpful and encouraging feedback from judges with vast cultural and publishing knowledge. I would also highly recommend applying for mentorships. I did both the Boundless and the Next Chapter mentorships — the knowledge I gained was invaluable.
What advice would you give to someone considering applying for a black&write! editing internship?
Apply, apply, apply! It is sincerely one of the best decisions I've ever made. Please don't be nervous; the black&write! team are outstanding and Grace Lucas-Pennington, the head editor, is one of the kindest and most knowledgeable people I've ever met, creating an emotionally and culturally safe learning environment.
If you are interested in editing and First Nations storytelling (irrelevant of how much experience you have in these fields), you can do no better than to apply for a black&write! editing internship!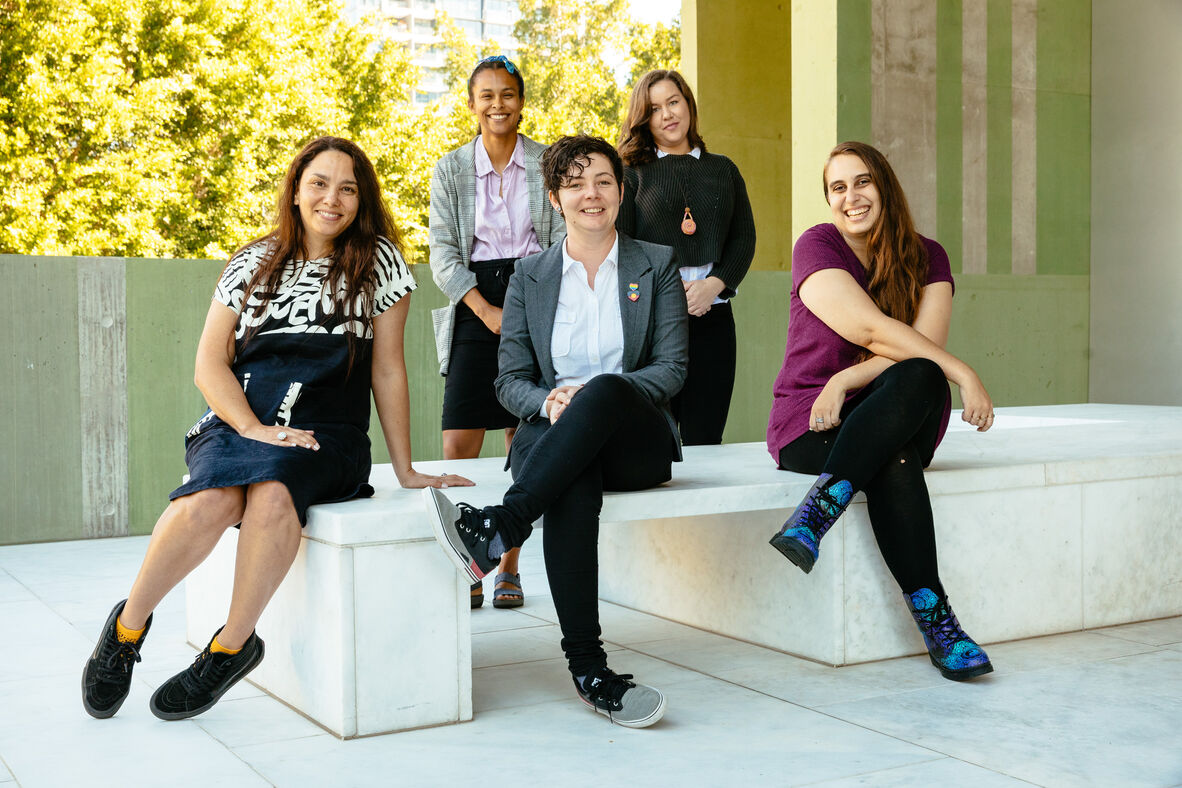 The black&write! team at State Library is here for all First Nations writers and editors. (Photograph: Joe Ruckli)
Was there a highlight of your 2021 Queensland Literary Awards night experience you can share?
My biggest highlight was to thank my family for being an amazing support of not just my writing, but me as a person. They believed in my voice, so it was very special to thank them for being the people who helped me to be in the honoured position of standing on that stage to accept that award.
What text of the past 12 months is living rent-free in your brain?
'To the Islands' by Jasmin McGaughey, an essay published for Griffith Review 76: Acts of Reckoning. Jasmin explores how our elders hold a collective of different memories of their Country, adding layers of depth to lands that we know in only one form. She shows the history — the real history — of her island homes that is recorded through her elders' words and memories, as well as her own, and not the histories that are too often enforced by colonial institutions. She explores the very real threat of climate change that threatens to take away Country, pieces of ancestral history.
The way she weaves culture, history and memories of home is nothing short of stunning. When it comes to Jas, there is nothing she can't do with a pen and paper. On top of it all, she is the kindest and humblest person you could wish to meet. It is a breath-taking piece of writing and one I highly recommend! [Read it here!]
Is there any other news from the past year you'd like to share with us?
Yes! This year, I finished my PhD in Creative Writing through Anglia Ruskin University in Cambridge, UK, and am officially a doctor. I still can't believe it is done! My PhD explored affective learning, intersectionality of feminism and Indigeneity, and fan fiction-modelled storytelling. I wrote a postcolonial fan fiction-styled novel set in the Marvel Cinematic Universe. I got to insert an Indigenous superhero into the MCU, which was very special for me to create.
Comments
Your email address will not be published.
We welcome relevant, respectful comments.