Those Days - Living History in the QPAC Tunnel
By JOL Admin | 20 February 2014
Last Tuesday a group of State Library staff enjoyed the privilege of a curated walk through of the Clancestry visual exhibition Those days…a Living History. The installation, the achievement of a joint QPAC /State Library of Queensland project, is currently enlivening the QPAC tunnel at the South Bank cultural complex until 23rd February - and its viewing is a highly recommended experience.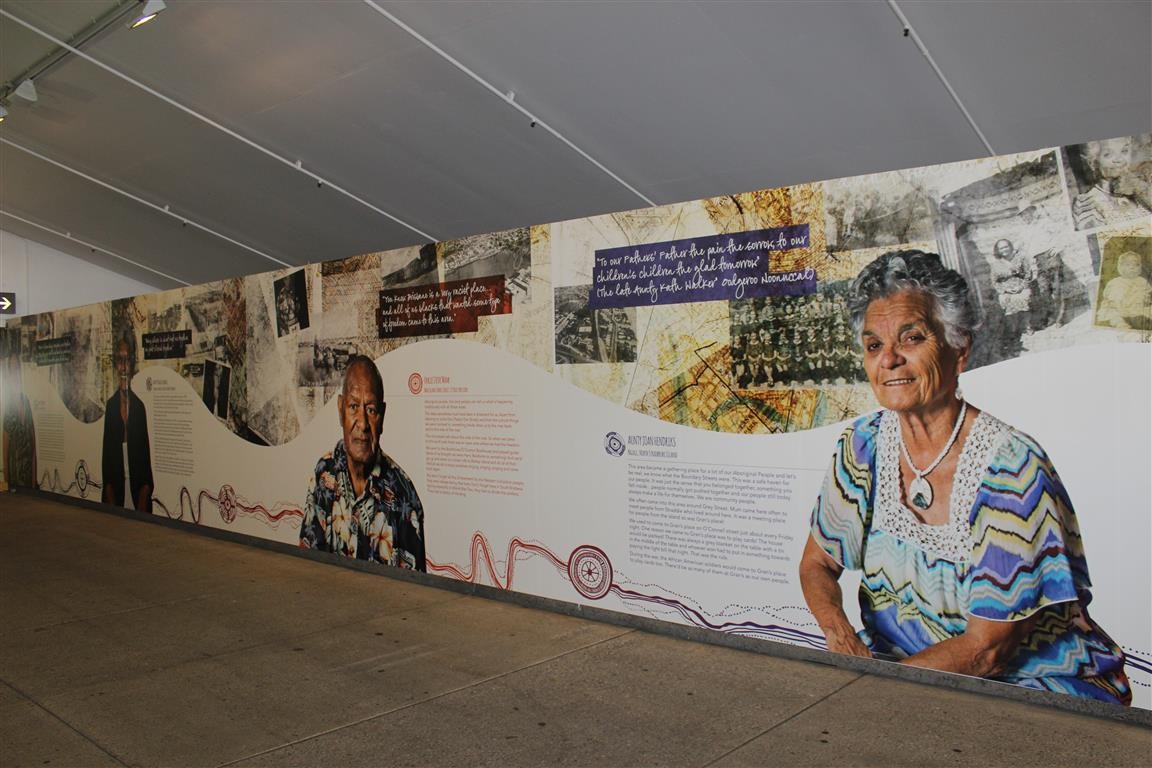 Those Days...A Living History. Aunty Joan Hendriks, February 2014, John Oxley Library, State Library of Queensland
Clancestry is a word you may have seen advertised around the city in recent days. As my bus whizzed past a street corner in the western suburbs the other day, I saw it writ large on a billboard - community festival, produced by QPAC, celebrating the arts and culture of Aboriginal and Torres Strait Islanders, mention of some interesting looking cultural events, many of them free.
The rest of the story is that Clancestry is a three-day celebration of country features music, dance, crafts, workshops, visual arts and storytelling - and most of it is staged in the open air at South Bank. It's an annual festival and when it was initiated last year, the inaugural event received a Queensland Reconciliation award.
Behind the Festival is a highly talented team of guest curators and it was one of these curators, Nadine McDonald Dowd, Executive Manager of kuril dhagun at the State Library - and curator of Those Days - who shared her passion and enthusiasm for storytelling with us as we absorbed the cultural memories of indigenous people living in and around the South Bank precinct over several decades.
What emerges through the shared stories of traditional elders and community leaders - such as Uncle Bob Anderson, Aunty Joan Hendriks, Raelene Baker and Tiga Bayles - is the importance of this side of the river in establishing and preserving connections amongst the community who lived here.
The collected stories of the Brisbane Aboriginal and Torres Strait Islander community - who have maintained a continuous presence in the area since the 1920s - reflect a South Brisbane which existed before the establishment of the present day Cultural Complex. There was a different vegetation, a denser tree canopy, we are told, and trams and sprawling boarding houses, a pub on most corners between the Victoria Bridge and Plough Inn, fish markets, protest events, the Black Maria (or prison van) which prowled along the streets and laneways of South Brisbane.
Aunty Valda Coolwell "Being black is what kept us together...", February 2014. John Oxley Library, State Library of Queensland
Listening to Nadine, reading the stories of the elders, it was as if one of those coloured cellophane overlays had been gently pulled back from our present day impression of sophisticated South Bank elegance to reveal an altogether different view of this side of the river. It's an important story and a history that enriches our understanding of this part of Brisbane. As I said earlier – well worth a visit!
Libby Fielding, State Library of Queensland
Comments
Your email address will not be published.
We welcome relevant, respectful comments.