Television comes to South East Queensland (1959)
By Myles Sinnamon, Project Coordinator, State Library of Queensland | 15 July 2017
On July 1, 1959, television sets went on sale in Queensland for the first time. Retailers had agreed not to sell television sets before this date, so that there would be "orderly marketing". The Courier-Mail reported that retailers had spent an estimated £50,000 ($1.3 million today) preparing for the sale. It was estimated that 300 TV sets, with a combined value of £60,000, were purchased by midday on the first day of sale. The newspaper also published a "32-page TV special issue telling you ALL you want to know about the Television Age". This special issue included articles such as "What to look for when buying a set", "Guidance on the installation of antennas and insurance on your set" and "The Church's role in TV".
During this period television sets were a luxury item. A rough survey of stores conducted by the Courier-Mail newspaper reported that prices for a 17 inch screen (43 cm) ranged between £104 and £177 (approximately $3,000 to $5,200 today). Larger sets with a 24 inch screen (about 61 cm) could cost between £280 and £345 (between $8,000 and $10,000 today).
Ginn family gather around to watch television in Brisbane, Queensland 1959. In copyright. John Oxley Library, State Library of Queensland. Neg 68711
On August 16, Brisbane's first TV station was launched, QTQ9 (Channel 9), followed by BTQ7 (Channel 7) on November 1 and ABQ2 (ABC) on November 2.
The rivalry between Channel 7 and Channel 9 started immediately with the two channels screening Academy award winning movies at the same time slot on November 1. BTQ7 screening Casablanca and QTQ9 with High Noon.
The ABQ2's official opening (on air) was at 7pm on 2 November at their Toowong studios, with Russ Tyson (popular ABC radio host) being the first person in front of the cameras. The official opening featured the Postmaster General Hon C W Davidson, ABC Chairman Sir Richard Boyer, Premier of Queensland Frank Nicklin and Acting Lord Mayor Alderman Crawford. It also featured a special greeting from the BBC. ABQ2 nightly news which followed the opening was presented by Ron Brady.
At the same time slot as ABQ2's official opening, BTQ7 was keen to steal some of the ABQ2's glory with the debut of a new locally produced quiz show called Noughts and Crosses.
Open copy of the first edition of the TV Times (Qld edition), 1959 and a ca.1970s television set on display as part of the Freedom Then, Freedom Now exhibition in 2017
Other programs on offer in those first few weeks included Dragnet (QTQ9), Maverick (QTQ9), I Love Lucy (BTQ7), Mickey Mouse Club (BTQ7), Six O'Clock Rock (ABQ2), The Lone Ranger (ABQ2), Gunsmoke (BTQ7), Cottee's Happy Hour (BTQ7), Lassie (ABQ2) and Perry Mason (BTQ7),
State Library of Queensland holds the magazine TV Times, which started just prior to ABQ2 going to air in Brisbane. The magazine was devoted to "anyone – young or old – who will ever watch television". The first issue contains an article, "Queensland TV forecast - beautiful on all channels" about the weather presenters on all three channels; Maureen Kistle (Miss Australia 1955) on ABQ2, Nancy Knudsen (Miss Queensland 1959) on BTQ7, and Pamela McKay (Miss Australia 1958) on QTQ9. All three women were instructed by meteorologist H.E. Whittingham on how to read weather charts and symbols.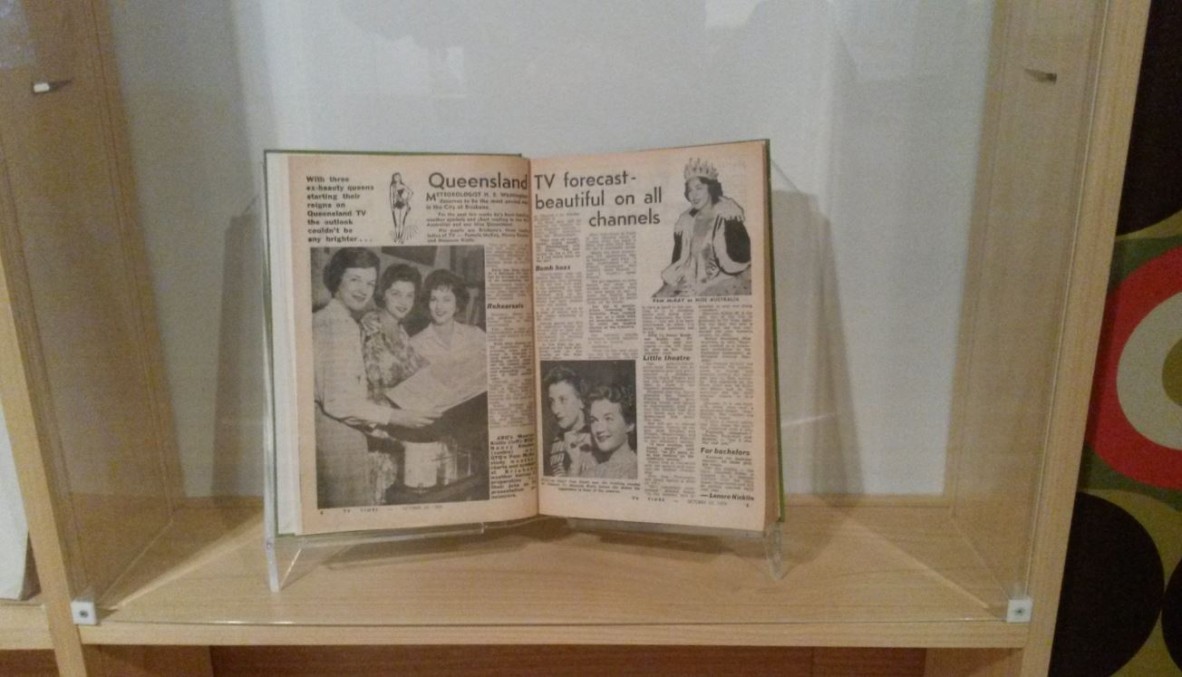 First edition of TV Times (Qld edition) on display as part of Freedom Then, Freedom Now in 2017
Myles Sinnamon - Project Coordinator, State Library of Queensland
Further reading
Comments
Your email address will not be published.
We welcome relevant, respectful comments.