Situating Zines as historical documents
By Bianca Martin, 2022 Rainbow Research Fellow | 8 February 2023
This blog was written by 2022 Rainbow Research Fellow, Bianca Martin.
In one of the few book-length studies on the subject, Stephen Duncombe makes an attempt to arrive at a concise definition of zines as:
"
noncommercial, nonprofessional, small-circulation magazines which their creators produce, publish, and distribute by themselves (9).
Stephen Duncombe, Notes from Underground: Zines and the politics of alternative culture (2nd ed.). Microcosm, 2008.
While this definition contextualises zines through their uniquely unconventional and inconsistent modes of production, it doesn't provide much clarity on what a zine might look or feel like, what content you might find inside its pages, or why it may even exist in the first place.
Zines open_in_newtake on many physical forms, and while they are often found as folded or stapled photocopied booklets they can range in size, shape, page count, colour, materials, layout, and size of the print run. The content of a zine is essentially limitless within its print form, and its topics and categories can include fanzines (music, sport, film, tv, etc), political zines, personal zines, zines about fringe culture, religion, health and sexuality, travel, recipes, rants, lists, comics, creative writing and poetry, art, and comics. As you may begin to see, wrangling a succinct yet inclusive definition of a zine may cause one to end up missing the point of zines altogether: overarchingly they are simply a means of self-expression.
While it may seem fruitless attempting to define something that by its very nature seeks to defy, contradict, and reimagine its own definition, I think it's important to attempt some form of explanation of what zines are as their point of entry can often feel quite inaccessible to the uninitiated. Zine researcher and academic Anna Poletti explains that "most people have not heard of zines because they are not easy to find (unless you know where to look) and their lifespan—as objects circulating in a particular economy—is short." (12). As such, zines are ephemeral objects, often having only small and limited print runs and from a researcher's perspective can lack pertinent publication information such as author name, location, or date.
Zines are also unique in that they have modes of distribution particular to the form. For the most part, you can't just walk into any store and buy a zine. Sticky Institute in Melbourne is currently the only physical store dedicated solely to selling zines. Stores such as secondhand bookstores or record shops may stock zines on consignment or agree to have a collection of free zines located alongside community magazines or localised advertising material. This means that oftentimes zines are primarily circulated directly through the zinemaker via the post, through word of mouth, on online stores, or can be sold or distributed in-person at gigs, art shows, or zine fairs (which are akin to a market consisting of predominantly dedicated zine stalls).
Zines from State Library's Zine collection. Australian Library of Art, State Library of Queensland.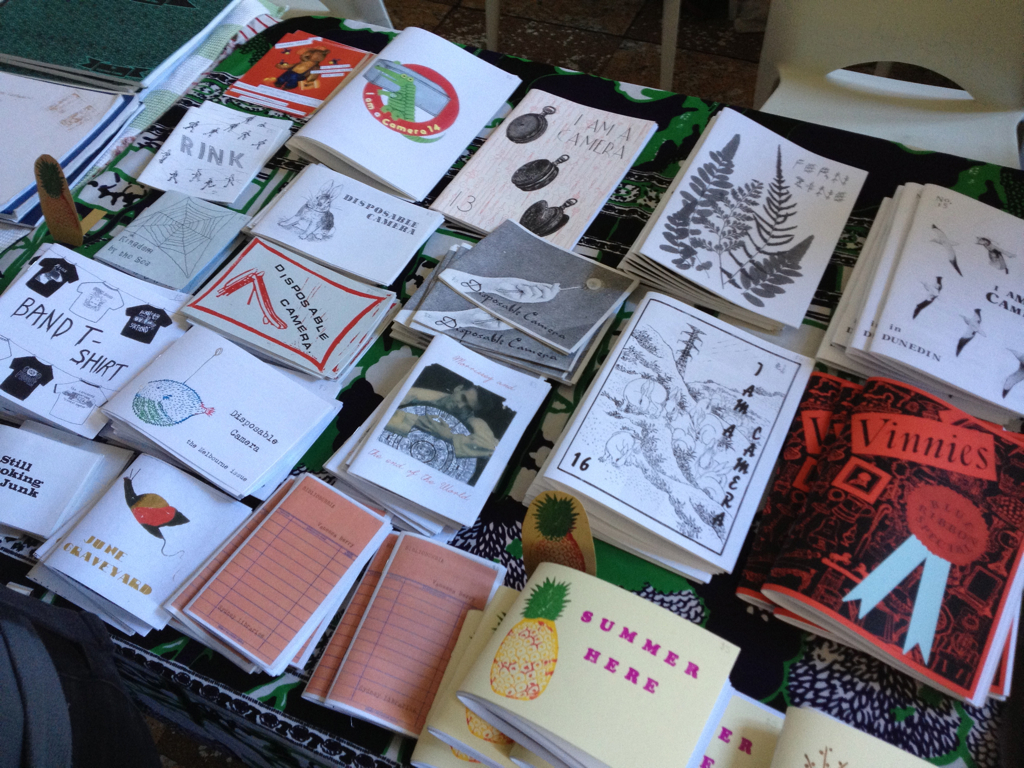 Vanessa Barry Zines. Australian Library of Art, State Library of Queensland.
Previous research has examined zines through the lens of cultural studies, media and communications studies, auto/biographical studies and life writing, youth studies, gender studies and feminist studies. My personal interest in zines is through the lens of literary and narrative studies, framing them through contemporary life writing scholarship. Zines offer rich opportunities for close reading and textual analysis, not only in terms of writing and imagery, but also the materiality of the zine as a tactile object.
Given that my research is in the analysis of life writing, I expect that throughout this project I will have a strong focus on personal zines, also known as 'perzines'. Duncombe describes perzines as "personal diaries open to the public; shared notes on the day-to-day life, thoughts and experiences of the writer" (14). As we have already seen though, zines cannot always be so neatly organised or categorised and I anticipate the scope to be much wider in practice.
My fellowship project will specifically look at contemporary zines from the LGBTQIA+ community, which within zine research paradigms can simply be referred to as 'queer zines'. I'm particularly drawn to zines as modes of life writing because, as librarians Richard Stoddart and Teresa Kiser suggest, zines "offer a direct and unfiltered view of an individual's interpretation of and participation in the culture that surrounds him or her. The zine presents a first-person attempt to decipher and decode the world." (193). The Australian Library of Art has hundreds of Australian zines within its collection, with the majority of the collection from within the last 20 years. It is both the beauty and the challenge of zines that you never quite know what you will find inside their pages, and it will be no different for me throughout this project. Staying true to the spirit of zines, the collections are not categorised by topic, theme, narrative, or style and will thus provide an exciting quest over the coming months.
As zines do not prescribe to a set of publishing or editorial standards they can be argued as pure and authentic expressions of their maker and undertaking this research project offers a unique chance to uncover voices and stories from the archives that may be otherwise marginalised, silenced, or overlooked.
Works Cited:
Duncombe, Stephen. Notes from Underground: Zines and the politics of alternative culture (2nd ed.). Microcosm, 2008.
Poletti, Anna. Intimate Ephemera: Reading young lives in Australian zine culture. Melbourne University Press, 2008.
Stoddart, Richard A., and Teresa Kiser. "Zines and the Library." Library Resources & Technical Services, vol. 48, no. 3, 2004, pp. 191-197.
Collection:
Comments
Your email address will not be published.
We welcome relevant, respectful comments.