Reel Rescue: historic film saved from your donations
By Reuben Hiller, Specialist Librarian, Queensland Memory | 18 June 2021
State Library is in a race against time to preserve and digitise its fragile audiovisual collection – film, tape and cassette. According to the National Film and Sound Archive: open_in_newDeadline 2025 discussion paper, there is now consensus among audiovisual archives internationally that tape and film not digitised by 2025 will, in most cases be lost forever.
In response to this need, the Queensland Library Foundation established Reel Rescue – a project now in its third year of unearthing the more than 4000 original audiovisual items held by State Library and repairing, digitising and making available these vulnerable obsolete formats available online for the whole world to enjoy.
So far, Reel Rescue has seen over 250 items digitised and made available in our One Search catalogue, with more continually going live. The bulk of these items have been home movies on film, largely 8mm, 16mm and Super 8, with the occasional 9.5mm thrown in. There have also been VHS tapes, Mini DVs, audiocassettes and audio reels.
The diversity of the material digitised is quite remarkable. Many are backyard home movies, but there are also amateur documentaries and oral histories as well footage of performances, workplaces, significant events, trips all over the State and many madcap antics. Although the 1950s and 1960s, being the heyday of home movies, are heavily represented, the footage spans the 1920s to the 2010s. Locations reach from Badu Island, at the very northern tip of Queensland, south to the border, west to Barcaldine and beyond, and north west to Mt Isa.
Combined, the moving images that have come to light during this project, provide a remarkable lens through which to view Queenslanders past, their day to day lives, their holidays at the beach and swims in the creek, their sometimes strange recreational pursuits, their fashion, their celebrations, their work lives, their interaction with the natural world, and often their wicked sense of humour. They also showcase the changing world around us – the evolution of our cities and towns, the impact we have on the natural world, and the constant shifts in the society we live in.
Warana Parade, Fortitude Valley, ca 1980. 31886/5 Don Finlay Motion Picture Collection. John Oxley Library, State Library of Queensland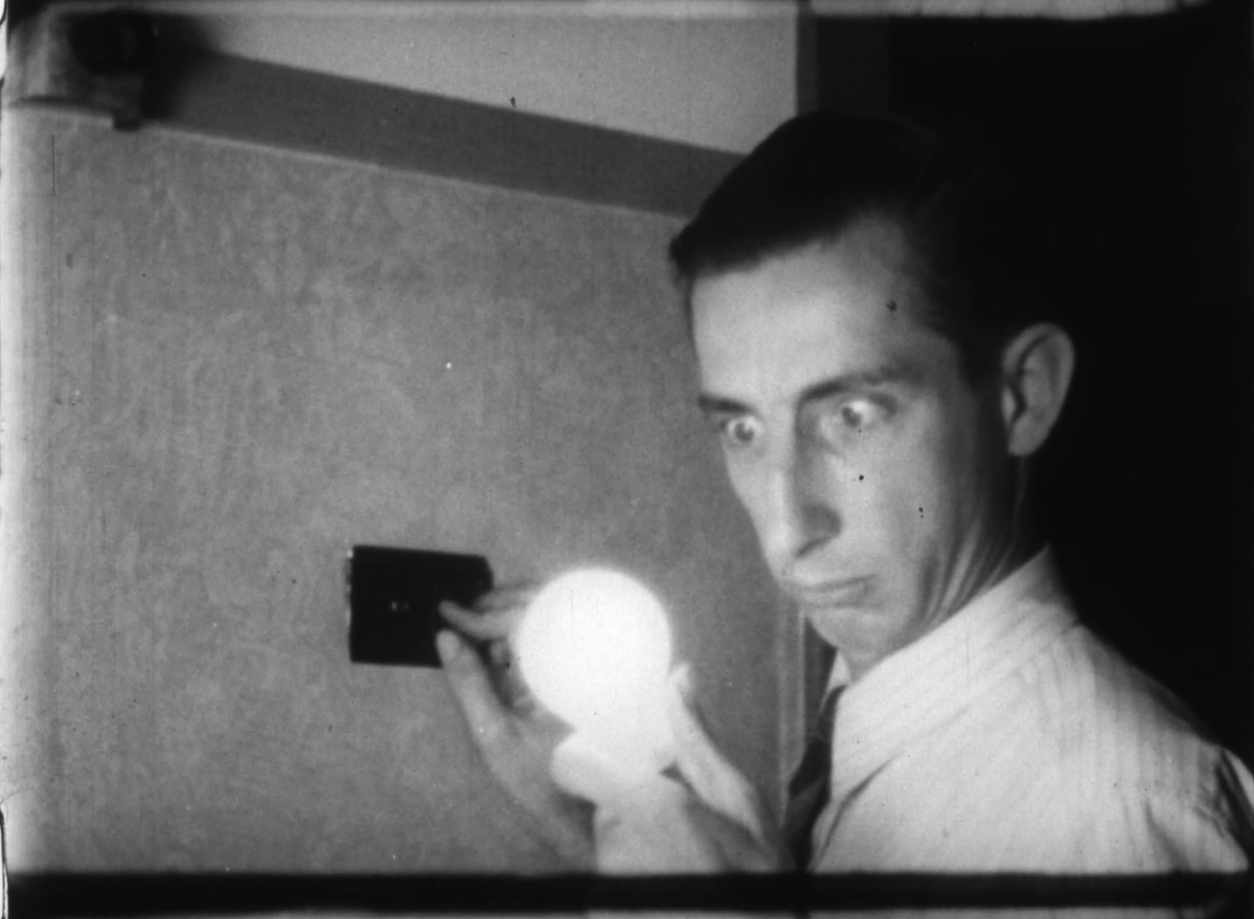 Paul Ruckert in 'The Handyman', ca 1954. 31306/16 Paul Ruckert Collection. John Oxley Library, State Library of Queensland
There are often some condition issues to overlook when viewing the results of Reel Rescue. Not every amateur filmmaker was a master of their trade and inevitably there is occasional wonkiness, jerkiness, blurriness and problems with light and exposure. On top of this, Queensland's climate hasn't always been kind to reels of films and magnetic tape and this inevitably shows through on some of the digitised films. But it is all part of the story and often the flickering images and inconsistent colour have an endearing quality about them and add to the overall nostalgia.
There have been many highlights this last year. From the diverse and at times experimental films of Len Pass; to the keen documentation of just about anything by Don Finlay; to the many strange vehicles of the Endres family. There was the 1920s footage from the Cremorne Theatre, the demolition derby of Harry Ven Elsen, the weddings of the Kilner Family, more films from the celebrated Paul Ruckert, William Dobbie's expat life in PNG, the 1950s rock'n'roll band filmed by George Vardas, and the demolition of the Tivoli and Supreme Court in Beryl Clowes films. Not to mention the filmed oral histories with the Torres Strait Railway families and Cherbourg identities.
Watch this video to learn more about the Reel Rescue campaign.
Highlights of films digitised through your donations to the Reel Rescue campaign
1. 5473 Beryl Clowes Collection 1955-1979: A collection of original film footage and magic lantern slides. The film is mostly 8mm home movies of various locations and events in Brisbane, other areas of south east Queensland and holiday footage of other areas of Queensland. The lantern slides show colour images of Brisbane in the 1950s.
2. 32208 Cremorne Theatre motion picture 1928: One reel of 16mm, silent film, approximately 6 minutes, showing an unidentified performance at the Cremorne Theatre in Brisbane in 1928.
3. 31434 William Henry Endres films (1937-1974?): 27 short films on a variety of subjects made by William Henry Endres. Footage includes predominantly family recreation as well as Queen Elizabeth's visit to Brisbane, Toowoomba and Warwick, Australia Day parade (1952) and the Warana Festival parade (1961-1974).
4. 32102 Len Pass collection (1929 and 1983?): A collection of film, photographic slides, photographs and phonographic recordings. The material was mostly created by Brisbane experimental, amateur film-maker Len Pass. The 50 films span ca. 1929-1983 and range from documentaries, family home movies, time lapse films, holiday films and footage of significant events. The collection also includes 8 mm. films made in the experimental 'ultrapan 8' style during the 1960s. The photographic slides include 39 60 x 60 mm. glass dufaycolor slides taken during the 1940s, including military parades through Brisbane at the end of World War Two, and Brisbane scenery and 3 dufaycolor transparencies not housed in a glass slide; 17 colour '127' photographic slides including scenes of a dolphin pool, Gold Coast and hinterland scenery, ca. 1950s; 12 commercial 35 mm. slides showing scenes of the Royal Tour of Queen Elizabeth II in 1954; miscellaneous glass and acetate colour 35 mm. slides taken during the 1950s showing scenes of Brisbane, the Gold Coast and New South Wales. The 16 photographs are black and white images relating to the Queensland Amateur Cine Society, ca. 1930s-1940s, showing outings and film-shoots.
5. 31306 Paul Ruckert collection (1930-1990): This collection of films created by Paul Ruckert includes commercials, short comedies, films about nature and home movies.
6. 31886 Don Finlay motion picture collection (1960-1990): Large collection of films, including home movies and amateur documentaries. Collection of home movies and amateur documentary films, many with narration. Topics and locations include St Helena Island, ANZAC day celebrations, Warana parades in Brisbane, the Brisbane River, the Brisbane city centre and well known landmarks, Tivoli State School in Ipswich, Mt Crosby State School, family Christmas celebrations, steam trains, and various Queensland locations including, Toowoomba, Girraween and the Gold Coast.
7. 32433 George Vardas films (1950-1960): Home movies from the 1950s showing scenes in Brisbane, Gold Coast and Toowoomba, hunting trips, and a trip to Greece.
Comments
Your email address will not be published.
We welcome relevant, respectful comments.