Queensland's Rocky Balboa. The story of William (Billy) Unwin.
By Troy Keith, Queensland Memory | 22 June 2022
It's a Queensland history story that could easily be a movie, it's the Greatest Showman meets Saving Private Ryan meets Rocky Balboa. Learn about the fascinating story behind a boxing trophy from 1917 found in State Library's collection.
Close up of the inscription on the trophy won by William (Billy) Baden Unwin for the Queensland Amateur Boxing title in 1917. The inscription reads: QAB & WA (Queensland Amateur Boxing and Wrestling Association) Reconstructed Champion of Champions Trophy. 1917 Tourney won by W. Unwin. 31967 William Baden Unwin boxing trophy and photographs, John Oxley Library, State Library of Queensland.
William (Billy) Baden Unwin's story starts in London where he was born on the 1st May 1901, eldest child to William John Unwin and Ellen Jane Sullivan. Early in the 1900s the family moved to America where they travelled with circuses including Buffalo Bill's Wild West Show and Barnam & Bailey Circus. Billy's mother Ellen worked as a 'tattooed lady', his father William was also covered in tattoos from the neck down to his ankles. Billy worked as a 'water boy' in Buffalo Bill's circus. Ellen was a descendant of the Iroquois first nations people and the family sometimes lived on the Cherokee reservation in Oklahoma. Between the circuses and the Cherokee reservation is where Billy and his younger brother Ernest (Ernie) learnt the sport of boxing. They became such good boxers that their parents entered the boys into boxing tournaments (sometimes rigged) in each town and state they travelled through. The boys parents often played down their children's boxing abilities so they could place bets on their tournaments and reap the winnings. The man organsing the venue for the circus at each location also organised on the side amateur school boy boxing tournaments in each location knowing Billy and Ernie would beat any local competition. The money won from gambling and the boxing competitions supplemented the family's income, even trophies won by the boys were melted down and the metal sold for a profit. Billy collected a few state boxing titles and medals, he was the better boxer of the two brothers. The family travelled extensively throughout the United States and is recorded to have lived in Chicago, Denver, Kansas, Carson City, Cheyenne City, Salt Lake City, California, Seattle and throughout Washington state.
Around 1914, many circuses were folding and the First World War had started in Europe. Sensing the war would escalate, the family moved to the safety of Brisbane, Australia.
In 1917 William and his sons, Billy and Ernie enlisted in the Australian Imperial Force (A.I.F) during the First World War. It was rumoured William Unwin had walked out on his wife and children before enlisting in the A.I.F in Brisbane on 20th April 1917. His sons, Billy and Ernie ran away and also enlisted in an attempt to find their father. On the 10th May 1917 both boys managed to enlist despite being underage, Billy was aged 17 and Ernie aged 15. They must have located their father at the Enoggera Army Camp because the boys were allocated consecutive regimental numbers alongside their father - 6855 (Billy) and 6854 (Ernie) as they all must have been allotted to their units at the same time while being trained at Rifle Range Camp in Enoggera.
William Unwin signed the parental consent form for both boys as they were under 21 and also forged the signature of his wife. This is obvious when comparing the signatures on all three Attestation forms as it is the same writing for both father and mother. It was not until August 1917 that proof of age in the form of a birth certificate was required when enlisting.
37 days after enlisting, Billy was discharged from the Army as he was deemed "medically unfit for further service". It was thought he was too scrawny for war, too small and too light. Service records reveal that Billy was discharged as being medically unfit for further service, character good on the 16th June 1917. A second annotation described him as thin puny youth and below the standard required for AIF, unfit for active service.
Billy returned home to his mother and to the sport of boxing and despite being deemed unfit for war a month earlier he won the Queensland Amateur Boxing and Wrestling Association's "Champion of Champions" tournament and trophy in August 1917.
The roofless Olympic Stadium (later known as Baker's and Brisbane Stadium) on the corner of Charlotte and Albert Streets, 1914. This is where Billy won the Queensland Amateur Boxing title in 1917 and where he was awarded his trophy. At the time the stadium was know as Baker's Stadium as the new owner was 1908 Olympic Boxing Silver Medallist Reginald "Snowy" Baker.
The photo is taken from the top of the unfinished Perry brothers building, corner of Elizabeth and Albert Streets.
Copy Print collection, John Oxley Library, State Library of Queensland. Negative number 38587.
Billy's father William and his brother Ernest were sent to the battlefields of Europe where on the 5th April 1918 William Unwin was shot dead in Dernancourt, France. Ernie was in Fovant, UK when he was advised by the Red Cross that his father was killed in action. The news reached his wife Ellen in Australia who was devastated. Not wanting to lose another family member Ellen asked the Army to bring her son Ernest home, providing them with Ernest's birth certificate proving he was underage at the time of enlistment. Ernest was sent home to Australia and discharged from the Army on the 9th February 1919. On the day of his discharge Ernest was 17 years, 18 days old, 347 days short of legal enlistment. At the time of joining the army Ernest gave his age as 18 years, 1 month but he was in fact 15 years, 108 days old. Ernest served with the Australian Imperial Force for 21 months and was later awarded the 1914-1915 Star, The British War medal and The Victory medal. After leaving the Army Ernest also became a successful professional boxer, winning Welterweight titles between 1919 and 1930.
You can read more about John Unwin and his son's experience during the First World War in our blog: William John Unwin And His Under-Aged Sons, written by Ernest's nephew, Les McFadzen.
Soldier portraits of the Unwins from the Queenslander Pictorial, supplement to The Queenslander, 1917. John Oxley Library, State Library of Queensland.
Left: William John Unwin (Father). Image number: 702692-19170623-s0024-0013
Middle: William (Billy) Baden Unwin. Image number: 702692-19170728-s0026-0049
Right: Ernest Unwin. Image number: 702692-19170728-s0026-0050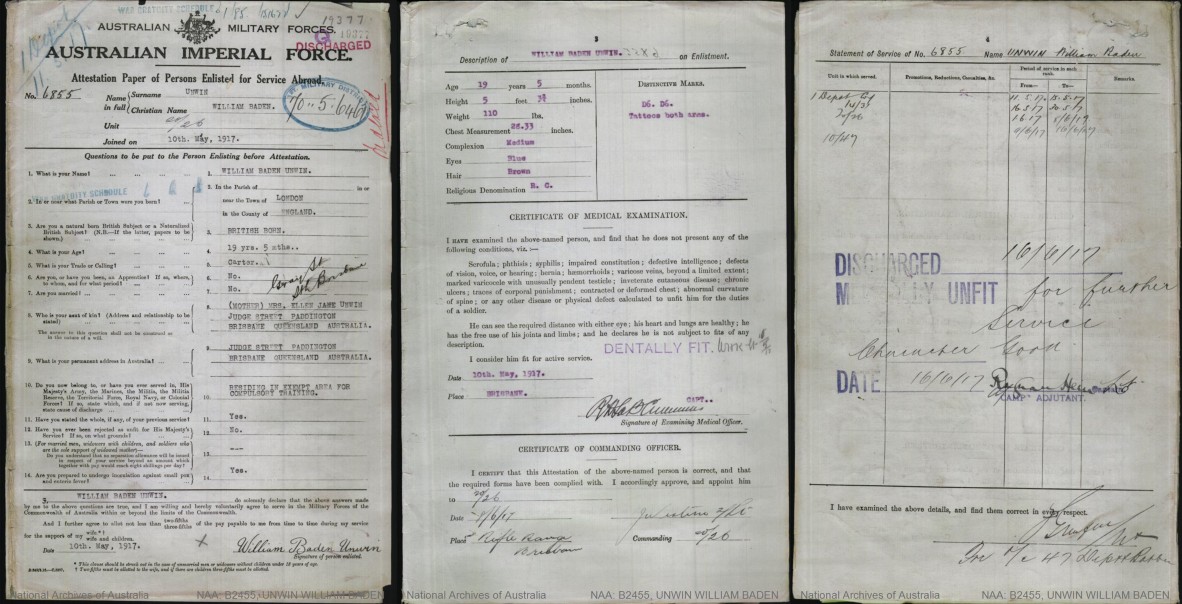 William (Billy) Baden Unwin's Australian Imperial Force service record declaring him "medically unfit for further service". It was thought Billy was too scrawny for war, too small and too light. National Archives of Australia: B2455, UNWIN WILLIAM BADEN. Item ID: 8396683.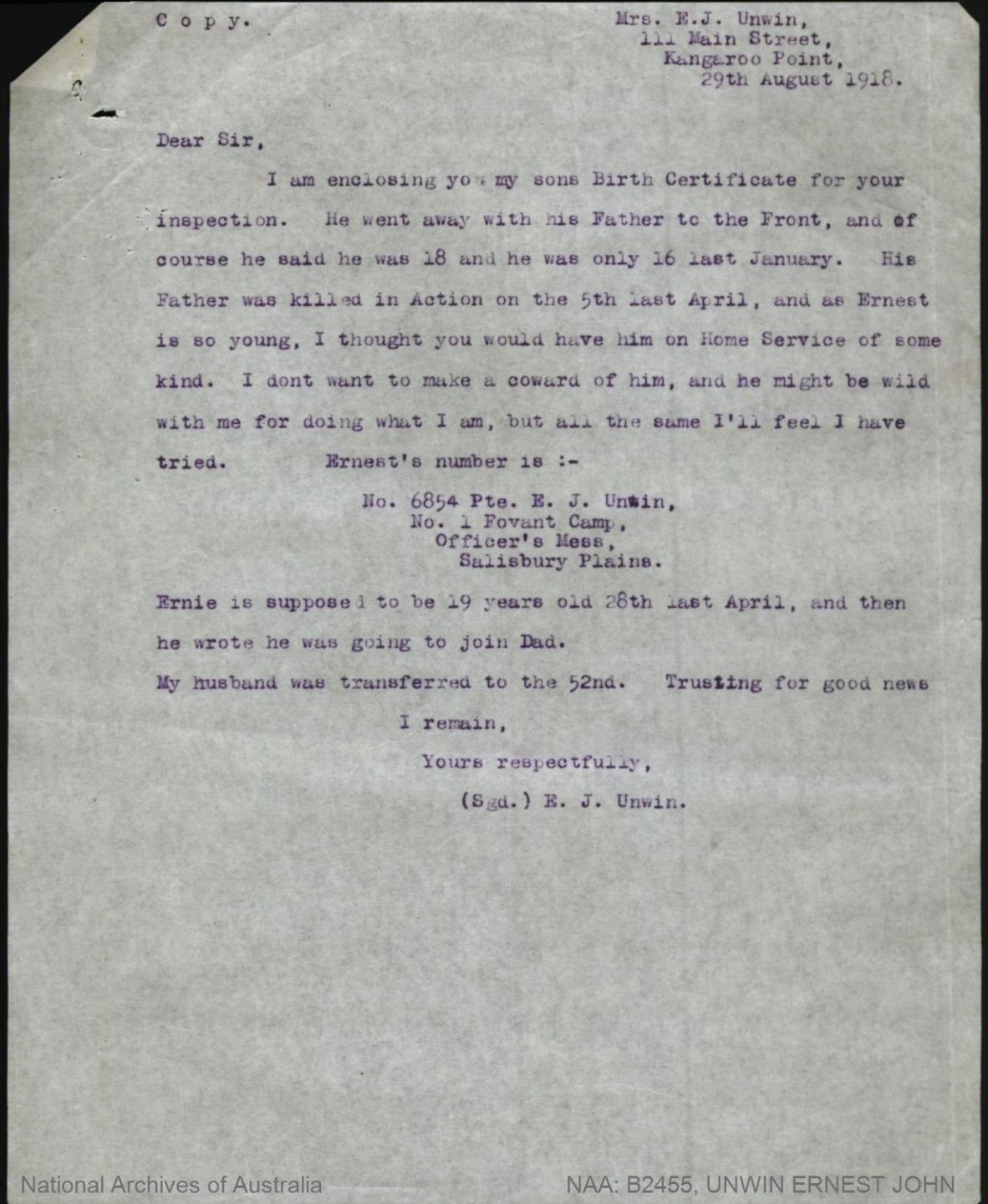 Letter written by Ernest Unwin's mother, Ellen Jane Unwin asking the Australian Army to bring home her son from the French battlefields during the First World War as he enlisted under aged. National Archives Australia. Series B2455.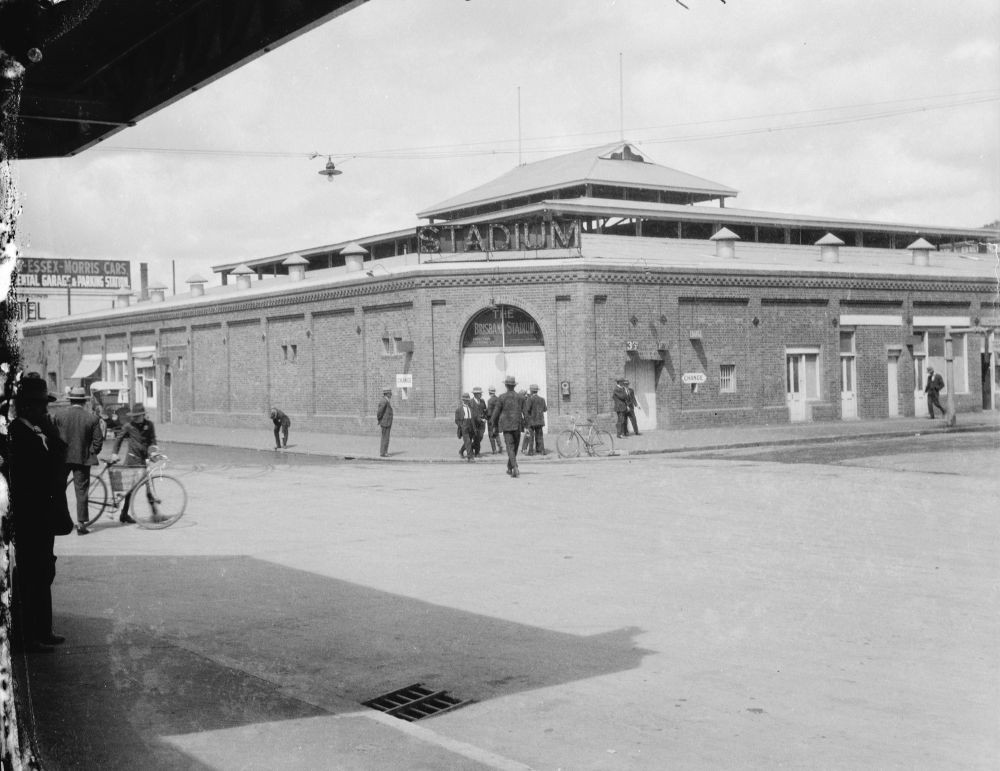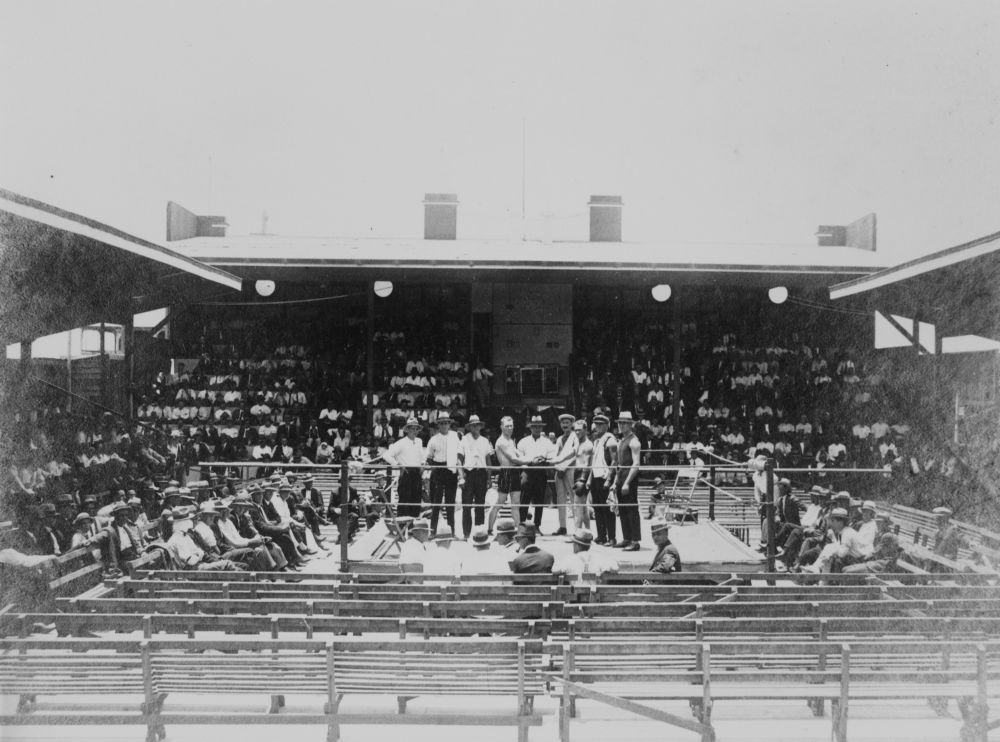 Billy Unwin's successful boxing career included 130 plus, unbeaten bouts of amateur boxing matches throughout the USA and in Queensland as a teenager. As a professional he won Queensland bantamweight and featherweight titles between 1919 and 1929. He challenged Jackie Green for the Australian featherweight title in 1922 but the fight was stopped after 16, three min rounds by the Police. At the time, Police above the rank of sergeant could stop a boxing match if they believed one of the boxers was danger of being hurt. On this occasion police intervened 50 mins into the match.
Billy Unwin's - Boxing Statists
Division: Feather
Bouts: 50, 24 (6 Kos) 18 (8 Kos) 8.
Rounds: 665
Kos: 12%
Later in life Billy worked for cement pipe manufacturers Hume Pipes from 1916 to 1928, then as a wharfie from 1928 to1965. He married May Ellen McMahon in 1920 and died in 1969 in Brisbane.
Troy Keith, Queensland Memory. Special thank you to Bob Webster for sharing his research on the Unwin family.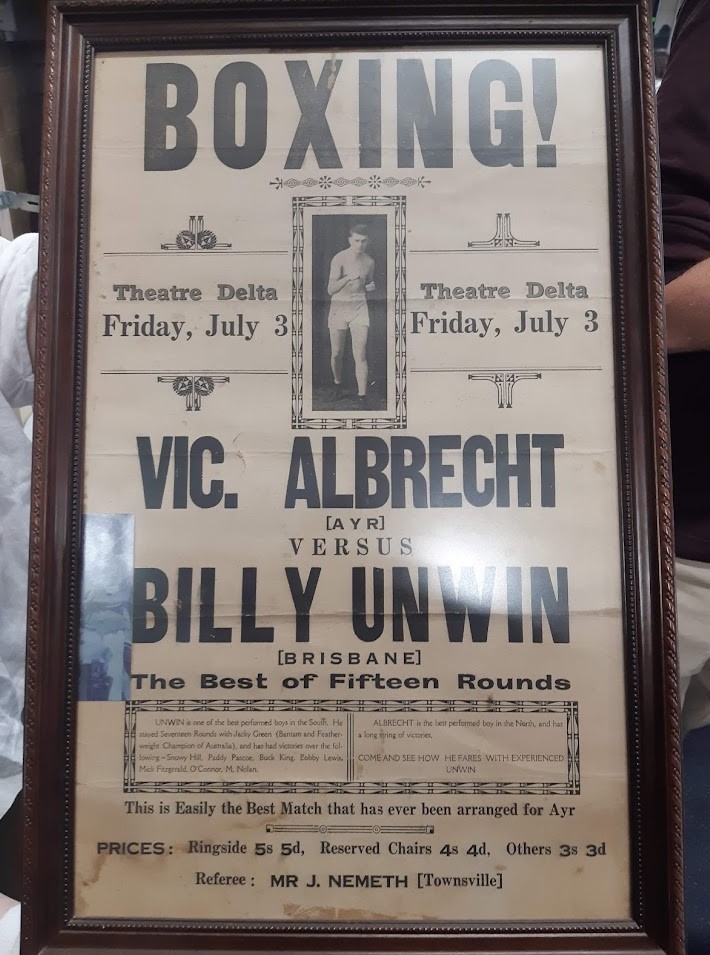 Promotional poster for the Vic Albrecht (from Ayr) vs Billy Unwin (from Brisbane) boxing match held at the Delta Theatre Ayr 3 July 1925. Photo courtesy Boxing Supporters Association Queensland.
Read about this boxing match from an article in the Cairns Post, Boxing, 11 Jul 1925, pg 8.
Collections
Related blogs and websites
Related newspaper articles on Trove.
Comments
Your email address will not be published.
We welcome relevant, respectful comments.