William John Unwin And His Under-Aged Sons
By JOL Admin | 1 December 2016
Guest Blogger: Les McFadzen (Warrant Officer I Rtd, Royal Australian Engineers)
Ernie Unwin, the son of William John Unwin, was an uncle I may have met as a child, however I do not remember doing so. Due to my enlisting in the army at an early age I never got to meet him at family functions. It wasn't until I did some military research for a family history that I realised what the phrase "early age" really meant.
Uncle Ernie was born in London, England, on the 22nd January 1902, being the second son of William John Unwin ( pictured above) and Ellen Jane, nee Sullivan. His older brother, William (Billy) Baden Unwin, was born in 1900. In 1903 the young family emigrated from England to Canada where a third son, Frederick James, was born in 1904. In 1907 a daughter, Ellen May, was born in America in Seattle, Washington. A few years later the adventurous family migrated to Australia.
The story I heard while researching the family history was that William, after settling in Australia with his family, walked out on his wife and children and enlisted in the A.I.F. His son, Ernest, then ran away and also enlisted in an attempt to find his father. However, sometimes the facts are more interesting than the fiction associated with family stories!
William John Unwin (service no. 6853) enlisted in Brisbane on the 20th April 1917. He had been working as a wharfie but gave his occupation on the enlistment form as "tattoo artist". He is described on this form as being "tattooed from head to foot". On the enlistment form he nominated his wife, Ellen Jane, as his next of kin, although he stated that he had no children, when in fact he had four.
After his enlistment the two oldest boys, William Baden (aged 17) and Ernest John, known as Ernie, (aged 15), also left home. They must have located their father at the Enoggera Army Camp, because on the 10th May 1917, they also joined up even though they were both under the legal enlistment age of 18. The boys were allocated consecutive regimental numbers to their father - 6854 (Ernest) and 6855 (William) as they all must have been allotted to their units at the same time while being trained at Rifle Range Camp in Enoggera.
Their father signed the parental consent form for both boys as they were under 21 and also forged the signature of his wife. This is obvious when comparing the signatures on all three Attestation forms as it is the same writing for both father and mother. It was not until August 1917 that proof of age in the form of a birth certificate was required.
Private William John Unwin, serving with the 52nd Infantry Battalion was killed in action on the 5th April 1918 at Dernancourt, France. An eyewitness, Private Walter David Scarborough (service no. 2978) provided the following account of his death:
At Dernancourt April 5th 1918 at about 3 p.m. we were defending against a big attack. Unwin was one of a bombing party and was first wounded by rifle fire in the leg. He fell, and was almost immediately hit with a piece of shell and killed instantly. I saw him dead on the field. I know nothing of burial. We were driven back. (Source: Australian War Memorial, Red Cross Wounded and Missing)
His son, Ernie Unwin, was notified of his father's death unofficially by survivors from the battalion. Ernie had enlisted at the age of 15 on the 10th May 1917. He gave his age as 18 years and one month and despite his youthful appearance was accepted in the A.I.F. With his father he travelled to England on the troopship Hororata in June 1917 and they were both posted to the 7th Training Battalion at Rolleston and from there to the 5th Training Battalion at Fovant, Wiltshire. William was promoted to Acting Lance Corporal. He was posted to the 52nd Battalion and joined his unit in France on 16th February 1918, reverting to the rank of private.
Ernie arrived in France a few months later in May 1918 where he joined the 27th Battalion initially but was soon transferred to the 49th Battalion which was short of troops due to losses sustained during the legendary attack to dislodge the Germans from Villers Bretonneaux. Ernie, with the 49th Battalion, was involved in the Allied counter-offensives on the Western Front in August and September 1918 including attacks on Bapaume and Mont St Quentin which led to the recapture of Albert, and the attack on the Hindenburg "outpost line". In late October he was hospitalised with influenza but re-joined his unit 4 days later.
Back home in Australia his mother, after being advised of the death of her husband and after receiving a letter from Ernie in France, wrote a letter to the Department of Defence enclosing a copy of Ernie's birth certificate. On the 29th August she wrote:
I am enclosing you my sons Birth Certificate for your inspection. He went away with his Father to the Front, and of course he said he was 18 and he was only 16 last January. His Father was Killed in Action on the 5th last April, and as Ernest is so young, I thought you would have him on Home Service of some kind. I don't want to make a coward of him, and he might be wild with me for doing what I am, but all the same I'll feel I have tried. (National Archives of Australia: Discovering Anzacs)
The Department of Defence took action. On the 2nd November 1918 Ernie was posted back to England and disembarked at Folkestone, Kent, for transfer to London. He returned to Australia on the ship HT Somerset, arriving in Brisbane on the 17th January 1919, which must have been a great relief to his mother. As he had served in the front lines with his unit, the Department decided that he would not forfeit any pay and he was issued with the usual medals for serving in the war.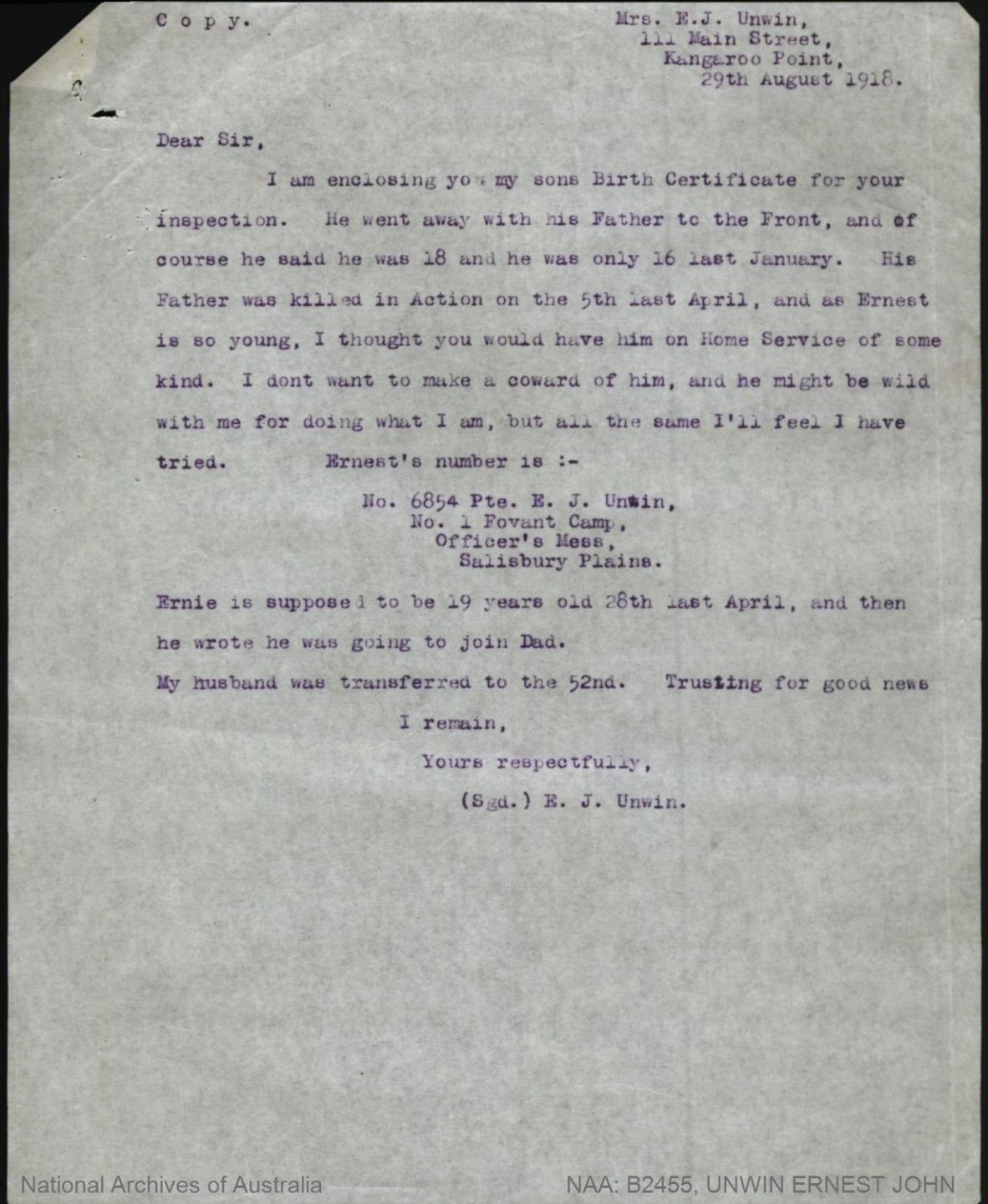 Letter written by Ernest Unwin's mother, Ellen Jane Unwin asking the Australian Army to bring home her son from the French battlefields during the First World War as he enlisted under aged. National Archives Australia. Series B2455.
Ernie's older brother, William (Billy) Baden Unwin, enlisted with him at the same time in May 1917. He was also under-aged being 17 at the time. He was working as a carter with the Daily Mail newspaper in Brisbane. On his medical certificate, at the time of his enlistment, William is described as being 5 foot three inches tall, 110 pounds and with a 28 inch chest. Despite his slight build William was sent for training at Rifle Range Camp at Enoggera with his father and brother. However his service records reveal that on the 16th June 1917 he was discharged from the army as being medically unfit for further service, character good. A further annotation describes him as a thin puny youth and below the standard required for AIF, unfit for active service. It must have been a comfort to his mother to at least have William back at home.
After the war William married May Ellen McMahony in 1920 and passed away in Brisbane in 1969, aged 69. Ernie moved north and worked as a wharfie in Mackay where he met Hilda Eliza McFadzen. They married in May 1935 and had two children; Eleanor Ann (born 1937) and Ernest William (born 1939). Ernest passed away in Mackay in 1979, aged 77.
Guest Blogger, Les McFadzen (Warrant Officer I Rtd, Royal Australian Engineers)
Comments
Your email address will not be published.
We welcome relevant, respectful comments.