Protect Your Luv Against AIDS
By JOL Admin | 30 November 2017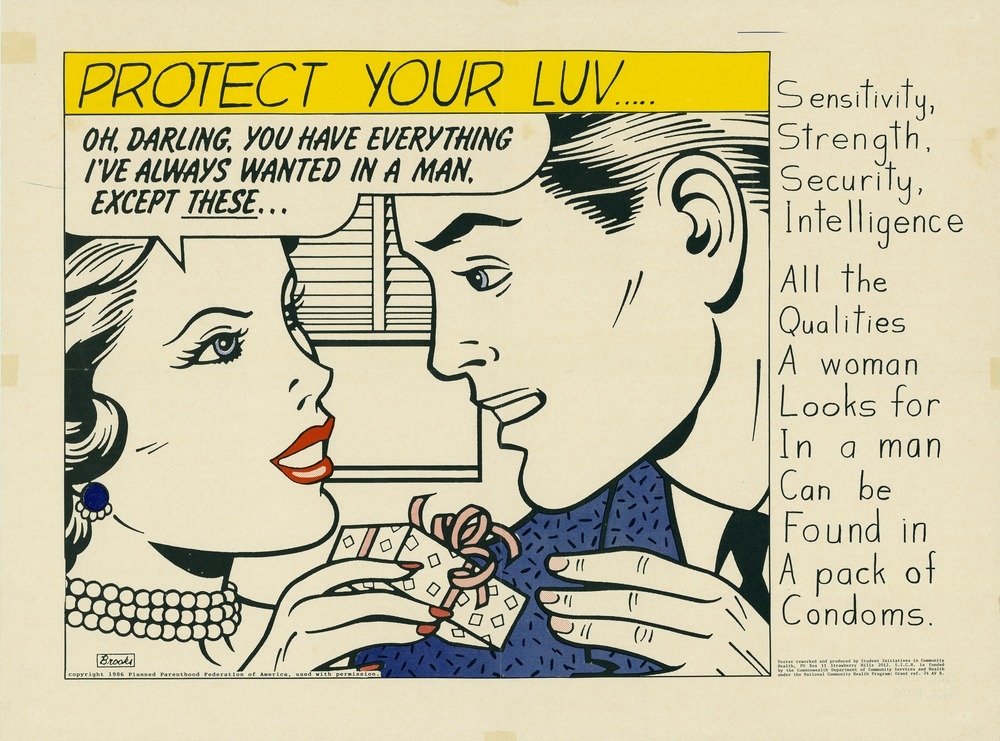 Protect Your Luv. From 3248 AIDS Posters and Artefacts. John Oxley Library, State Library of Queensland
This poster was produced for the Australian AIDS campaign by Student Initiatives in Community Health, a service funded by the Commonwealth government.
S.I.C.H.open_in_new came to an untimely end in 1992 after a satirical piece published in their magazine Catalyst which advocated such activities as "go barefoot inside and outside", "eat your gardens" and "assassinate the pope". Those were more innocent times. "Assassinate the pope" caught the attention of journalists and S.I.C.H.s funding was immediately cut.
The Roy Lichtenstein style cartoon was initially used in Planned Parenthood campaigns in the United States. It was recycled there for the AIDS campaign in the 1980s and then recycled again by S.I.C.H. as the AIDS epidemic started to bite in Australia.
Protect Your Luv was exhibited at State Library in its 2017 exhibition Freedom Then, Freedom Now, along with Condoman, a poster originally conceived and developed in 1987 by a group of Indigenous Health Workers in Townsville.
Condoman says: don't be shame be game: use condoms. John Oxley Library, State Library of Queensland
Comments
Your email address will not be published.
We welcome relevant, respectful comments.