Nursing in Queensland
By JOL Admin | 18 November 2013
Guest blogger: Niles Elvery - Manager, Public Access, Queensland State Archives
"The Most Honourable and Humane of all Professions". Painted design featuring a female Nurse in uniform intended as recruitment, c 1945. Queensland State Archives. Digital Image ID 22148
Queensland State Archives' foyer exhibition The most honourable profession: Nursing in Queensland was opened earlier this year. The exhibition presents the history of nursing in Queensland, as illustrated in the state's public records. Charting the development of nursing since the late 1800s, the exhibition displays documents, photos, medical artefacts and video to reveal the fascinating and often unrecognised work and commitment of nurses and the nursing profession.
Throughout the late nineteenth and early twentieth centuries, nursing was characterised by strict protocols, a keenly adhered-to hierarchy, and fear of the matron. Yet regardless of the physically demanding work, long hours, epidemics and wars, nursing offered women one of few career opportunities available, and lifelong friendships were formed.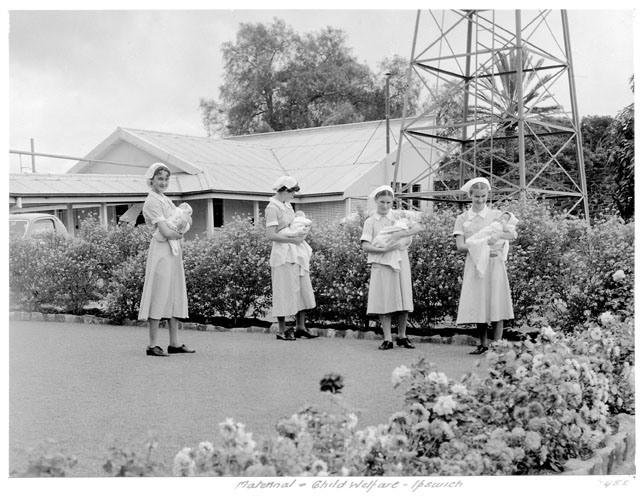 Maternal and Child Welfare - Ipswich, March 1955. Queensland State Archives Digital Image ID 11994
As part of our exhibition on Nursing in Queensland, Queensland State Archives asked a number of retired nurses to tell of their experiences in the profession over the years, highlighting the great changes, the difficulties and the characteristic compassion of nursing. This video can be viewed on the QSA website or via YouTube.
For researchers, an online index Nurses examinations 1915-1925 has been compiled from Series ID 17342, Registers of Nurses, with Examination Results which was created by the Nurses Registration Board of Queensland. This series consists of registers recording the results of written examinations and the registration of general, mental and midwifery nurses.
Register - health practitioners, 1915-1925. Queensland State Archives Item ID 324261
An essay Nursing in Queensland by historian Margaret Cook highlights the historical significance of the nursing profession in Queensland, as illustrated in the records held within Queensland State Archives' collection.
The Image Queensland online exhibition, including photographs and documents, traces the evolution of nursing in Queensland – from the first training school at the Royal Brisbane Hospital in 1886 to the present day.
The Brief Guide: Nurses provides an administrative history of nursing agencies in Queensland and identifies the major series of records held by Queensland State Archives in relation to nurses and the nursing profession.
The exhibition The most honourable profession: Nursing in Queensland is available during Queensland State Archives opening hours from 9.30 am to 4.30 pm, Monday to Friday until June 2014. Admission is free.
Comments
Your email address will not be published.
We welcome relevant, respectful comments.