Nurse Jane McLennan Collection 1917-1930
By Lynn Meyers, Specialist Librarian, State Library of Queensland | 4 August 2015
The Nurse Jane McLennan Collection which was donated to the John Oxley library in 2014. Most of the wonderful items in the collection can now be viewed through our One Search catalogue.
Jane (Jinny) McLennan was born in 1889 at Mount Perry, Queensland. She completed nursing training at the Bundaberg General Hospital in 1914, enlisting in the Australian Army Nursing Service on the 28 May 1917 for overseas service. On the 9th June 1917 she embarked on the RMS Mooltan from Sydney with 300 army nurses. They arrived at Port Suez on the 19 July 1917 and journeyed by train to Cairo and then on to Alexandria before travelling to Salonika, Greece. There she joined nursing staff No. 3 Unit, 60th British General Hospital. In March 1918 she was invalided back to Australia with heart disease. After the war she nursed at the Rosemount Repatriation Hospital in Brisbane for six years until her marriage in 1925 to Henry McGhie, an ex-serviceman. They eventually settled in Mount Perry. Jane died on the 21 November 1958.
The collection comprises a memoir written in 1936 by Jane McLennan about her experiences as a nurse during World War I at Salonika in Greece, and later at the Kyoomba Sanatorium in Stanthorpe and the Rosemount Repatriation Hospital in Brisbane. The memoir also contains many interesting photographs of Jane's nursing career.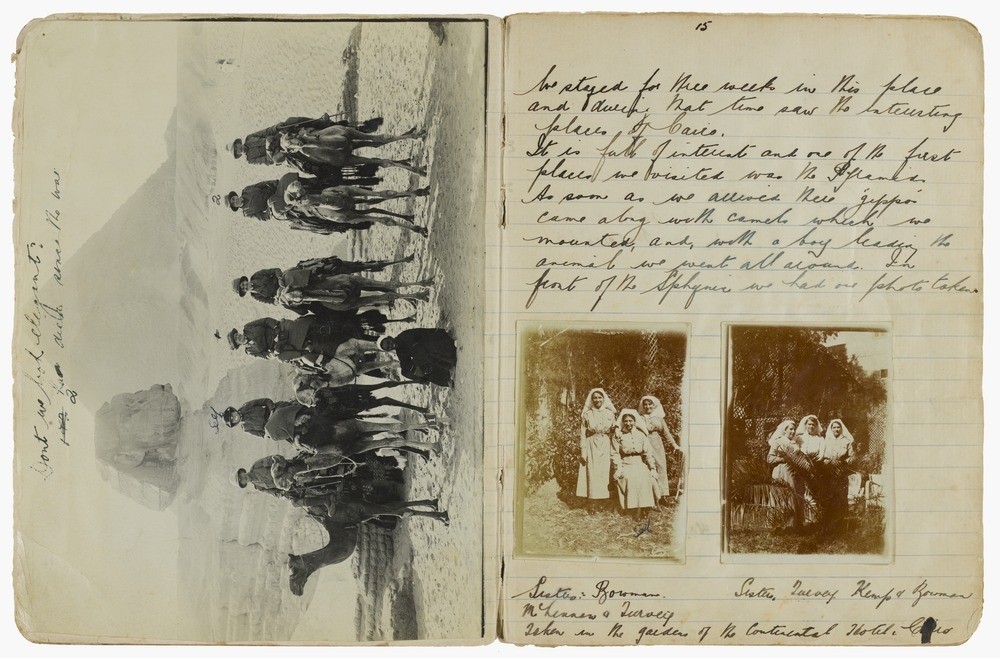 Jane McLennan Memoir, Acc: 29666/1
Jane describes the British 60th General Hospital at Hortiach, about twenty miles from the town of Salonika in her memoirs "The hospital was situated in a valley and was a very large canvas one accommodating two thousand patients. Lt. Colonel Crawford - a man with great organizing ability was in charge. Twenty nine patients occupied one marquee and each tent was arranged and equipped alike so if a sister was sent to another ward she knew where everything was. We did not have to wait for any patients to come in as over 1000 were already in hospital...Most of the cases were malaria, black-water fever and dysentery with a few surgical cases".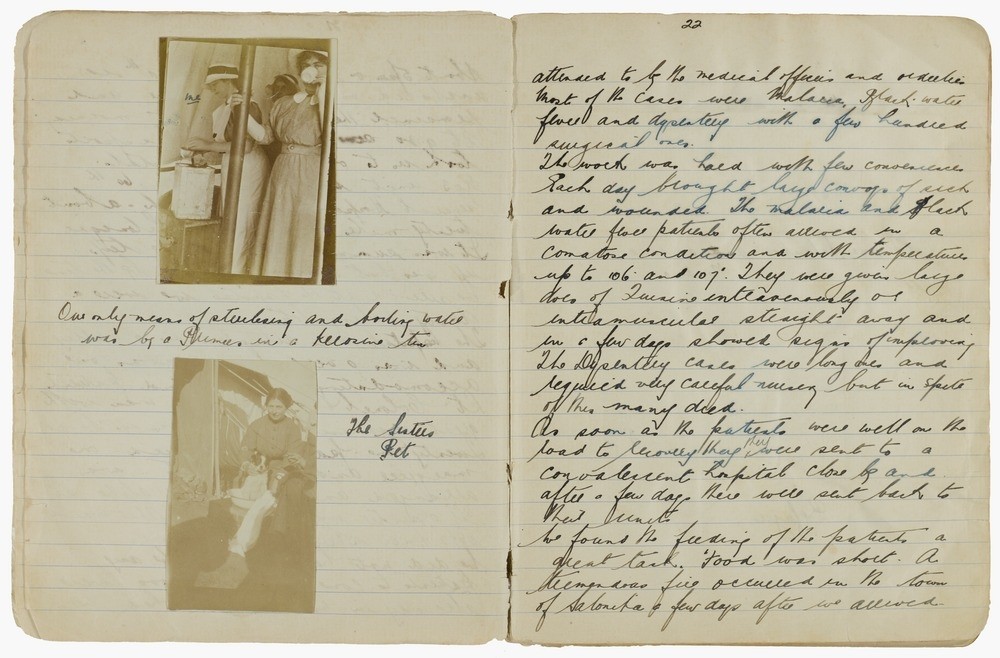 Nurse Jane McLennans memoirs of Salonika
Conditions were harsh and food scarce. Jane writes "There was a large tent used for a dining room but food was scarce and the table appointments rough...Breakfast consisted of two tablespoons of oatmeal, no milk, two small slices of bacon with one red stripe through it and two slices of bread and jam, tea with sugar to taste. Lunch. Bully beef, rice and syrup. Dinner. soup, meat (rabbit often) leaks and pudding, and every sister had to dress for dinner, that is, in her best mess frock, cape and cap. We had no butter or potatoes for about five months. However we realised we were on active service and no one grumbled".
Washing day at the sisters' quarters, 60th British General Hospital, Salonika. (Australian War Memorial C04337)
Historians who have written about Salonika have labelled the Australian nurses there as "the neglected nurses" and the posting as one of the "outposts of the empire". (Rae, Ruth, Scarlet Poppies, Burwood, N.S.W.: College of Nursing, 2004). A.G. Butler in his publication The Australian Army Medical Services in the war of 1914-1918, Canberra: Australian War Memorial, 1930-1943, Vol. 3, p. 571, discussing the horrendous conditions at Salonika writes "Few Australian nurses in the war can have found themselves among associations more inspiring, scenes more beautiful, or conditions more damnable".
The nurses at Salonika worked mainly in tent hospitals. The summers were unbearably hot, mosquito infested and with little available water. In an effort to avoid malaria the hospital staff wore elbow length gloves, puttees, and hats with net veils. The winters brought blizzards and freezing temperatures which necessitated the wearing of balaclavas, scarves, coats and gum boots even while on duty. To add to these discomforts the nurses were expected to manage large wards with non-English speaking staff with different customs, and did not even have the comfort of caring for "our boys" as the nurses did on the Western Front.
Australian nurses at a British hospital in Greece, wearing protective clothing against mosquito bites. (Australian War Memorial, Image H1 5761)
Other items in the collection include Jane's scarlet woollen nurse's cape and a panoramic photograph of the 60th General Hospital at Salonika.
Panoramic photograph of the 60th General Hospital at Salonika, Greece
Another truly beautiful item is a large Egyptian textile which Jane purchased during her three week stay in Cairo, before sailing for Salonika. As you may recall Marg Powell of the Q Anzac team discusses this remarkable treasure in her blog post on the Tentmakers of Cairo. The textile will be on display in the Treasure's Wall on Level 4 of the library from November 2015.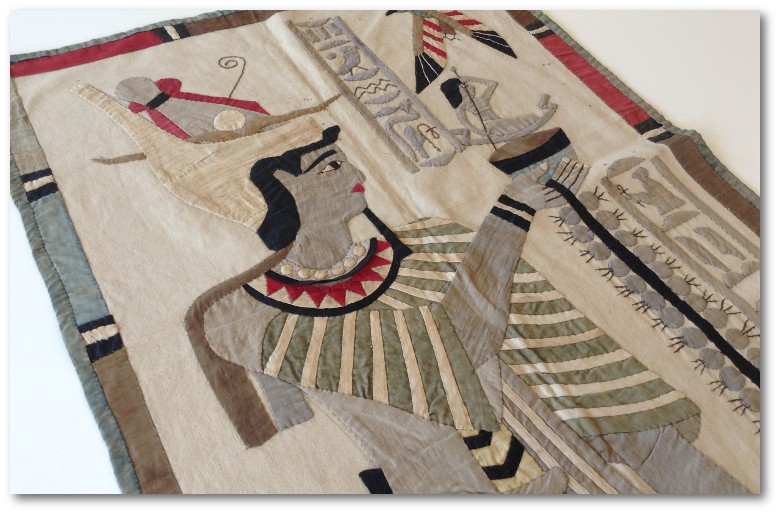 Egyptian textile from the Jane McLennan Collection
The Jane MacLennan Collection, Accession No. 29666, is available at: http://hdl.handle.net/10462/eadarc/8332 Selected items from the collection also feature in the Distant Lines exhibition on Level 2 of the library.
Lynn Meyers, Q ANZAC 100 Content Curator
Comments
Your email address will not be published.
We welcome relevant, respectful comments.