Tentmakers of Cairo
By Marg Powell, Specialist Library Technician, Metadata Services | 22 March 2015
One of the 25 collections featured in the exhibition Distant Lines: Queensland voices of the the First World War at the State Library of Queensland, is that of Nurse Jane McLennan.
I don't want to reveal all of her story here, but I do want to show you one of the items from her collection - because it is too large to put on display.
1. Touristic Khayamiya, cotton applique on linen
This detail is from a large decorative textile that belonged to Jane McLennan, recently donated by her descendants. We now know is a Touristic Khayamiya - the term used to describe works the Khayamin (or Tentmakers) produced in Cairo for souvenirs.
Dr Sam Bowker from Charles Sturt University, an expert in these textiles, has assisted us in identifying this absolutely stunning work, and has provided us with examples of their use at the time.
2. Allied Soldiers Club, Cairo, 1916
The image above is a view of an open air establishment where allied soldiers could find a place to read, and writing material. You can see the hessian walls are decorated with examples of Khayamiya.
Khayamiya or Tentmaker applique is an ancient Egyptian textile art that has morphed into practical souvenirs for visitors to Egypt. Their traditional work would be far more elaborate and used to style or decorate the interiors of tents in the Middle East.
Jane McLennan would have purchased this during her 3 week stay in Cairo before sailing for Salonika, where she served in a British Hospital in 1916-1917.
We know from her journal that conditions were very harsh and the hospital and her quarters were tents - this item would certainly have made a welcoming decoration in the circumstances.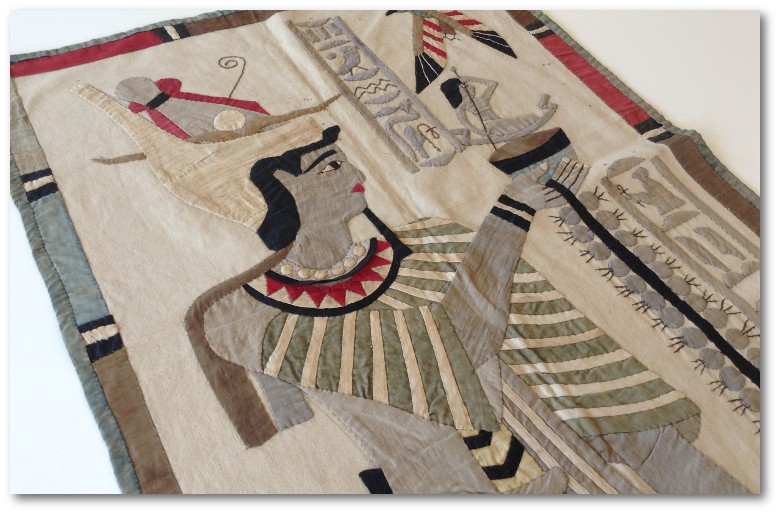 3. Detail of the top of the textile
The piece measuring over 2 metres , was made by hand-applying shapes of coloured cotton across a canvas backing, the fabrics at the time were tinted with vegetable dyes. For a textile that is now more than 100 years old, it shows little sign of staining or wear.
4. Tentmakers Bazaar, Cairo 1907
We are so fortunate to have Jane McLennan's collection, the Library is predominately a paper-based repository, but here we have the opportunity to experience so much more.
Jane's collection includes her red-woollen nurses cape, a journal which includes snapshots, and now this truly rare souvenir. Her wall hanging is presently being digitised, and will be available to view in all its glory via the State Library's catalogue in the very near future.
I do hope you have the time to come and experience the exhibition which opens 4th April and continues until 15th November 2015, to view more collections and stories of the First World War.
Sources:
Dr Sam Bowker, Charles Sturt University
2. Illustrated War News, 26 Jan, 1916, p.7
4. Margoliouth, David Samuel. Cairo, Jerusalem, & Damascus: three chief cities of the Egyptian Sultans, Chatto and Windus: London, 1907. p 102.
Marg Powell, Q ANZAC 100 Content Technician | State Library of Queensland
Comments
Your email address will not be published.
We welcome relevant, respectful comments.