NPA Cultural Festival
By JOL Admin | 31 October 2014
NPA Cultural Festival logo
Many Cultures One Spirit was the theme for the recent Northern Peninsula Area (NPA) Cultural Festival. This inaugural event was hosted by the Northern Peninsula Area Regional Council (NPARC) and drew together participants from the Torres Strait and Cape York as well as the local communities. The program celebrated the diverse cultures across the five communities of the NPA.
State Library stall
The event was held at the NPA Yusia Ginau Oval at Bamaga and included stalls, exhibits and a central stage and performance area. Stalls were constructed in traditional style to add to the atmosphere of the festival. The above image shows Tyler Wellensiek from the Cairns Office setting up a display board for Indigenous languages. Tyler and I were there to support the IKC Coordinators and NPARC with their Languages Alive project.
State Library's language display board
State Library's language display board
As well as the stall, Tyler and I spoke to stallholders and participants about the state of languages in the NPA communities. While some of the Torres Strait Islander languages were still spoken by many people across the communities, there was a concern for the Aboriginal languages of Cape York. There are 11 Aboriginal languages in the community language profile, however many of these are endangered and only spoken by a handful of Elders.
NPA food stall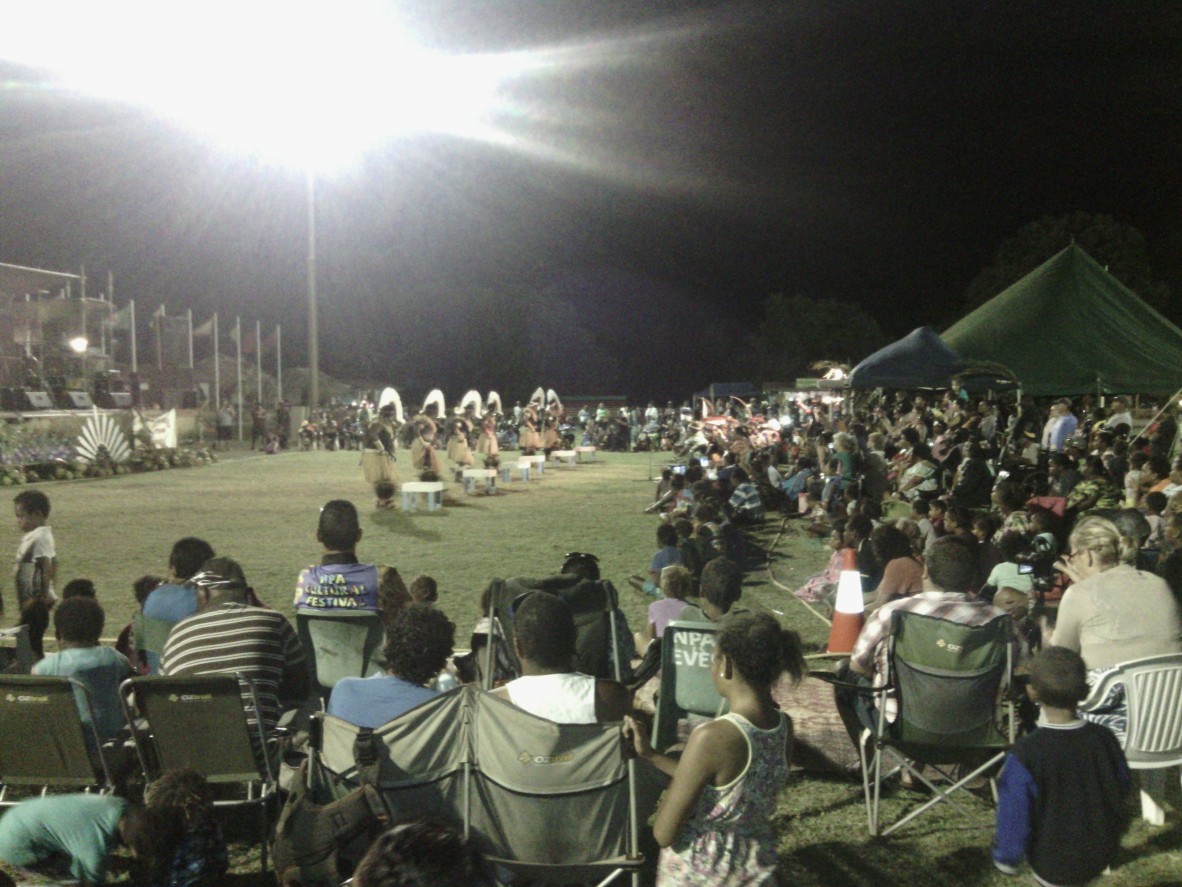 Saibai Island dancers.
Highlights of the festival were the evening performances showcasing dance groups from the Torres Strait and Cape York. The Saibai Island Dance Group were spectacular in their costumes and high energy dances while the local Injinoo dance group amassed a large group of performers of all ages to share their local dances - there was even an opportunity for audience participation, but I kept my two left feet out of harm's way! The Lockhart dancers showed why they have been one of the champion dance groups at the biennial Laura Dance Festival.
Other highlights on the program included a fashion parade featuring local youth as well as a range of performances from local singers and bands.
Desmond Crump, Indigenous Languages Coordinator
State Library of Queensland Aboriginal and Torres Strait Islander Languages Webpage: www.slq.qld.gov.au/resources/atsi/languages
State Library of Queensland Aboriginal and Torres Strait Islander Languages Blog: /blog/ilq/
Comments
Your email address will not be published.
We welcome relevant, respectful comments.