My Big Flash Greek Wedding
By Toni Risson | 12 December 2019
Guest blogger: Toni Risson - co-curator of Meet me at the Paragon.
Greek migrants came to Australia with little money and no English, but possessed of a great determination to succeed. Many were as young as twelve. They dreamed of Australia as a land of golden opportunity and the studio photograph was a marker of their success. Young men posed in suits and polished shoes before cameras at the Regent or Poulsen Studios in Brisbane, documenting their success for mothers and grandparents who waited in Greek villages for news of children they might never see again. Others enlisted photographers like Alfred and George Reuben Kirkham or Thomas Mathewson to document their shops. These photographs often depicted staff arrayed behind glass confectionery counters.
Wedding of Mick Londy in Toowoomba in 1932. John Oxley Library, State Library of Queensland. Image 41532
It was the wedding photograph, however, which offered real evidence that a young migrant's dream had been realised. A wedding meant a new family had put down roots. Having secured a shop and become established in an Australian community, many then embarked upon the quest for a bride. Some returned to family villages to find a wife. At other times the match was made across the sea between suitable partners who may not know one another. Other meetings were not unlike a blind date. A decade or more may have elapsed since the potential groom had migrated, so it was not unusual for the bride to be considerably younger. Women had the option of refusing a match but with so many eligible bachelors living in America or Australia, girls on Greek islands considered their options carefully, especially those in Kythera, the birthplace of many in the cafe industry.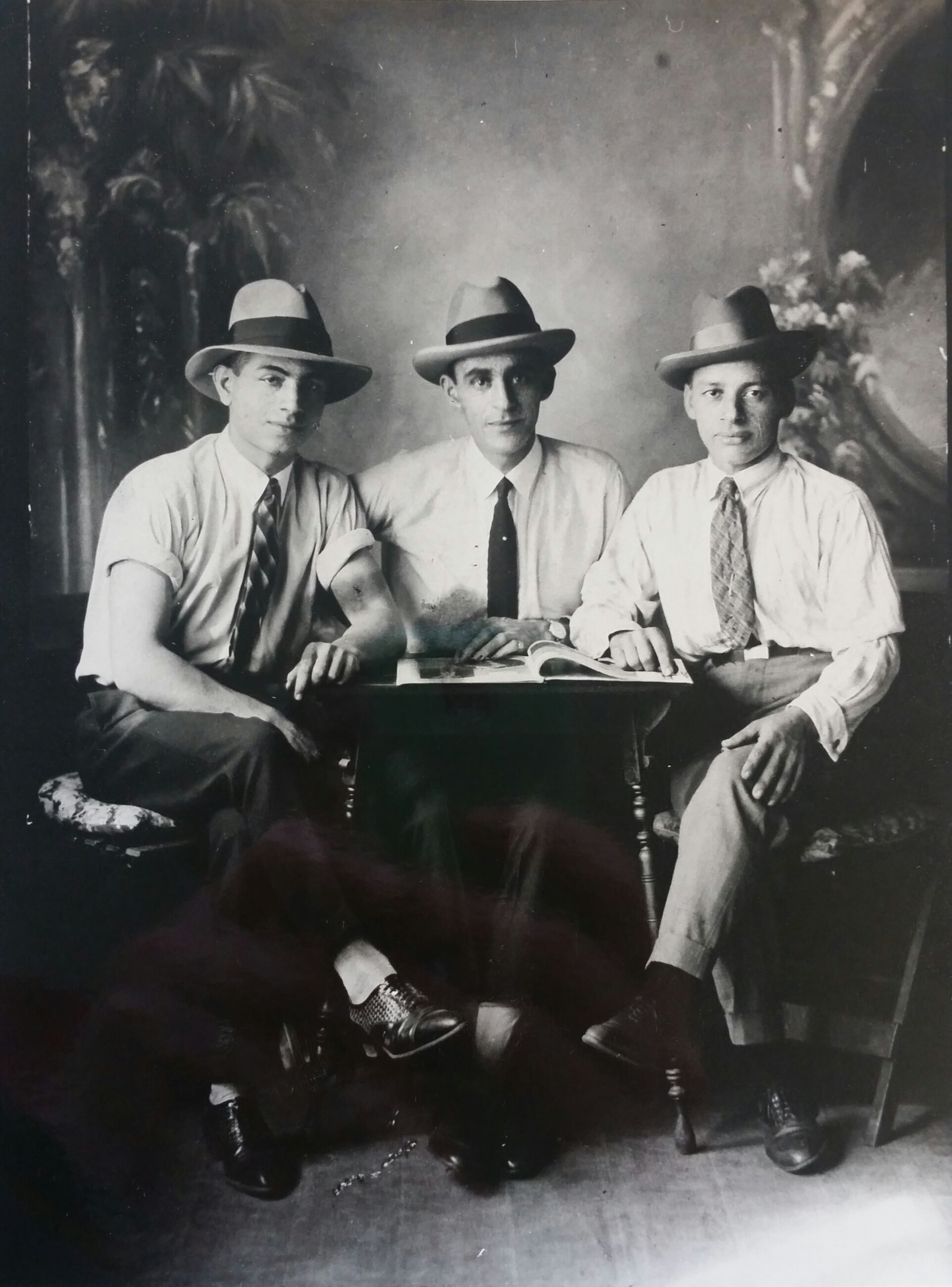 Mick Kourtelarides, Mark Nearhos and Chris Mylonas in Mareeba in the 1920s. John Oxley Library, State Library of Queensland. Image 101797. Mark went on to own the Cafe Majestic in Dalby.
The wedding photograph was the ultimate studio portrait and typically included other migrants from the same island. Guests at the wedding of Mick J. Londy and his wife Angela in Toowoomba in 1932 included Harry and Jim Londy (Leondarakis) of Ipswich and Harry Andronicos of Toowoomba, all of whom were from Kythera. Mr Andronicos had been present when Harry Londy married in 1926. This was a double wedding. Harry and his sister Kaliope married Theodora Marendis and Mick Levonis at St Paul's Anglican Church in Ipswich. The wedding photograph includes 22 family members and friends, among them Harry Andronicos, Paul Patty from Brisbane and Mick Londy from Townsville. Kaliope and Theodora appear to be wearing matching gowns.
Double wedding of Harry and Theodora Londy and Mick and Kaliope Levonis in Ipswich in 1926 (The Greeks in Queensland by Denis Conomos page 233)
Toni Risson - co-curator of the Meet me at the Paragon exhibition, State Library of Queensland
Exhibition – Meet me at the Paragon
State Library's latest exhibition, Meet me at the Paragon explores how the creation of American-style cafes enabled Greek migrants of the early to mid-1900s to carve out a new life in a foreign land. The exhibition runs from 27 September 2019 until 15 March 2020.
Comments
Your email address will not be published.
We welcome relevant, respectful comments.