More greetings in Aboriginal and Torres Strait Islander languages
By Administrator | 30 November 2017
Selection of greetings.
Following on from the original "Say G'day" initiative, State Library has compiled additional words for greetings, 'good day', etc. for use in local communities. The 2017 NAIDOC Theme of 'Our Languages Matter' created a lot of interest in Queensland's Aboriginal and Torres Strait Islander languages. From an initial list of 25, State Library has over 100 greetings listed on the Aboriginal and Torres Strait Islander languages webpages!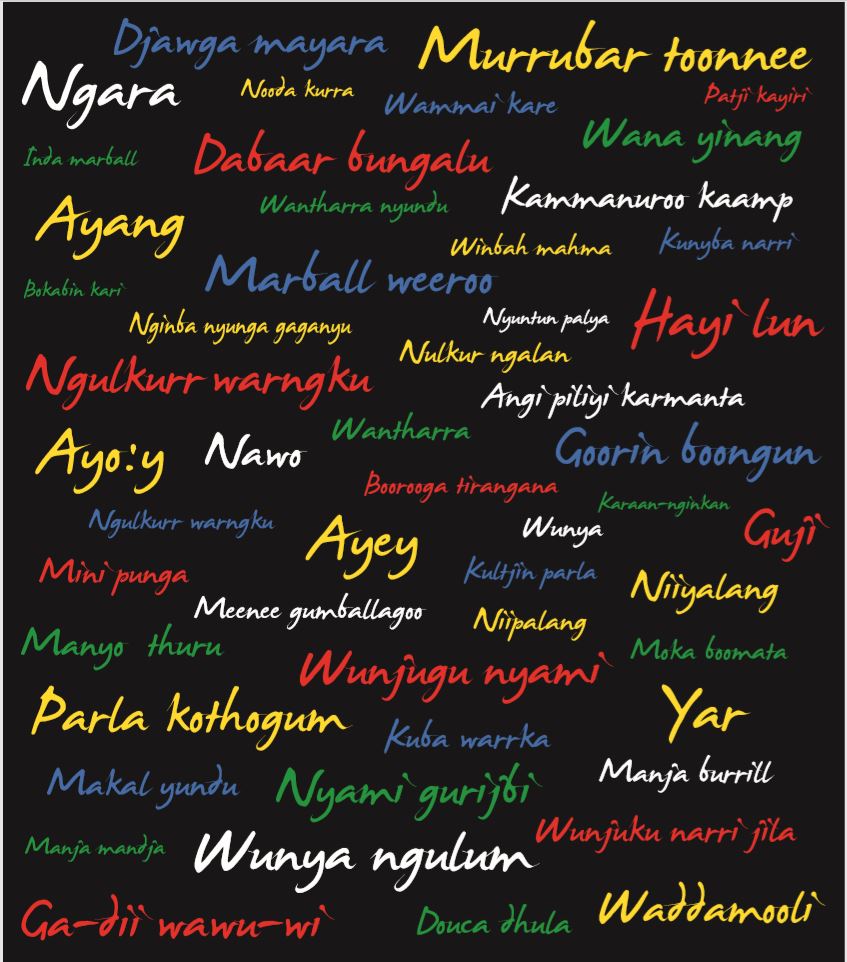 Palm Island greetings.
Many of the additional words or phrases were part of a research project to support Palm Island IKC in identifying greetings for the language groups of their community - the above image is from a banner on the side of a shipping container as part of their centenary commemoration.
Greetings in several languages.
Greetings in several languages.
Where possible, documented greetings have been listed; however, it should be acknowledged that greetings are a fairly contemporary notion that may not have been present in many Aboriginal or Torres Strait Islander settings. Alternatively a generic phrase such as 'Good day ' 'Are you good?' or 'How are you?' is listed.
Nyawaygi Greetings.
Western Cape York greetings.
This example above shows greetings from Western Cape York - Wik Mungkan has different acknowledgements for talking to an individual or a couple; while the Windawinda language has different ways of saying hello depending on how close or distant the second person is from the speaker. A similar rule applies for Pitta Pitta language from Western Queensland - there are different greetings for someone close or far away.
Pitta Pitta greetings.
A brief pronunciation guide is also included to assist with Aboriginal and Torres Strait Islander sounds which may not be present in English; however, State Library advises contacting local language speakers or custodians to confirm preferred pronunciation. Indigenous Knowledge Centres (IKCs) and Indigenous Language Centres can also provide assistance and further information on local languages.
VACL Talking Head app.
The Victorian Aboriginal Corporation for Languages has an excellent resource to help with the pronunciation of sounds - the Talking Head application shows the position of tongue and teeth to create the sounds and gives examples from local Victorian languages.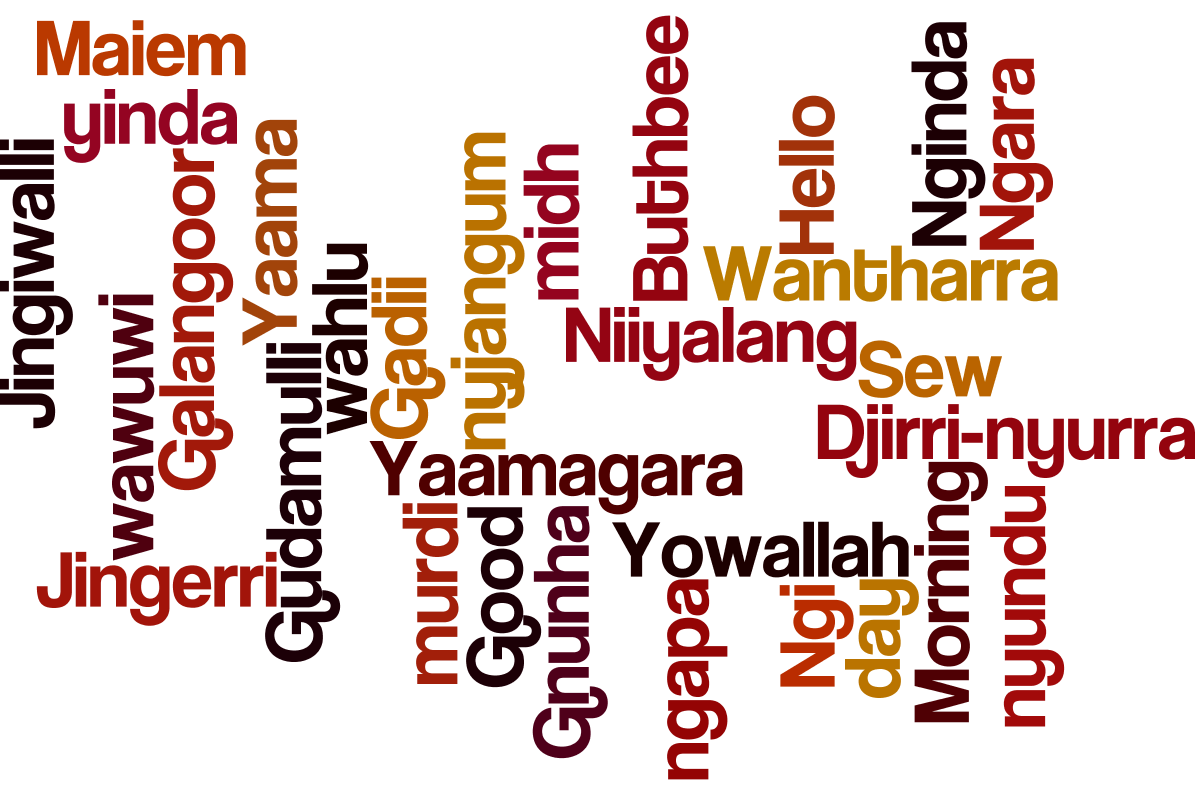 Say G'day wordle.
The State Library of Queensland acknowledges that the language heritage and knowledge of these wordlists always remains with the Traditional Owners, language custodians and community members of the respective language nations. The collation of these word lists and phrases is to support communities in their work to revive, document and preserve Aboriginal and Torres Strait Islander languages as well as raise awareness in the broader community.
Desmond Crump
Indigenous Languages Coordinator, kuril dhagun
State Library of Queensland Aboriginal and Torres Strait Islander Languages webpages.
Resources and Further Reading
The following items are just a selection of the many references and sources for Aboriginal and Torres Strait Islander languages and words.
Breen, J. G. and Blake, B. (2007) The grammar of Yalarnnga: a language of western Queensland. Pacific Linguistics: Canberra. J 499.152 BRE
Curr, E. M. (1887) The Australian Race: its origins, languages, customs, place of landing in Australia and the routes by which it spread itself over that continent. John Ferres Government Printer: Melbourne. RBF 572.994 cur
Dixon, R. M. W. (1972) The Dyirbal language of north Queensland. London: Cambridge University Press. G 499.15 1972
Edwards, R. (Ed) (2001) Dictionary of Torres Strait languages. Rams Skull Press: Sydney. Q 499.1503 RAY
Harriet Barlow Manuscript ca. 1865. OM91-69
Helon, G. (1994) The English-Goreng Goreng-English dictionary. Gurang Land Council: Bundaberg. G 499.15 1994
Holmer, N. (1983) Linguistic Survey of South-Eastern Queensland. Australian National University: Canberra. J 499.15 HOL
Lawrie, M. (1970) Myths and legends of the Torres Strait. Q 398.2099438 MYT
Minjerribah Moorgumpin Elders-in-Council Aboriginal Corporation (2011) Jandai language dictionary: a dictionary of language spoken on Stradbroke and Moreton Islands based on words remembered by all Elders and recorded by interested visitors to our shores. HKT 499.153 JAN
Patz, E. (2002) A grammar of the Kuku Yalanji language of north Queensland. Canberra: Pacific Linguistics. J 499.15 PAT
Roth, W. E. (1898-1903) "Reports to the Commissioner of Police and others, on Queensland aboriginal peoples 1898-1903." FILM 0714
Sharpe, M. (1998) Dictionary of Yugambeh, including neighbouring dialects, compiled by Margaret Sharpe from various sources. Pacific Linguistics C-139. G 499.15 1998
Sutton, P. (ed) (1974) Languages of Cape York: papers presented to the Linguistic Symposium, Part B, held in conjunction with the Australian Institute of Aboriginal Studies Biennial General Meeting, May,1974. Australian Institute of Aboriginal Studies: Canberra. G 499.15 1976
Terrill, A. (2002) Dharumbal: the language of Rockhampton, Australia. Pacific Linguistics 525. Canberra: Pacific Linguistics. J 499.15 TER
Thancoupie (2007) Thanakupi's guide to language and culture: a Thaynakwith dictionary. Q 305.899 THA
Watson, F. J. (1944) "Vocabularies of four representative tribes of South Eastern Queensland"; supplement to the Journal of the Royal Geographical Society of Australasia(Queensland), No. 34, Vol XLVIII. REFJ 499.15 wat
Comments
Your email address will not be published.
We welcome relevant, respectful comments.