Memories and Mutton Birds Women of the Great Barrier Reef
By Associate Professor Kerrie Foxwell-Norton - 2020 John Oxley Library Fellows | 4 November 2022
Guest blogger: Associate Professor Kerrie Foxwell-Norton - 2020 John Oxley Library Fellows
One of the most rewarding aspects of our John Oxley Library Fellowship lies in moments of synergy and connection, an unexpected consequence of when women of the Great Barrier Reef tell their stories.
Terrie Ridgway's story attracted a fair amount of media attention when the State Library of Queensland announced the Fellowships in 2020. It is a great yarn – and our eventual discovery of Terrie's whereabouts in southeast Queensland generated widespread interest in our 'Women of the Reef' project. We had many people approaching us to tell their story or alert us to the story of another.
One of the first women we spoke to in the wake of our Fellowship announcement is Alison Rickert, who some may know as Alison Domm. Amongst much else, Alison completed a psychology and biological sciences degree at the Australian National University, doing her honours in biology, finishing in the late 1960s. Her first foray onto the Reef was during her degree, invited to be a research assistant on Heron Island by a friend whose then boyfriend was a turtle researcher. While there, she met Steve Domm. In Alison's own words:
"
It's a no brainer isn't it, of course you want to come to the reef! Yes I did that, and that's where I met Steve and we fell in love so we came back to Heron Island for a year because he was working as the research assistant to the director at the time. And then after that … of course [we] were mixing with a lot of scientists, and they had a big contingent from the Australian Museum working on coral reef fishes, and … they really wanted to set up a field station that they could use regularly because they were also building up collections of the reef fish that had never been studied. So they asked Steve and I if we'd be interested if they put in a grant, in going up and setting up the field station and doing research for them. So that's how we came to end up going to One Tree Island.
Alison Rickert
Alison Ricket, One Tree Island, early 1970s. Photo Credit: Alison Rickert.
There is much more to Alison's story but suffice to say here: with Steve, Alison built the foundations for both the One Tree Island and the Lizard Island research stations – two world-leading suppliers of on-reef facilities for coral reef research and education. The station buildings that are there now represent a story that can be told through the life of Alison Rickert.
Reflecting on her time on working on the Reef, Alison says:
"
I think I've had this most incredible opportunity … I've never thought much about what it meant that we took those first steps – to create those two research stations – but going back and seeing what they've become, and seeing the whole library full of research projects that have been done, seeing even the physical structure that's there, that to have laid that kind of foundation stone, I'm really proud of that. And the wonderful thing to see now is that, when I went back to Lizard Island … it was full of women scientists … There were probably more females on the station doing research than males … And that was definitely not the case when I was there. So, it's changed: the whole kind of capacity for women to be active and on the Reef in all sorts of ways, it's definitely changed for the better.
Alison Rickert
Coincidentally, Alison Rickert lives near Terrie Ridgway, so we arrange a meeting. Alison brings along photos to share with Terrie, as reminders of their lives and where they were more than half a century ago. These are memories of their lives as young women in the southern islands of the Great Barrier Reef, their paths nearly crossing then and wonderfully crossing now. Alison also brings a sound recording of the mutton birds on Heron Island, which she wants to play for Terrie.
We play the sound of mutton birds.
The look of recognition on Terrie's face when she hears that sound is a memory drawn from deep down. To the surface it brings that young powerful woman in her 20s, living her dream life, learning, exploring and certain of her path.
And so we sit on this day, with Alison and Terrie, regaling stories of these mutton birds, of people they have known, of islands and sites they had seen, of Reef waters and their encounters with the animals there. It is pure joy as they share memories of their experiences on the Reef.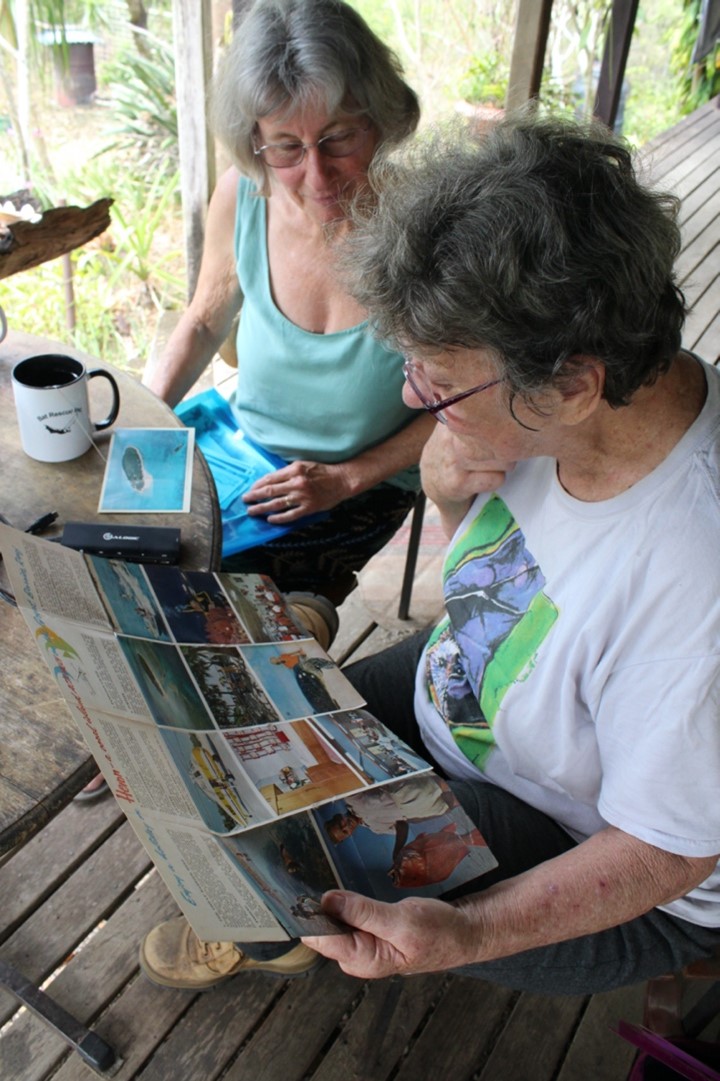 Alison and Terrie meeting to share memories, 2020. Photo credit: Kerrie Foxwell-Norton.
Such a discovery – and the joy it brings – is happy happenstance but not sufficiently important for formal historical records as these are the private experiences of women.
From a feminist perspective, the adage that the 'personal is political' adds weight to these private memories. My co-fellow Dr Deb Anderson and I are collecting the stories of these women to remember their contribution to the conservation of the Great Barrier Reef.
In doing so, we add the private and public experiences of women to the historical record – where they justifiably belong – as a memory of the past and a reminder of their contribution to the present. In elevating these stories, we offer a plan for the next generation of women's participation in Reef conservation and other environmental issues, too.
Associate Professor Kerrie Foxewell-Norton & Dr Deb Anderson.
Other related links:
Publication by Kerrie & Deb
Comments
Your email address will not be published.
We welcome relevant, respectful comments.