Memorial Scrolls and Plaques: Commemorating the Sacrifice World War One
By Alice Rawkins, Anzac Square Memorial Galleries, Visitor and Information Services | 5 November 2020
World War One (WWI) had vast and unprecedented social, economic and political impacts that affected millions of people. However, it was the profound loss of human life that was one of the most devastating outcomes of this global conflict. Of the 416,000 Australians that served, 60,000 died. Few families and communities were left untouched, with research suggesting that every second Australian family suffered a loss from WWI. To acknowledge the grief and suffering of these families the British Government decided to issue a memorial scroll and plaque to the next of kin of all British and Empire service personnel who had died in service. These mementos commemorated the ultimate sacrifice given by so many and acknowledged the bereavement of families.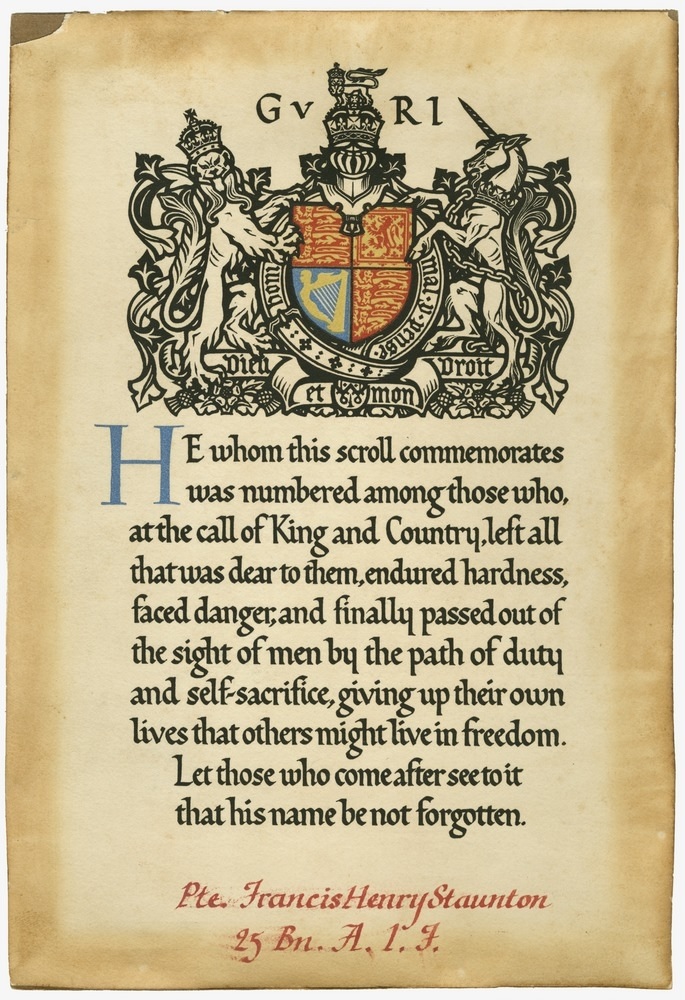 Courtesy State Library of Queensland, OM73-85 Francis Henry Staunton Commemorative Scroll ca. 1918.
Memorial plaques and scrolls began to be issued to Australian families in 1922 and the practice continued into the 1930s. These items were sent out from the Base of Records office at Victoria Barracks in Melbourne by second-class mail. The memorial scrolls were printed on thick paper and headed by the Royal coat-of-arms. Each scroll also bore the following message:
"He whom this scroll commemorates was numbered among those who,
at the call of King and Country, left all that was dear to them, endured
hardness, faced danger, and finally passed out of the sight of men by the path of
duty and self-sacrifice, giving up their own lives that others might live
in freedom. Let those that come after see to it that his name be not forgotten"
Underneath this message the person's rank, name, honours and unit were written in red ink.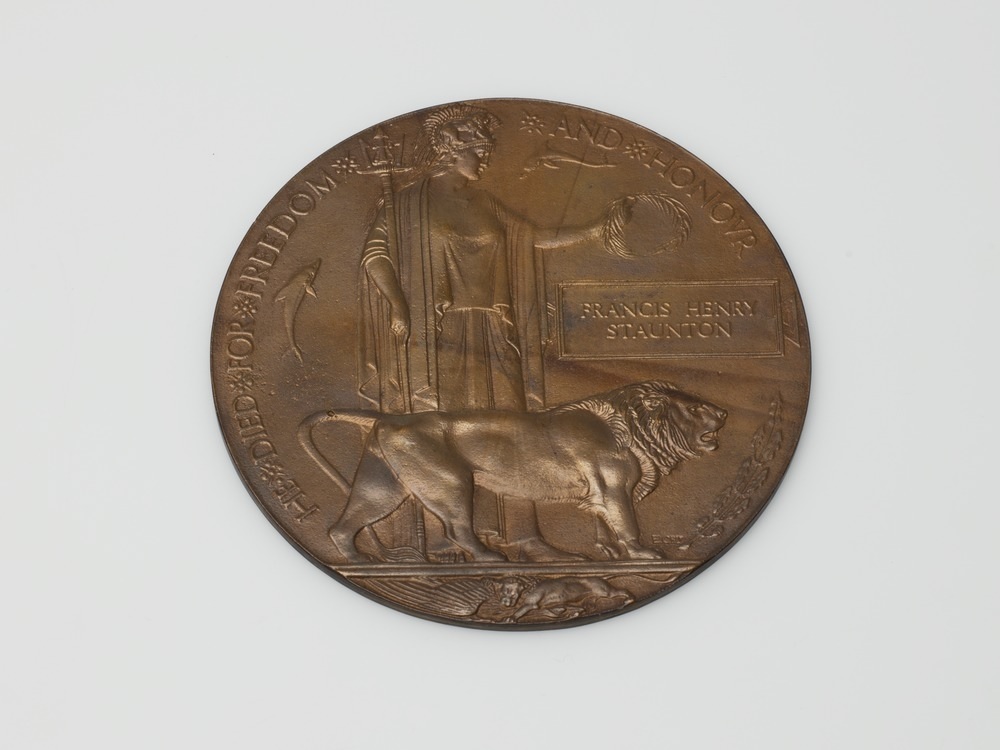 Courtesy State Library of Queensland, Memorial Plaque, OM72-90 Staunton Family Papers, 1919.
Read more about Francis Henry Staunton's WWI service here.
Alongside the commemorative scrolls, families also received a memorial plaque. In 1917 a competition was held to determine the design for this plaque. More than 800 entries were received. The winner, Edward Carter Preston, was chosen in 1918 and received a prize of 250 pounds. The plaques were initially made at the Memorial Plaque factory in London, 1919. However, from December 1920 manufacturing was shifted to the Royal Arsenal, Woolwich.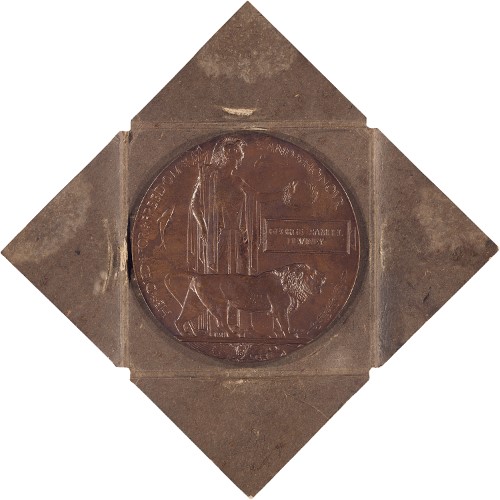 Courtesy State Library of Queensland, Memorial Plaque, 5592 George Samuel Deviney Papers, c.1920.
Read more about George Samuel Deviney's WWI service here.
The plaques were roughly 120mm in diameter and made from bronze. They soon become known as the "Dead Man's Penny", the "Death Penny", and the "Widow's Penny" due to their similarity in appearance to the penny coin. At the centre of each plaque is Lady Britannia facing left and holding a laurel wreath above a box containing the individual's name. Rank and honours were not included as all sacrifice was equal. In her right hand she clutches a trident and dolphins swim on either side of her head, symbolising Britain's mighty sea power. In front of Britannia stands a lion, underneath is another lion attacking an eagle. This scene signifies the defeat of Imperial Germany. Around the outer edge reads he or she "died for freedom and honour". The design was changed slightly while manufactured at Woolwich since there was insufficient space in the original design between the lion's back paw for the H in "HE" to allow an "S" to be inserted for "SHE" in female plaques. The "H" was made narrower to allow space for an "S".
Some 1,355,000 plaques and scrolls were issued to families throughout Britain and the Empire. It took more than 450 tons of bronze to create these memorial plaques. The cost to commission these mementos would have been immense, highlighting the importance placed on acknowledging the vast losses of World War One.
Visit the World War I Memorial Crypt at Anzac Square to learn more about the men and women who served and sacrificed during this global conflict. Open 10am-4pm Sunday to Friday.
Further Reading:
Comments
Your email address will not be published.
We welcome relevant, respectful comments.