George Samuel Deviney Papers Digitised @SLQ
By JOL Admin | 5 June 2014
The George Samuel Deviney papers provide a moving account of a young farmer from Helidon, Queensland, who enlisted in World War I and died in France during the Battle of Dernancourt in 1918. The collection comprises diaries, correspondence, photographs, postcards and a next of kin memorial plaque. All of the items have now been been digitised and are available through our catalogue.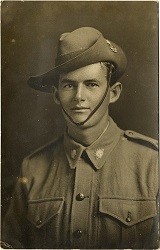 George Samuel Deviney, June 1917. Item 103
George Samuel Deviney, June 1917. Item 103
George Samuel Deviney enlisted on the 23rd September 1916 in the 9th/52nd Battalion. After training at Enoggera Camp in Brisbane he traveled by train to Sydney where he embarked for England on the troopship "Ayrshire" in January 1917. After further training at Codford Camp in Salisbury, England, Deviney served on the frontlines of France. During this time he suffered shrapnel wounds in his leg and the effects of being gassed, as well as enduring a severe case of influenza in which he nearly died. After returning to the front he was killed in action during the Battle of Dernancourt, France, on the 5th April 1918. He was only twenty-three at the time of his death.
The collection includes three small diaries which Deviney kept throughout his war service. The diary covering 1918 contains entries up until two days before his death and was found on the battlefield, near his body, by a British soldier who returned it to one of his sisters in Queensland.
Deviney came from a large family of seven sisters and a younger brother, Hugh, who later served in World War II. His mother had died in 1902 and the siblings were very close. The letters are mainly addressed to his sisters and it is touching that the small amount of money left in his will was distributed equally amongst them.
The seven Deviney sisters at Gladsdale, Helidon. Item 102.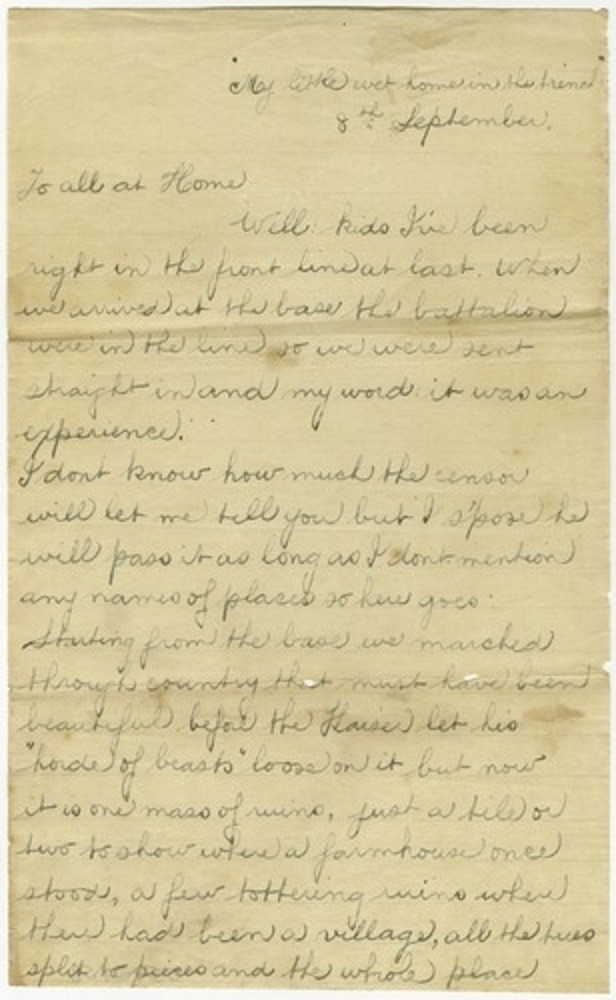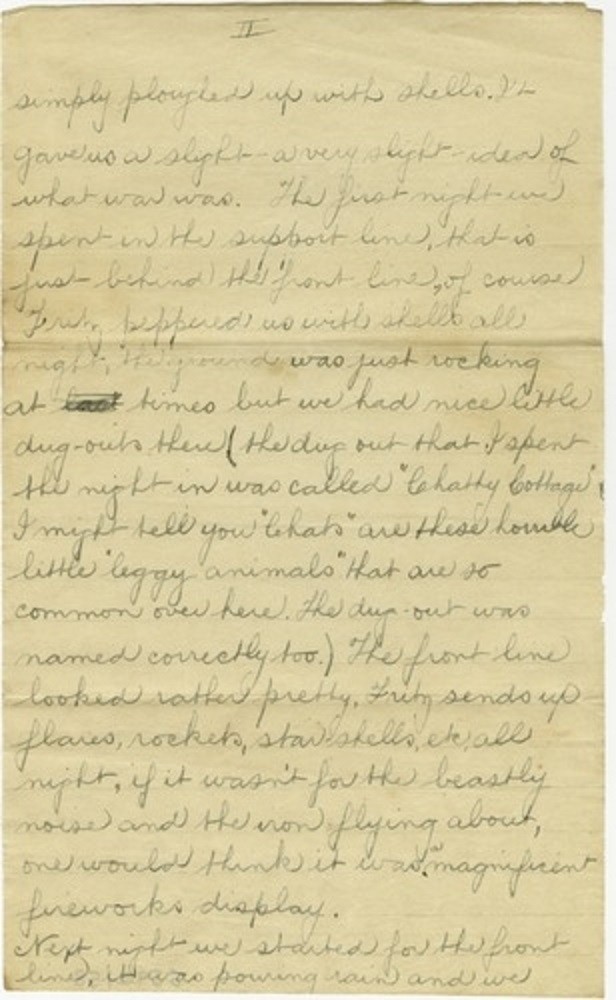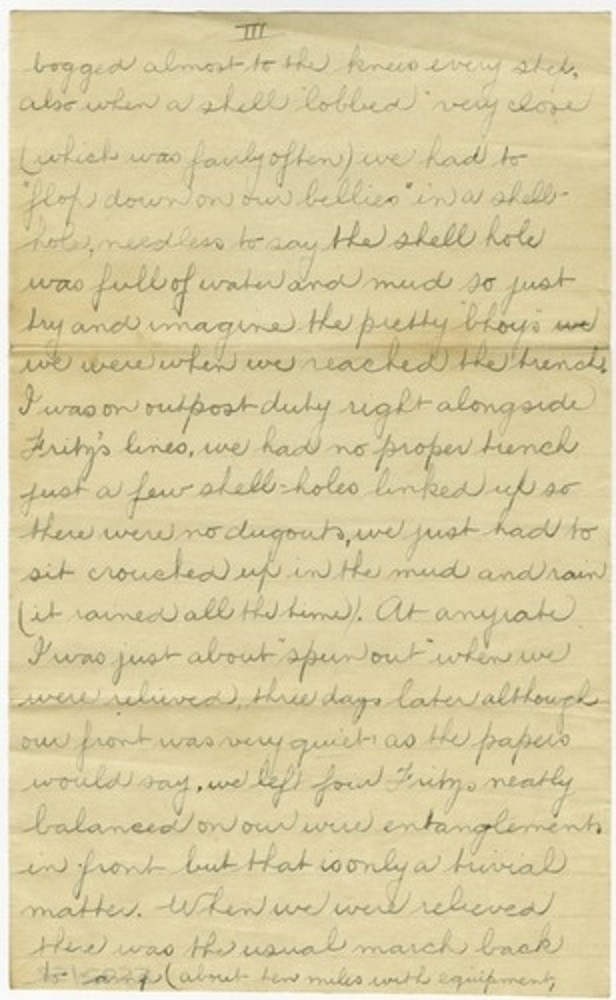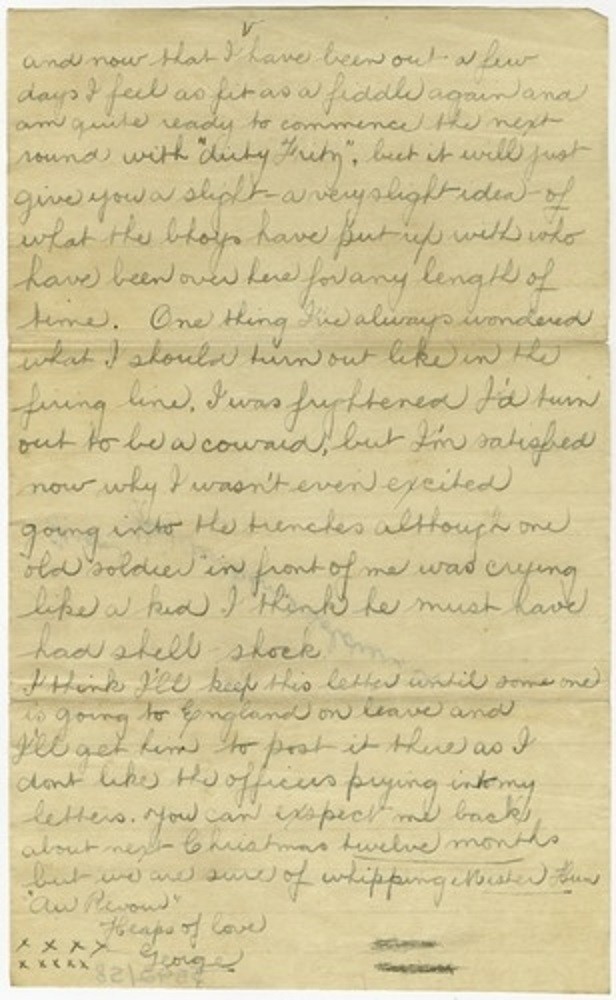 The collection also includes several letters written by Deviney's best mate, Owen Donlen from Mareeba, affectionately known as "Aussy". After Deviney's death Donlen wrote to the Deviney family expressing his grief:
"You must excuse me for being so long in writing as I feel like crawling into a hole and never coming out again. I'm the miserablest and sorriest man in all the world since poor old George was killed. We were like brothers, we were never apart out of the lines. They used to call us husband and wife in Batt so you can tell how much I miss him...The way I feel this last few weeks I wish I were gone with him." (Owen Donlen letter, July 1918, item 87)
Group photograph taken at Codford Camp, England. Deviney is seated, second from right, and Donlen is standing, far left.
Reverse of photograph above.
Sadly Donlen died in Belgium, after the end of the war, on the 23rd December 1918. He was swept into a canal and drowned. The collection contains copies of official records regarding his death and a photograph of his grave in the Dinant Communal Cemetery in Namur, Belgium. The deaths of these two fine young men exemplify the futility and tragedy of the war and the profound impact which it had on the families left at home.
https://www.youtube.com/watch?v=_dYrMXMv1P0
The George Samuel Deviney Papers (Acc: 5592) are available at the John Oxley Library and online at: http://hdl.handle.net/10462/eadarc/3193
Lynn Meyers - Librarian, Original Materials, State Library of Queensland
Comments
Your email address will not be published.
We welcome relevant, respectful comments.