Manifesto displayed under the Tree of Knowledge in Barcaldine
By JOL Admin | 8 November 2009
In the midst of the John Oxley Library's White Gloves Tour to Longreach last weekend a special detour was made to Barcaldine to coincide with Sunday's Community Cabinet meeting.
A feature item of this year's White Gloves Tours has been the Manifesto of the Labour Party to the People of Queensland, 1892. Recently added to UNESCO's Memory of the World Registeropen_in_new the Manifesto is a very special document, particularly in relation to the central west where the modern day Australian Labor Party had its origins.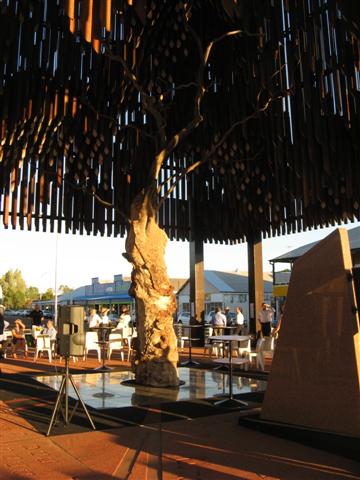 On Sunday evening the Manifesto was displayed under the Tree of Knowledge monument and generated a great deal of interest from those who had gathered for the open air BBQ dinner with Premier Anna Bligh and members of her cabinet.
Folklore has it that the Manifesto was read publicly under the Tree of Knowledge in Barcaldine some time after the shearers' strike of 1891.
Comments
Your email address will not be published.
We welcome relevant, respectful comments.