Majestic Café, Cairns
By JOL Admin | 20 February 2020
George Blessas opened his café in Abbott Street ca. 1908. His was the third Greek café to open in Cairns after Arthur Cominos and Michael Pavlos.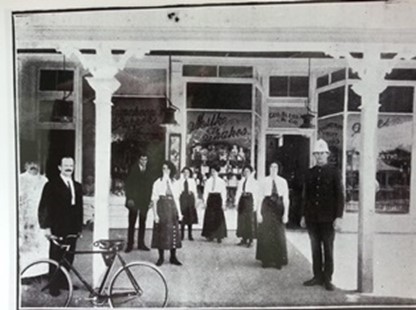 George Blessas and staff photographed in front of the Majestic Café in Abbott Street, Cairns ca. 1914. Collection 29223 Ross Johnston Greek Emigration Research ca. 1930-1990.
The Acme Tea Room in the Majestic Café was publicised as being one of the best in Cairns.
"The name of Blessas is blessed by the thirsty during the warm weather, and he is regarded as a public benefactor of the first order of merit. The establishment of his firm George Blessas and Co..' in Abbott Street is cool, comforting and attractive. lt consists mainly of the Acme Tea Rooms, splendidly fitted, absolutely private, well ventilated, and as cool as the proverbial cucumber. Everything here is conducted on the best metropolitan lines. Tea, coffee, cocoa, with cake or sandwiches are dispensed at all hours of the day and evening, while the range and variety of the iced drinks are really marvellous. A good place to retire to enjoy a spell from the heat and some refreshments well served is the Acme Tea Rooms of Messrs. G. Blessas & Co." - Cairns Postopen_in_new, 24 Dec 1909, p.6.
In 1909 George Blessas & Co was also running a restaurant in Chillagoe advertising that everything could be obtained including … "ham and eggs, tea and coffee, and other refreshments, cleanliness and civility being the order of the day and night". Cairns Post, 3 Sep 1909, p.5.
In 1910 an advertisement in the Cairns Post stated a partnership between George Blessas and Henry Bryan of Cairns had been dissolved. According to the report George Blessas was to continue operating the business.
Advertisement from the Cairns Post, 11 Nov 1910. p.11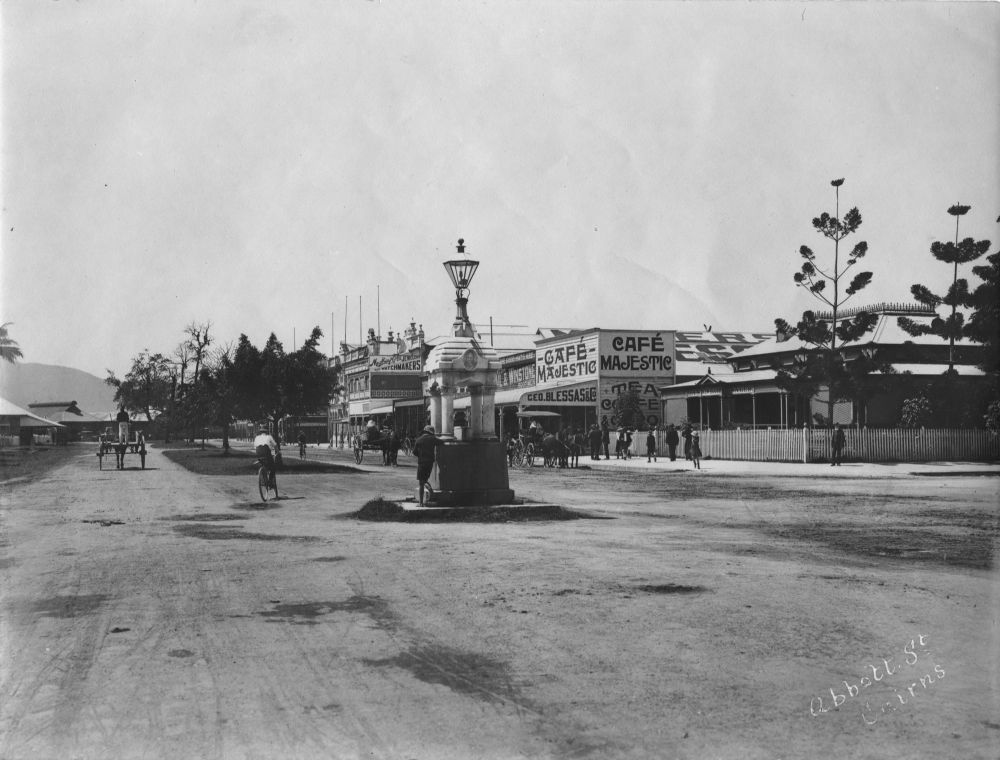 Looking south-east towards the wharves from the intersection of Abbott and Spence Streets. John Oxley Library, State Library of Queensland. Neg 50739
Numerous wedding receptions were held in the Majestic Café in Abbott Street. The White and Bird wedding was reported in detail in the newspaper in September 1938open_in_new.
George Blessas was also a member of the St. George Services Club in the early 1940s, supporting the club monthly, and attending debutante balls and other social occasions in Cairns.
Exhibition – Meet me at the Paragon
State Library's latest exhibition, Meet me at the Paragon explores how the creation of American-style cafes enabled Greek migrants of the early to mid-1900s to carve out a new life in a foreign land. The exhibition runs from 27 September 2019 until 15 March 2020.
Anne Scheu – Engagement Officer, State Library of Queensland
Comments
Your email address will not be published.
We welcome relevant, respectful comments.