Little Red School Book
By Joan Bruce, Specialist Librarian, State Library of Queensland | 4 May 2017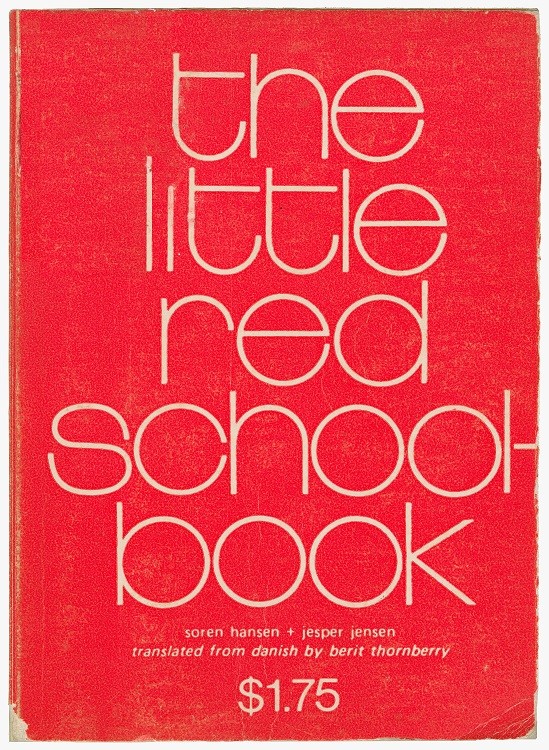 Little Red School Book (Australian ed. 1972)
The Little Red School Book was the work of two Danish schoolteachers, Soren Hansen and Jesper Jensen.
It appeared in 1969 and then essentially went viral, travelling around the world and whipping up outrage wherever it went.
The first Australian edition, published in 1972, was promptly banned by the Queensland Literature Board of Review.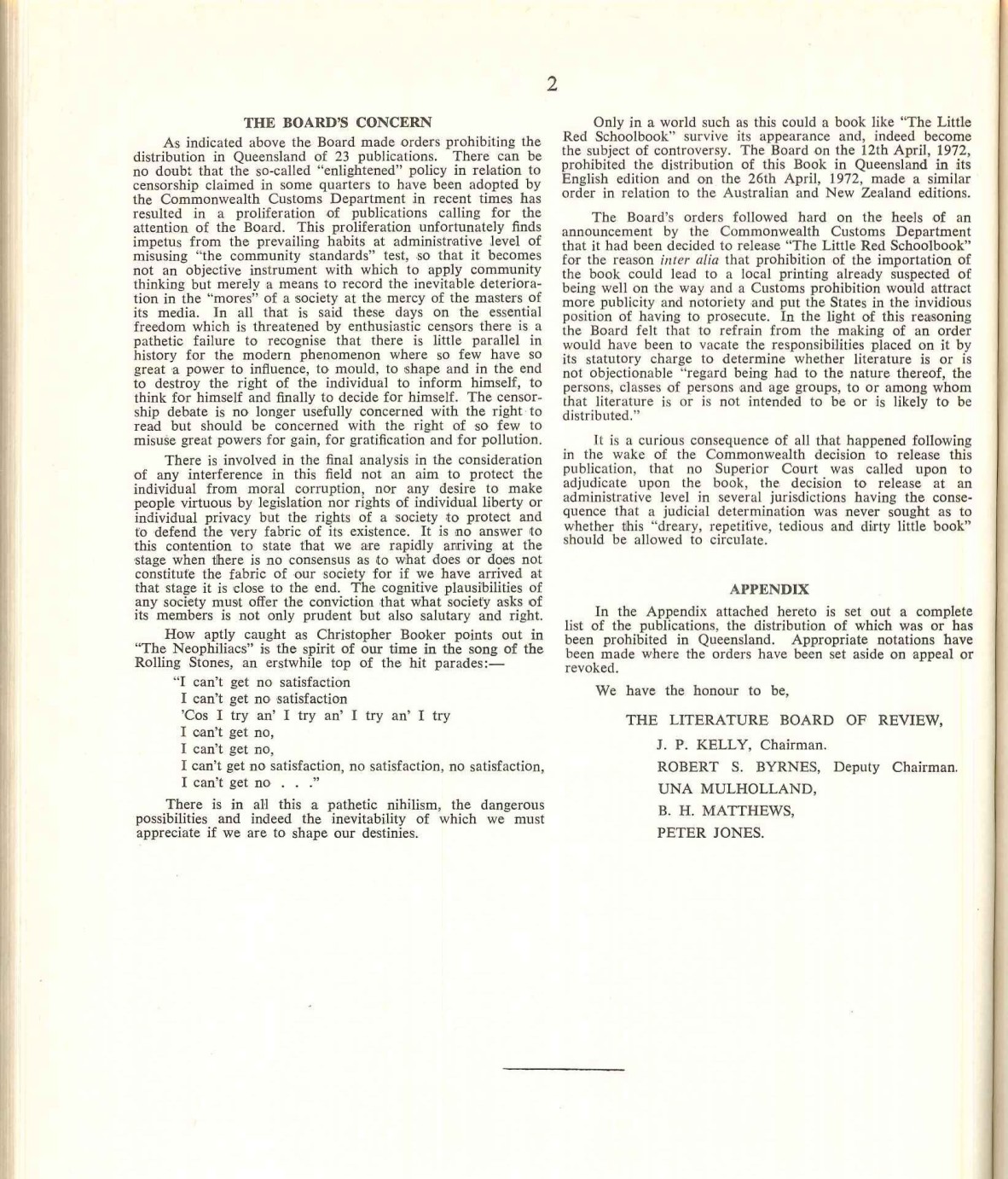 Qld Literature Board of Review annual report 71-72
In their report that year they condemned the 'pathetic nihilism' of a world in which such a book could survive, before weighing in on the Commonwealth Customs Department for allowing the book into the country in the first place.
The fact that the Australian edition was included in their careful listing of all versions banned in Queensland, however, shows that things were already beyond the control of Customs.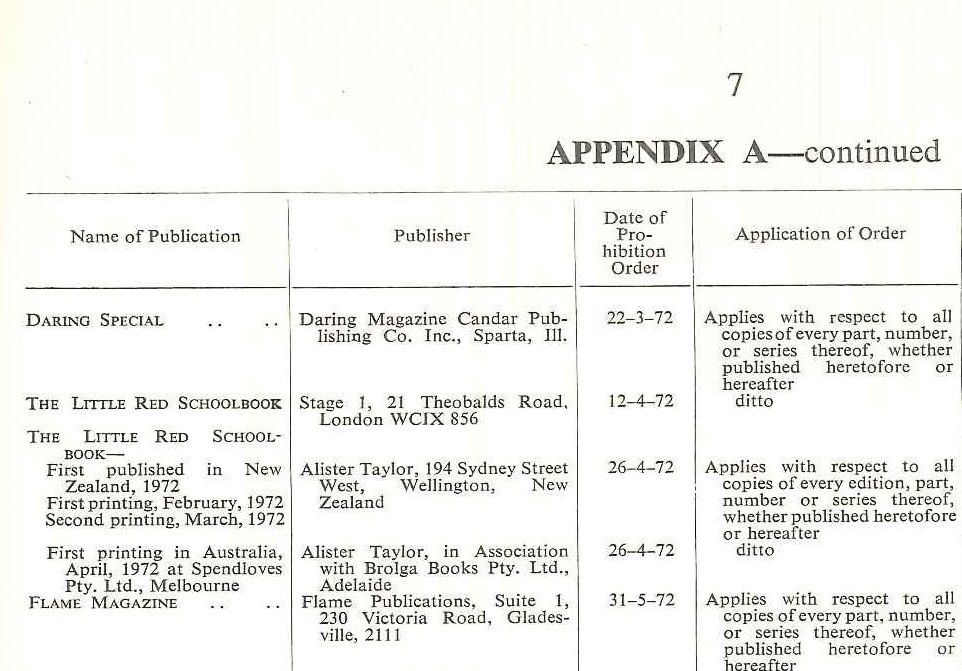 Qld Literature Board of Review annual report 71-72, p.7
Despite the political blowtorch applied to Customs Minister Don Chipp at the time, federal action was futile. The book was already in Australia and only the States had the power to control its distribution.
In the end, Queensland was the only state where The Little Red School Book was banned absolutely. A battle soon developed there between the authorities and radical university students who were determined that the little red book would reach its target audience.
A free edition was printed and distributed to schools, using methods such as driving past school grounds and throwing copies over the fence, poking them between the spokes of bicycle wheels and piling them under stones.
Courier Mail, 7 Jun 1972, p. 9
This was like a red rag to a bull to Premier Bjelke-Petersen, who declared that anyone seeing copies distributed to school children should dial the police emergency number 000.
He was seconded by the Liberal member for Merthyr, a former member of police special branch, who called for police in the ranks to "act on their own initiative" to prevent the distribution of the book.
A great deal of the moral panic centred around its disturbingly matter of fact advice to teenagers about sex.
"Some girls, and a very few boys, don't masturbate. This is quite normal. It is also normal to do it."
"Sex may or may not involve strong feelings. Strong feelings may or may not involve sex. You don't have to go to bed with someone just because you are fond of him or her."
The conservative establishment feared that this would infiltrate the minds of the young "like colonies of lethal bacteria".
Courier Mail, 7 June 1972, p.9
Others felt that much of its information was common sense. It was its anti-authoritarianism which caused the broadest disquiet.
"I have read the book several times wondering what all the fuss was about but curiously disturbed by its disruptive tones about education" writes Professor Marie Neale in a covering letter to Customs Dept in August 1971. NAA: A5882, CO1392.
This is the culprit, packed in an evidence bag with Commonwealth Cabinet Office papers from 1972, now held in the National Archives of Australia.
Commonwealth Cabinet Office papers, NAA: A5882, CO1392.
The NAA have digitised the extensive Commonwealth government records which were created by The Little Red School Book controversy. ASIO file NAA: A6122, 2388, for example, is rich in information about the high jinks in Queensland.
In the end this "dangerously clever handbook on insurrection" failed to cause the collapse of civilisation as we know it.
The fuss died down until it was republished as an ebook in 2014, an event which sparked a round of interviews with many of the players, including surviving author, Soren Hansen.
If you want to find out what it was all about, read the ebook (a digital version of the UK edition) or come in to State Library of Queensland to view the Australian version in print.
Freedom Then, Freedom Now
The Little Red School Book is one of many collection items to be featured in SLQ's latest exhibition, Freedom Then, Freedom Now which runs from 5 May until 19 November 2017 at the State Library of Queensland.
Freedom Then, Freedom Now is an intriguing journey into our recent past exploring the freedoms enjoyed and restricted in Queensland and examines what happens when collective good intersects with individual rights. Freedoms often depend on age, racial or religious background, gender, income and where you live. Freedoms change over time and with public opinion. This exhibition draws on the extensive collections of SLQ to reminisce, reflect on and explore freedoms lost and won in Queensland.
Does The Little Red Schoolbook bring back memories?
If you have a story to tell about your own encounter with this "dangerously clever handbook on insurrection", tell us about it by adding a comment.
State Library of Queensland collection
Little Red Schoolbook (UK edition, 2014) – ebook
Little Red School Book (Australian edition, 1972)
References
The Little Red Schoolbook – honest about sex and the need to challenge authority in The Guardian, July 2014.
The Little Red Schoolbook – a handbook for underage revolution? In The Independent, 3 July 2014
The Little Red Schoolbook. MILESAGO: Australasian Music & Popular Culture 1964-1975. Viewed 3 May, 2017.
National Archives of Australia - search under both 'Little Red School Book' and 'Little Red Schoolbook' to find all digitised files, including
NAA: A6122, 2388 - ASIO file
NAA: A5882, CO1392 - Cabinet Office papers from the height of the controversy in 1972
NAA: C4480 - containing hundreds of outraged letters to Minister Chipp & his (mostly) patient replies
Comments
Your email address will not be published.
We welcome relevant, respectful comments.