Len Shillam's 2/3 AHS Centaur Memorial, 1957
By JOL Admin | 12 May 2017
Sunday 14 May 2017 marks 74 years since the loss of the 2/3 Australian Hospital Ship Centaur. In this blog, Dr Madonna Grehan 2015 John Oxley Library Fellow, explains the origins of a plaque at the Brisbane's Shrine of Memories in ANZAC Square remembering Centaur's personnel who were killed.
Sandstone Bas Relief at ANZAC Square. Sculptor Leonard Shillam. Image courtesy of Queensland War Memorial Register. Photographer Matt Smith.
A sandstone bas relief at ANZAC Square's Shrine of Memories commemorates the loss of 268 lives in the torpedoing and sinking of the 2/3 Australian Hospital Ship (AHS) Centaur on 14 May 1943. It was sculpted in 1957 by Leonard (Len) G Shillam, a 42 year old artist from suburban Brighton. This memorial work was commissioned in mid-1957, by the Centaur Memorial Fund for Nurses.
The memorial had a long gestation. In 1948, the newly-established Centaur Memorial Fund ran a state-wide fundraiser called "Queen of the Nurses Quest". Matron Sadie Macdonald, a decorated WWI veteran, earned second place in the Quest. Her prize was £400 in cash which Sadie gifted to the Fund, for the creation of memorial gates at the front of Centaur House. It was the nursing profession's new home at 337 Queen St, Brisbane.
Brisbane architects, Conrad & Gargett, were tasked with designing the gates, but the idea turned out to be impractical. An alternative memorial emerged in mid-1956. Sadie Macdonald suggested that the Fund create a Book of Remembrance, recording the names of Nurses who lost their lives in World Wars I and II, as well as a plaque of commemoration.
The Remembrance Book idea seems to have gone by the wayside. In mid-1957, Len Shillam was commissioned to sculpt a memorial in granite, featuring 2/3 AHS Centaur, with impressions of service and Merchant Navy personnel. Shillam told the Fund he planned a strong and effective memorial. Perhaps aware of Shillam's avant-garde style, the Fund directed him to create something plain in style, rather than modernistic.
To help Shillam design the memorial that the Fund imagined, its Executive obtained photographs from the Australian Army at Victoria Barracks. These were of personnel dressed in WWII military uniforms. These were of 2/3 AHS Centaur, a Medical Orderly, an Australian Army Nursing Service matron, and a medical officer with rank of Lt Col.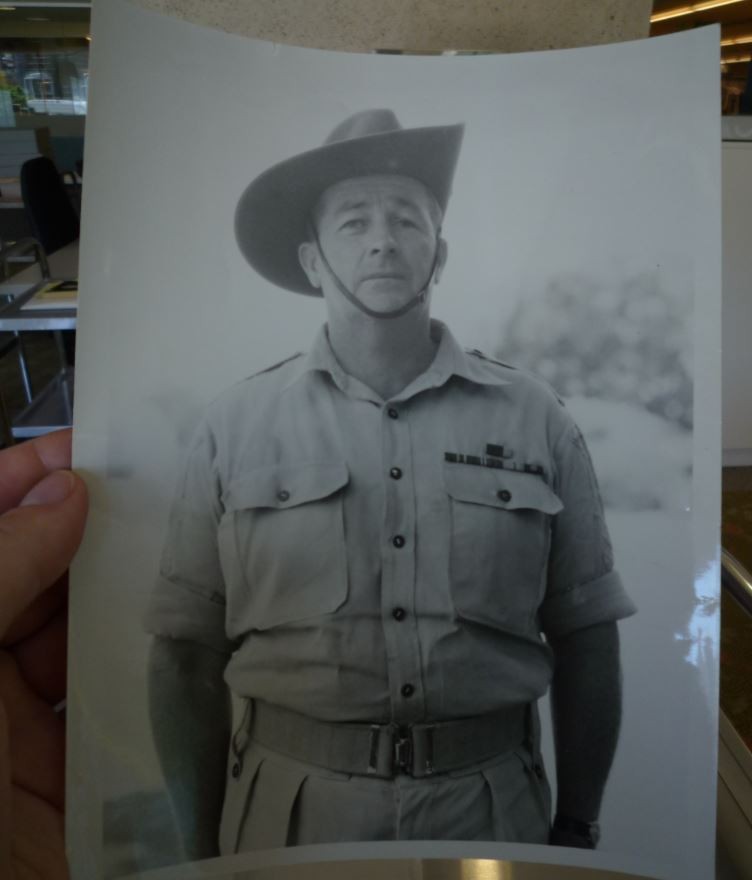 Medical orderly representative of 2/12th Field Ambulance Officers on board Centaur. Photograph used by sculptor Leonard Shillam. From OMEG, Centaur House Records, John Oxley Library, State Library of Queensland
AANS (Australian Army Nursing Service) nurse, indicative of matron rank of Major. Photo used by sculptor Leonard Shillam. From OMEG, Centaur House Records, John Oxley Library, State Library of Queensland
Medical Officer, rank of Lt Col. Photo used by sculptor Leonard Shillam. From OMEG, Centaur House Records, John Oxley Library, State Library of Queensland
The Fund 's Executive hoped that the memorial would last for at least 100 years, but it was acutely conscious that future generations may not even know the story of the Centaur's sinking. For this reason, the Fund insisted that the memorial featured an inscription which included the date of Centaur's sinking was included on the sculpture itself. Matron Sadie Macdonald devised the wording to be used: 'At going down of the sun and in the morning we shall remember them. Hospital Ship Centaur sunk enemy action 14 May 1943'.
During 1957, Len Shillam prepared pencil sketches of the carved relief panel. At some point, the medium of granite was replaced with sandstone. It required a stone block measuring 3ft x 4ft 8in x 4ins at a cost of £14.5.0. Shillam's final design was approved in June 1957. Centaur had been a Blue Funnel Line ship, owned by Alfred Holt & Co. in Liverpool. The company's QLD Agents, Wills, Gilchrist & Sanderson, arranged the donation of a mast-head light to sit above the completed sculpture. By November 1957, the finished work with its ship's light was in place at Centaur House on the ground floor. Shillam earned £250 for the commission.
A formal unveiling was delayed repeatedly by ongoing building modifications at Centaur House. Eventually in 1958, a silver plaque was installed to accompany the bas relief. Carrying Sadie Macdonald's preferred wording, it read 'In Memory of the Men & Women who lost their lives in the Hospital Ship "Centaur" – sunk off the Queensland coast by enemy action on the 14th May 1943. Presented by Sadie C. Macdonald ARRC, AANS, AIF 1914-1918'.
In 1969 the Fund sold Centaur House at Queen Street. The RSL's Returned Sisters Sub-branch expressed concern about the fate of the memorial and plaque. Subsequently, the memorial was erected at the newly-built Centaur House at 391 Wickham Terrace. When the Fund sold that building to pay mounting debt, the memorial was not reassembled until it was donated to the ANZAC Square Shrine of Remembrance.
Dr Madonna Grehan
Dr Madonna Grehan was the recipient of the 2015 John Oxley Library Fellowship. Her research articles on the Centaur Memorial Fund can be found here:
Comments
Your email address will not be published.
We welcome relevant, respectful comments.