The legacy of Tindale
By JOL Admin | 12 October 2012
To complement the current exhibition Transforming Tindale, State Library hosted a symposium titled The Legacy of Tindale: Photography and the Politics of Anthropology and Native Title on 24 September 2012. Daniel Browning from ABC Radio National facilitated a full day of lively discussion and deep insights into Norman Tindale and the impact his anthropological work has had.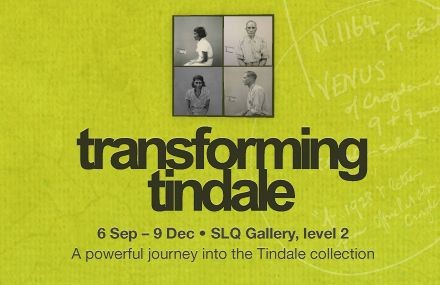 Transforming Tindale
Speakers from a variety of backgrounds and disciplines talked about their experiences. Vernon Ah Kee, Flo Watson and others talked about sourcing photographs of their family from the Tindale Collection. Professor Bruce Rigsby and Henrietta Marrie talked about their personal interactions with Tindale in-person, reflecting on his personality and examples of his fastidious nature. Exhibition curator Michael Aird elucidated the process behind putting together Transforming Tindale, an outcome of many years researching the Tindale Collection.
You can learn more about Michael Aird and Vernon Ah Kee's approach to the Transforming Tindale exhibition and the legacy of Tindale's anthropological expeditions in this conversation with Louise Denoon, Executive Manager, Queensland Memory, State Library of Queensland.
Comments
Your email address will not be published.
We welcome relevant, respectful comments.