Labour in Politics...Past and Present
By JOL Admin | 5 October 2010
On Saturday 2 October a symposium by the Brisbane Labour History Association was held in Auditorium 2 at the State Library. This was a terrific day of talks, discussion and debate about the history of labour politics and parties in Queensland.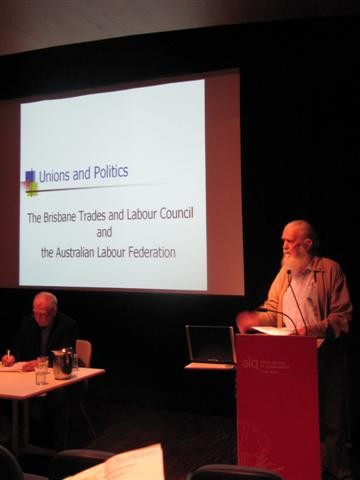 Uncle Bob Anderson welcomes symposium attendees to country paying respect to the traditional owners of the land on which the State Library is situated.
Speakers included the John Oxley Library's Brian Randall on "The Rise of the Labor Party", John Kellett on "The Australian Labour Federation", Jeff Rickertt on "Socialist Organising Outside the Labor Party, 1892-1903" and Dale Jacobsen on "Premier McCormack versus the ARU: Parliamentary Labor Put to the Test."
After lunch a panel discussed "Labour in Politics 120 Years On: Does Today's Labor Party Serve the Cause of Labour?" Panelists included Jo-Ann Miller, MHR, Member for Bundamba, Peter Simpson, Qld Secretary, ETU, Carol Corless, Job Delegate & Vice-President, LHMU, and Phil Monsour, Workplace Rep & State Councillor, QTU.
Attendees look at John Oxley Library collection items in the Fox Family White Gloves Room.
Attendees were also invited to the Fox Family White Gloves Room on level 4 to view materials from the John Oxley Library collection including the UNESCO listed Manifesto of the Queensland Labour Party to the People of Queensland from the Charles Seymour papers as well as a range of rare political posters, photographs, and manuscripts.
A recording of the symposium will be made available as a webcast through the State Library of Queensland's website.
Special thanks to those who attended and to Troy Keith, Brian Randall and our John Oxley Library Fellow Jeff Rickertt for organising this successful day.
Comments
Your email address will not be published.
We welcome relevant, respectful comments.