Hey! Is this you?
By JOL Admin | 18 July 2013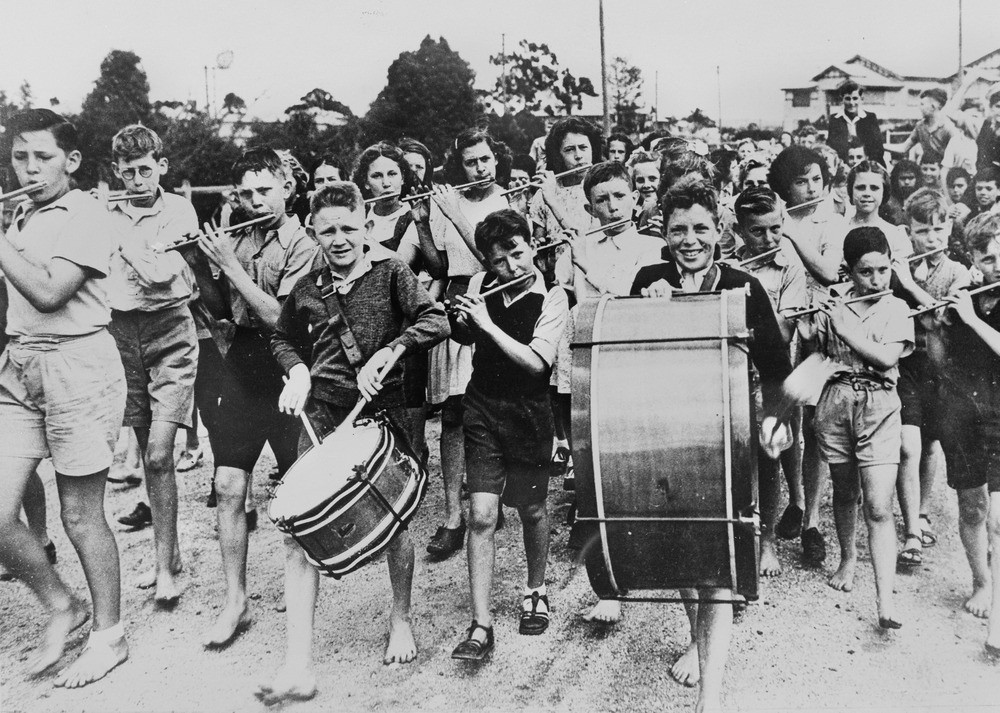 Moorooka State School Band welcoming home soldiers from World War II in Brisbane, Queensland, ca. 1945. John Oxley Library, State Library of Queensland. Neg 11407
This marvellous photo stands at the entrance to our current exhibition 'Live! Queensland Band Culture' in the Philip Bacon Gallery on Level 4 of the library.
We wondered if some of these fife players would recognize themselves, and hoped so.
Last week we had a letter from a seventy-nine year old gentleman, enclosing a photo of himself looking at himself as a third grader playing the fife. Excitingly, this letter was quickly followed up by a visit to the library, where copious photos were taken of the gentleman standing beside the band and photo.
Rev Dr Noel Wallis identifying himself in the photo
Surprisingly, he was able to identify quite a few of his fellow band members – but only the boys, none of the girls.
Are you perhaps one of these players? Do you know any of these players? If so, we'd love to hear from you. The band is the Moorooka State School Band for 1945, welcoming the soldiers home after the World War II.
There is very little information about these fife bands, which proliferated in the primary schools before the advent of the mass produced recorder. The fife, however, unlike the recorder, is a transverse wind instrument similar to the modern flute, but much simpler. We are very interested in collecting any information you might have about these bands, and would like to collect photos and other memorabilia relating to them. Fife band recordings of any type would be very valuable additions to our collection. These bands are a significant part of our culture, and it is important that we record and document their history for future generations of researchers and interested Queenslanders.
Looking forward to hearing from you!
Laurel Dingle - Queensland Music Coordinator, State Library of Queensland
Ph: 61 7 38407835
Email: qldmemory@slq.qld.gov.au
Comments
Your email address will not be published.
We welcome relevant, respectful comments.