The Green Monster
By Joan Bruce, Specialist Librarian, State Library of Queensland | 24 November 2017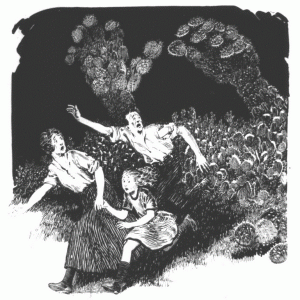 Invasion of Australia (Sydney Mail, 28 Feb 1923, p8)
Main prickly pear areas of Qld and NSW
Abandoned property Chinchilla area, May 1928 (album API-101), John Oxley Library, State Library of Queensland
Abandoned property Chinchilla area, May 1928 (album API-101), John Oxley Library, State Library of Queensland
By the early 1920s "The Pear" infested 60 million acres in Queensland and New South Wales and was advancing at the rate of a million acres a year.
It was referred to using the language of war and dystopia and cartoons of the period showed a populace on the run.
Little did they know that they were about to be saved by a nondescript grey moth, Cactoblastis cactorum, in one of the most spectacular examples of biological pest control in world history.
The story of the conquest of prickly pear is one of those told in State Library of Queensland's exhibition Magnificent Makers, which runs from 9 December 2017 to 3 June 2018 . Magnificent Makers is an intriguing exploration of innovation and invention in Queensland from the late 1800s to the present day.
https://vimeo.com/243041983
Sources
API-101 Album of Prickly Pear Photographs 1926-1933
Cacti naturalised in Australia and their control/by John Mann (Qld Dept of Lands, 1970), map of main prickly pear areas of Qld and NSW opposite page 32.
Invasion of Australia (Sydney Mail, 28 Feb 1923, p8)
Joan Bruce - Specialist Librarian, State Library of Queensland
Comments
Your email address will not be published.
We welcome relevant, respectful comments.