"Chasing the DragonTails" – Researching Chinese Family History
By Christina Ealing-Godbold, Senior Librarian, Information Services | 20 June 2016
Undertaking family history for non-European ancestors is difficult and often challenging. Language and transcriptions of the original language compound the difficulties. The majority of Chinese immigrants to Queensland in the 19th century came from Canton (now known as Guandong), and some came from Fujian.
Undertaking the history of William Lum Chew of Dalby, a Chinese immigrant to Queensland in the 1880s, illustrates the difficulty of completing Chinese family history. At various points in his life journey in Queensland, his name is listed as Ah Lum Chew, Lum Quee, Lim Chew, William Lum Chee, William Lum, William Lum-Choo, William Ah Chu and Jung Gum Chew.
Chinese families are listed in the government records, including in birth, death and marriage indexes. If you say the name aloud, and then imagine the possible spellings or variations, you may have a better chance of finding the person in Australian records. For example, Ah Chee is often translated as Archie. Other common variations are Chew spelled as Tew, Li as Lee and Yung written as Young and Lee Yung as Leong. Most Chinese who remained in Queensland also adopted an English first name, such as William orJoseph, which they then added to their Chinese name, for example William Lum Chew.
Chinese names usually have three parts – a family name, a generational name and a personal name. "Ah" is usually put before the personal name, and is really an honourable title. Yip Ah Chee indicates that the family name is Yip and that Chee is his personal name. William Lum Chew adopted a western name as his personal name, the family name was Lum and his generational name (which his family later ceased to use) was Chew. Many indexes of public records unfortunately took Ah to be the family name, and listed many Chinese persons under "Ah" – for example, Ah Sing, Ah Poon and Ah Chee. This error of indexing can make it very difficult to distinguish between Chinese persons with similar names.
Chinese persons often changed their name throughout their lives, when they came of age, started a business, married or experienced some other significant event. This cultural practice makes it even harder to be sure that you have traced the Chinese person throughout their life journey.
Shipping – Arrivals in Australia
Immigration information can be found in the National Archives of Australia. However, for the 19th century, a number of other tools are useful, including immigration and shipping indexes at Queensland State Archives. In addition, Mariners and Ships in Australian Waters is a useful website that allows a search by year and month to see which ships came from Hong Kong. Use Control+F when looking through the list of ships, and search for the word "Hong". A list of passengers and crew on those ships show many Chinese by name and age. Choose ships from Hong Kong and use Control+F again to search for the name, such as "Lum", within that shipping list. Lum Chew arrived on the Glamis Castle in Cooktown.
Shipping record for Glamis Castle from http://mariners.records.nsw.gov.au/
Naturalisation and alien registration
As a result of the White Australia Policy, several legislative provisions applied to residents of foreign birth following 1900. Chinese persons already living in Australia were required to register as aliens, and had to apply for certificates of exemption to travel. Those who became naturalised also had documentation. These sources provide many details about the person, including a hand print and sometimes a photograph. All of this information is available from the National Archives of Australia website, where RecordSearch allows you to type in the name, such as Lum Chew.
Following this example, we can find that William Lum Chew was a fruiterer who lived in Patrick Street, Dalby. The Aliens Registration Certificate shows that he was born in Canton in 1865 and entered Australia in the 1880s.
William Lum Chew's Form of Application for Registration. Image courtesy of National Archives of Australia.
Certificates of exemption for the dictation test are also listed in the National Archives of Australia, and were a form of passport for those long term residents of Chinese origin, living in Australia after 1904. Photographs are included, such as this photo of Lum Chew taken at 56 years of age in 1916.
Lum Chew. Image courtesy of National Archives of Australia.
An interesting document available online is Queensland State Archives' Index to Coloured Labour and Asiatic Aliens in Queensland, compiled in 1913 using correspondence created by the Chief Secretary's Office and arranged alphabetically. The index is a transcript of the original record, and contains the names of non-British subjects who lived in various Queensland police districts, including Townsville, Normanton, Roma, Rockhampton and Toowoomba.

Entry for Lum Chew in the Index to Coloured Labour and Asiatic Aliens in Queensland 1913. Image courtesy of Queensland State Archives.
Births, deaths and marriages
Remember to search under the variations of the name. A search of Births, Deaths and Marriages in Queensland shows that William Lum Chew married Harriett Archie in Queensland in 1896. The Post Office Directory of that year gives his name as "Lim Chew – Storekeeper." Harriett's alien registration states that she is "natural born" and "has lived in Australia all her life". Further investigation shows that Harriett was born in Australia and was the daughter of Yip Ah Chee (changed to Archie) of Surat in Queensland. William and Harriet Lum Chew had eight children, four girls and four boys (Harriet, Anne, Winifred, Gwendoline, Joseph Herbert, Frank, Victor and Leslie), all of whom are listed in Queensland Births, Deaths and Marriages. William Lum Chew died in January 1937, and as an illustration of how spellings can vary and be recorded incorrectly even after many years, his death is recorded as William Lum-Choo. He is buried in Dalby cemetery, but his birth date is given as 1858 (different from 1865, which was listed on his alien registration) and his age as 77 years. Harriett is buried with him in the same cemetery, as is their two year old boy, Victor Archie Lum Chew, who died in 1910. Joseph Herbert Lum (their oldest son, who served in World War One) died just a few years afterwards in Brisbane in 1945, after hearing of the loss of his son in World War Two at Balikpapan.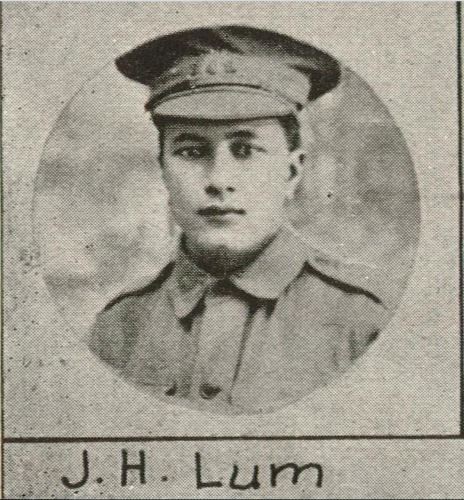 Joseph Herbert Lum. The Queenslander, 1918.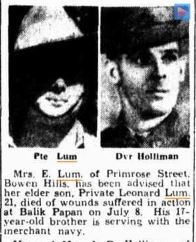 Article about the death of Joseph and Elsie Lum's son, Private Leonard Lum. Telegraph, 1945.
Joseph Lum married Elsie Neighbour of Brisbane in All Saints Anglican Church, Wickham Terrace, in 1924 and lived in the suburb of Bowen Hills, working as a vulcanizer.
The marriage record of William and Harriett shows that William Lum Chew's parents were Lum On and Mu Ha of Canton, China. Canton (now Guandong) and Hong Kong supplied indentured labour for the Queensland goldfields and pastoral industry. Searching for William Lum Chew's place of birth, one possibility is the village of Tung On, which had people by both the surnames Lum and Yip, and we know that the father of William Lum Chew was known as Lum On and his wife's father's name was Yip (from Surat). However, there are a number of villages that have "Lum" as a family name, and it could be any of them. They are primarily in Sun Wui (XingWui) county in Guangdong – Lum Chiu, Lum Uk Wan Village, and Lum Bin, but a few villages using the surname of "Lum" are in neighbouring Hoiping. Once the village is found, the most useful item is the Jai Pu, the history of the family, which records the males of the family and their political, military and academic achievements as well as their descendents. Some have been microfilmed by the Mormon Church and are available on the Family Search Chinese Genealogies web pages.
Trove newspaper searching
As business owners, many Chinese were listed in the newspapers, although once again under varied names. A newspaper article places Mr Lum Chee in Dalby in 1888, as he is listed as Mr Lum Quee (pronounced Chee), a Chinese storekeeper.
The Western Champion (Blackall/Barcaldine), 18 December 1888. Courtesy of Trove, National Library of Australia.
Maryborough Chronicle, Wide Bay and Burnett Advertiser, 13 January 1915. Courtesy of Trove, National Library of Australia.
Comments
Your email address will not be published.
We welcome relevant, respectful comments.