A Brief History of 'Beenleigh'
By JOL Admin | 9 May 2014
Guest blogger: Don Watson - architect and historian (2012 John Oxley Library Fellow)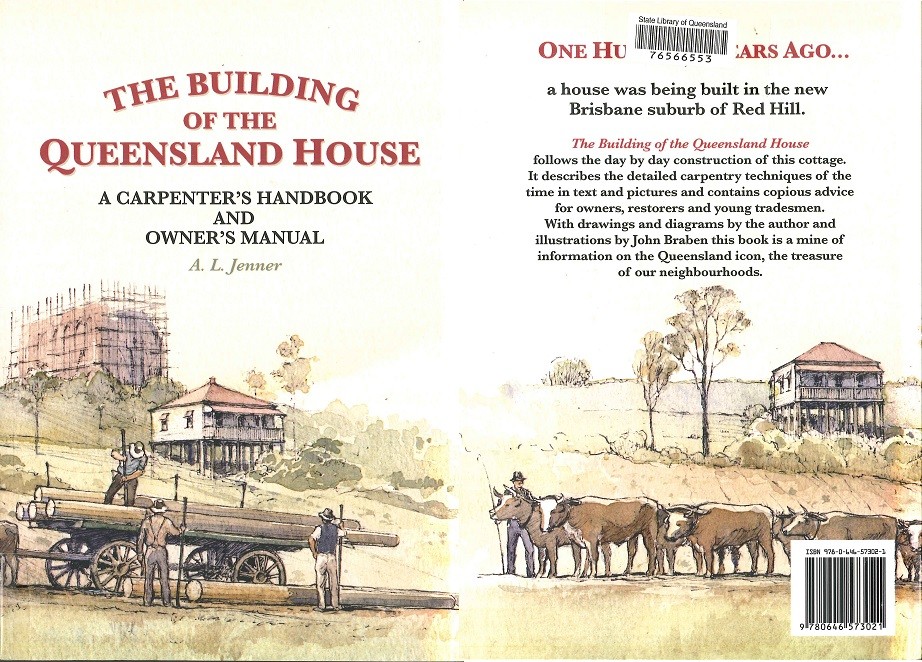 The building of the Queensland house : a carpenter's handbook and owner's manual by Andrew L. Jenner
If you are looking for information about Queensland timber houses, a delightful and very informative text about their construction is The building of the Queensland house : a carpenter's handbook and owner's manual, written and published (in 2012) by the author, Andy Jenner. Andrew Lathan Jenner (1943- ) was born at Wallase, Cheshire and trained as a carpenter and joiner with John Barnes of Suffolk and Rollo Sherwill of Guernsey, Channel Islands. Jenner migrated to Australia in 1979 as one of the last ten-pound poms. In his book, he follows the process of constructing a timber Queenslander as if he were the original builder. The narrative is based on his own experience in conserving his own house in 1977-78, but reflecting also his subsequent experience over more than thirty years working on local timber houses. In 1977-78, Jenner's house was at Red Hill in Brisbane. After carefully completing his work, Jenner sold the house. Later, when he returned, the house was gone, despite Jenner's care and concern for its longevity.
Most of the book is illustrated with useful sketches by John Braben, but also includes photographs taken by Jenner. Among these are three of the house, which from its juxtaposition to St Brigid's Church, Red Hill and a steep fall to the rear of its site, together with Detail Plan 117 of the Brisbane City Council, make it possible to identify the house as Beenleigh, 25 Upper Cairns Terrace, Red Hill.
Beenleigh, Upper Cairns Terrace, Red Hill, c.1977. Reproduced with the kind permission of Andy Jenner
Rear view of Beenleigh, Upper Cairns Terrace, Red Hill, c.1977. Reproduced with the kind permission of Andy Jenner
On the rear cover of his book, Jenner supposes that the house was about '100 years old' but research suggests an earlier date, c.1886. A search of the title shows that the site (Subdivision 4, Portion 721, Parish of Enoggera, 23.4 perches) was acquired by Robert Mills of Brisbane on 29th July 1885. On 9th December 1885, he takes a mortgage with the Brisbane Permanent Benefit Building & Investment Society for £140 which may have been towards the cost of the house. On 23rd November 1897, the land was transferred to Helen Urquhart, wife of Thomas Urquhart.
This occurred after the death of a Robert Mills on 2nd March 1897 (Death certificate 1897/1587). Mills' funeral was held from the residence of his son-in-law William Day, Cairns Terrace, Red Hill (Brisbane Courier, 3.3.1897, 1). In 1889, William Day had married Margaret Rubina Mills, the eldest surviving daughter of Robert Mills, a printer who died in 1897.
In the Post Office Directory for 1885-6, a Robert Mills, compositor, was living at Petrie Terrace. A year later, there are two Robert Mills, the second, a clerk living at Cairns Terrace. Mills' eldest surviving son in 1897 was Robert William Albert Mills, presumably the Robert Mills, who occupied the house prior to his sister and brother-in-law, Margaret and William Day. Robert William Albert Mills had married Elizabeth Murphy at Brisbane in 1884. In the following year, the house was built for Robert Mills snr, apparently for the use of his married children. The name Beenleigh was in use by 1937.
From an obituary, quite a lot is known of Robert Mills snr (Telegraph, 2.3.1897, 5) who had a long association with Australian newspapers. He was born Longford, Ireland late in 1827. With his parents, brothers and sisters, he migrated to Australia in 1850 on the Argyle. The rest of the family went to Sydney but Robert stayed in Melbourne where he married Ann Mills (it is not known in they are related) in 1852. In the boom conditions Robert prospered as a compositor and was associated with the Melbourne Argus in its early days. Later he worked in Sydney on Henry Parkes' paper the Empire before in 1863 he moved to Brisbane where he became overseer of the Guardian for which his brother Charles was stone-hand. After the Guardian was incorporated in the Courier, Robert Mills was printer and publisher of the Express. Following its demise in 1871, he brought out is successor, the short-lived Colonist which merged with the Telegraph in October 1872. Mills then worked for the Queensland Government Printer before overseeing a new Roman Catholic journal, the Australian, before he returned to the Telegraph where he spent almost the balance of his career in the composing room. He was a strong Protestant and an active member of the congregations of All Saints, and Christ Church, Milton. He was a lieutenant with the Fortitude Valley Corps of the volunteer Queensland Defence Force and one of the first presidents of the Queensland Typographical Association. With members of his family living at Cairns Terrace, Robert Mills moved from Petrie Terrace to Thorroldtown where he lived for many years until his health failed late in 1896 and he returned to Cairns Terrace to live with Margaret Day, his married daughter. He was buried at Toowong.
When I referred this information to Andy Jenner, he queried the area of the property (23.4p) and it quickly became apparent that Beenleigh as shown on Detail Plan 117 (and on page 16 of Andy's book) would have fitted on Subdivision 4. A check of the title of Subdivision 5, the neighbouring property on the eastern side, showed that it also was owned by Andy Jenner, making the site of Beenleigh 46.8p, with the house straddling the common boundary between Subdivisions 4 and 5, an unusual circumstance, but not a difficulty at that time, provided that both allotments were owned by the same person. Subdivision 4 (No. 25 Upper Cairns Terrace) was transferred from Helen Urquhart to Isabella Campbell Ferguson, wife of William Ferguson, a Sergeant of Police in July 1900. Isabella transferred the title to her husband in October 1905, on the same day that he purchased Subdivision 5 (No. 23 Upper Cairns Terrace). What this probably means is that although the core of Beenleigh was built c1886, the eastern side verandah (which overlapped the common boundary) was not added until after 1905. Previously Subdivision 5 was owned by Matthew Lovenberry until 1901 when he sold it to Francis Alexander Jackson Isles in November 1901 who sold it to William Ferguson in 1905. Such an extension would explain a change in wall cladding on the rear elevation and with this knowledge, would also have been apparent elsewhere in the house.
Detail Plan, Brisbane City Council. No.117. Courtesy Brisbane City Archives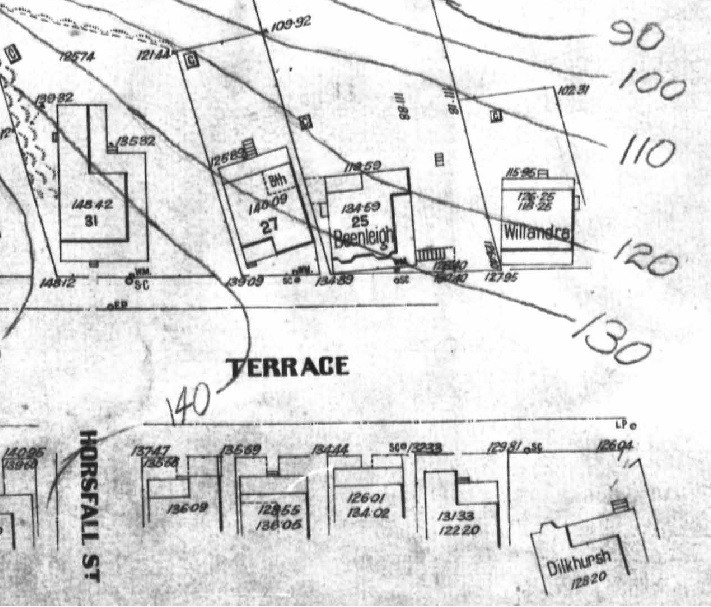 Detail Plan, Brisbane City Council. No.117. Courtesy Brisbane City Archives
Beenleigh passed through a further five owners before it was purchased by Andy Jenner in June 1977. Sometime after he sold it in February 1978, Beenleigh was removed or demolished. None of this information diminishes the usefulness and interest of Andy Jenner's book. .
Thanks to Andy Jenner; Annabel Lloyd, Brisbane City Archives; and Kaye Nardella, Museum of Mapping and Surveying
Comments
Your email address will not be published.
We welcome relevant, respectful comments.