kuril dhagun is a welcoming and respectful place designated for First Nations communities to meet, gather and celebrate culture by sharing First Nations knowledge and stories. kuril dhagun provides access to First Nations clients who seek to engage with State Library services, resources and collections. It is also a culturally appropriate venue for First Nations community members, community groups and organisations to host their cultural events, meetings and other activities.
About kuril dhagun
Located on level 1, kuril dhagun is a dedicated cultural and multi-purpose space designed to inspire community participation and engagement. Since 2006, kuril dhagun has been a nucleus for Queensland's unique Aboriginal and Torres Strait Islander cultures and a significant cultural and learning space for the community. kuril dhagun displays inspiring and thought-provoking showcases and presents a variety of events and activities for the community to enjoy.
kuril dhagun is a welcoming space for Aboriginal and Torres Strait Islander people to connect with our collections and services. It is a place for community members to meet, gather, discuss and celebrate. It is also a space of authentic learning, where visitors can experience the diversity of Aboriginal and Torres Strait Islander cultures and stories. The name is made up of the Yuggera language words: 'kuril' represents the native marsupial that is found near Kurilpa Point on the Brisbane River, and 'dhagun' means the earth, place or country, therefore translating to 'kuril's place'.
kuril dhagun is led by a team of Aboriginal and Torres Strait Islander staff members who can assist with navigating State Library's collections and services, including family history research and venue hire of the kuril dhagun space.
20 Years Strong
Celebrating Indigenous Knowledge Centres (IKCs) highlights the people and programs that have been delivered in communities and IKCs.
Free showcase
8 Oct 2022 – 2 Apr 2023
kuril dhagun, level 1
Learn more
Main kuril dhagun event space.
Kurilpa Country, Lilla Watson 2006.
Main kuril dhagun event space.
Kurilpa Country, Lilla Watson 2006.
Main kuril dhagun event space.
Kurilpa Country, Lilla Watson 2006.
The space
The kuril dhagun space is a flexible multi-purpose space that can be used for large and small scale events, as well as a yarning space for community groups to gather or simply connect with others. The kuril dhagun showcase proudly displays the stories of many of our Aboriginal and Torres Strait Islander communities.
The Real Time wall is devoted to displaying various Indigenous media sources including NITV and is aired on the big screen.
You can experience a number of artworks from Queensland Aboriginal artists including Megan Cope's MAIWAR Yunggulba, 2017, the late Laurie Nilsen's Dolly, Birds on a Wire, and Aunty Lilla Watson's Kurilpa Country.
"Beneath the Southern Cross,
and the canopy of the rainforest along the river bank,
the Kurilpa, which still survives here,
dug out its nests, and left its tracks.
They looked out over the river,
the ripples on its surface stirred by the wind and tidal surge,
and the fish swimming in the water."
– Lilla Watson, 2006
Talking Circle
Fire remains a key aspect of community life – gathering around the fire, yarning, sharing, dancing and eating and the Talking Circle is an outdoor seating area surrounding a fire pit that looks across the Brisbane River into the CBD. There are a number of smaller alcoves and an outdoor kitchenette, which is available for use by prior arrangement. Traditionally, both Aboriginal and Torres Strait Islander people would talk, laugh and share knowledge around the fire. Sitting in a Talking Circle allows everyone to be heard and is a great way of bringing people together to encourage participants to share experiences and communicate in groups.
Adorning the side of the building in the Talking Circle is a native Queensland vine called Faradaya Spledida. This Far North Queensland plant is the sole Australian representative of the Faradaya genus also found in Indonesia, Polynesia and Papua New Gunea. Faradaya is named after Michael Faraday, the pioneer in electrical research, and splendida means shiny or reflecting, referring to the sheen on the leaves. A resident family of native possums lives in the vines and local water dragons roam the ground.
The external panels facing the Gallery of Modern Art were created by late artist, Laurie Nilsen and several visual arts students from Griffith University's Queensland College of Art. The stonework and wood panels depict the unique geographical story of Brisbane.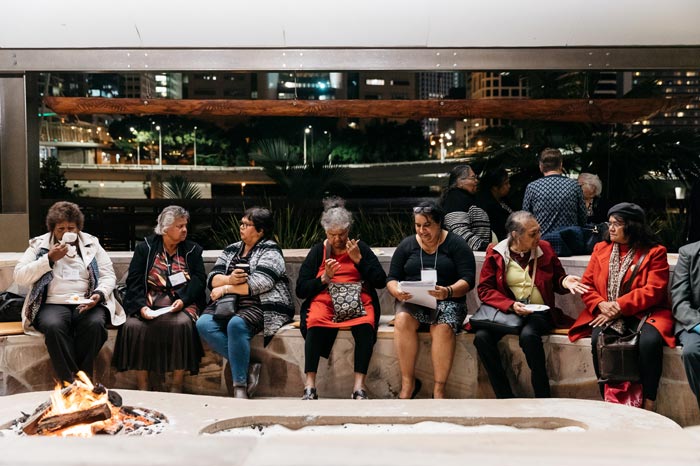 Loris Williams Room
The Loris Williams Room offers an intimate space for family or community meetings, workshops or seminars, by prior engagement. The Loris Williams Room is named in honour of Loris Elaine Williams (1949-2005), who was an Aboriginal woman of Mulinjali (Beaudesert, South East Queensland) descent through her father, and Birri Gubba (Ayr, North Queensland) descent through her mother.
Loris was a passionate advocate to allow Aboriginal and Torres Strait Islander people the right to use archives as a means of reconnecting with family. She was the first Aboriginal person from Queensland to gain professional archival qualifications and spent the last 11 years of her life helping Aboriginal and Torres Strait Islander people to research archive material. Loris also encouraged her professional colleagues to recognise the significance of this work.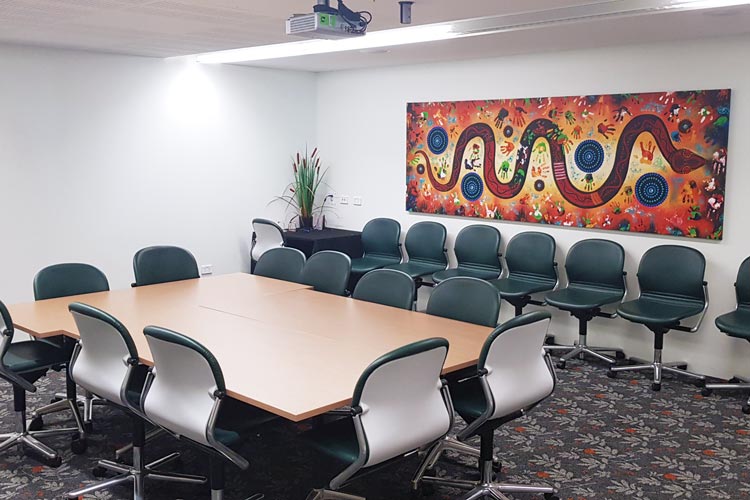 Book a kuril dhagun space
The kuril dhagun spaces are available for commercial booking through our Venue Hire page. All of the spaces offer multiple audio visual solutions for your event.
State Library is committed to working with and supporting Aboriginal and Torres Strait Islander people, communities and not-for-profit organisations to access the space to facilitate programs, events, workshops and to co-curate future showcases. Send your enquiry to kdhagun@slq.qld.gov.au for your next project or meeting in kuril dhagun.