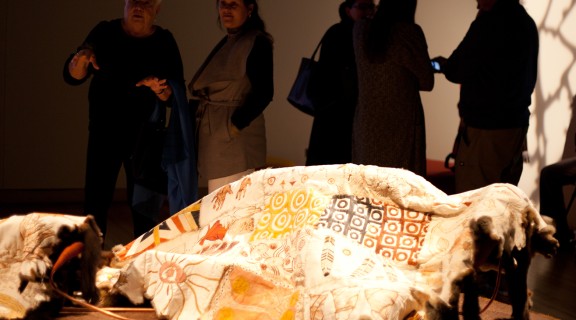 25 June 2016 ‐ 20 November 2016
slqGallery, Level 2
Awakening South East Queensland historical traditions through contemporary art, Art of the Skins revitalised the practice of possum skin cloak making.
Be inspired by how knowledge is gained and passed on through six richly decorated cloaks, collaboratively designed by Aboriginal community members.
In a trail that weaved from slq Gallery to kuril dhagun, explore historical and contemporary artefacts, accounts and images; hear oral histories from Elders, artists and academics; and be immersed in a vivid installation of contemporary representations of Country.
Paying homage to those who've come before us, Art of the Skins embodied the continuous, ever-growing and adapting nature of Australia's first cultures.
To support The Art of the Skins exhibition, State Library has created learning notes with teaching and learning activities linked directly to the Australian Curriculum. These notes are designed to enhance the onsite experience.
The exhibition was in the slq Gallery and in kuril dhagun, our Indigenous space. It closed on 20 November 2016.