Young Historians Workshop 2011
By JOL Admin | 11 May 2011
This week on 9 and 10 May a Young Historians Workshop, jointly conducted by Heritage Collections and Reference Services, was held at the State Library of Queensland. The workshop was sponsored by the State Library and the Queensland History Teachers' Association.
Young Historians Workshop participants 2011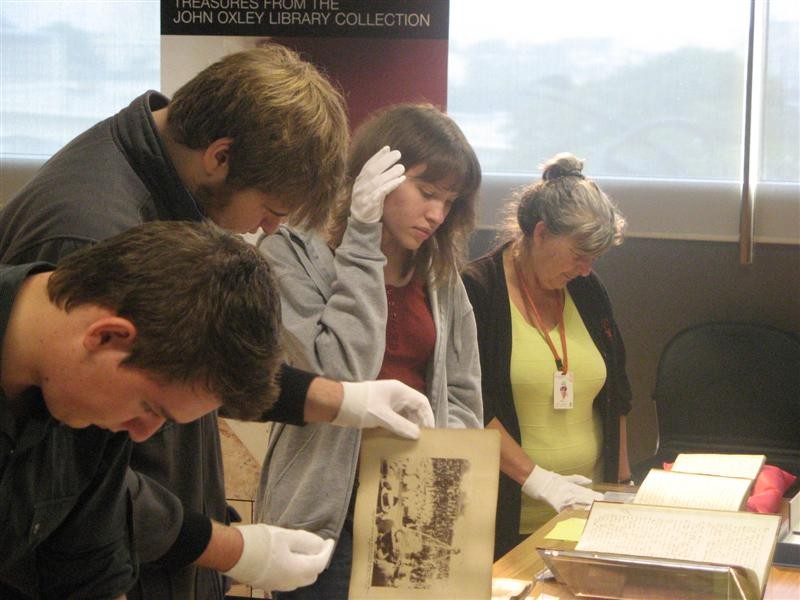 White Gloves Displays
Participants learned about the collections held at the State Library, including the John Oxley Library of historical material relating to Queensland as well as books, journals, databases and associated resouces accessable in the State Reference Library. This was a great opportunity for them to develop their research skills and tap into the rich resources available at SLQ.
Displays and tours were a key feature of the workshop. Students particularly enjoyed seeing and holding the items on show in the 'white gloves displays' in the Fox Family White Gloves Room on level 4 of the State Library. These included rare photographs, letters and diaries from the Oxley collection from the 1830s onwards and antiquities from the History and Art of the Book Collection including cuneiform and Roman tablets and papyri from Ancient Egypt.
Comments from students included the following:
It is difficult to express in words the gratitude I feel towards the staff.
Thank you so much for this experience, and the kind staff who helped us all with any problems we had and our research.
Thank you for the two days. I have learnt so much and had a great time.
The staff were amazing and very friendly.
I was unaware of the extensive library of resources that have to do with Queensland and Australian History and I found it intriguing.
It was amazing to be able to use the cataloguing and the databases for information.
I was amazed by the books in repositories, I thought in libraries what you see is what you get.
Special thanks to event organiser Linda Barron, SLQ's Client Learning Coordinator.
Simon Farley
Manager, Client Services - John Oxley Library
Comments
Your email address will not be published.
We welcome relevant, respectful comments.