Wrecked: a survey of shipwreck sites on the Queensland Coast with Paddy Waterson
By JOL Admin | 21 April 2011
Throughout its history Queensland's treacherous coastline has claimed nearly 1,400 vessels.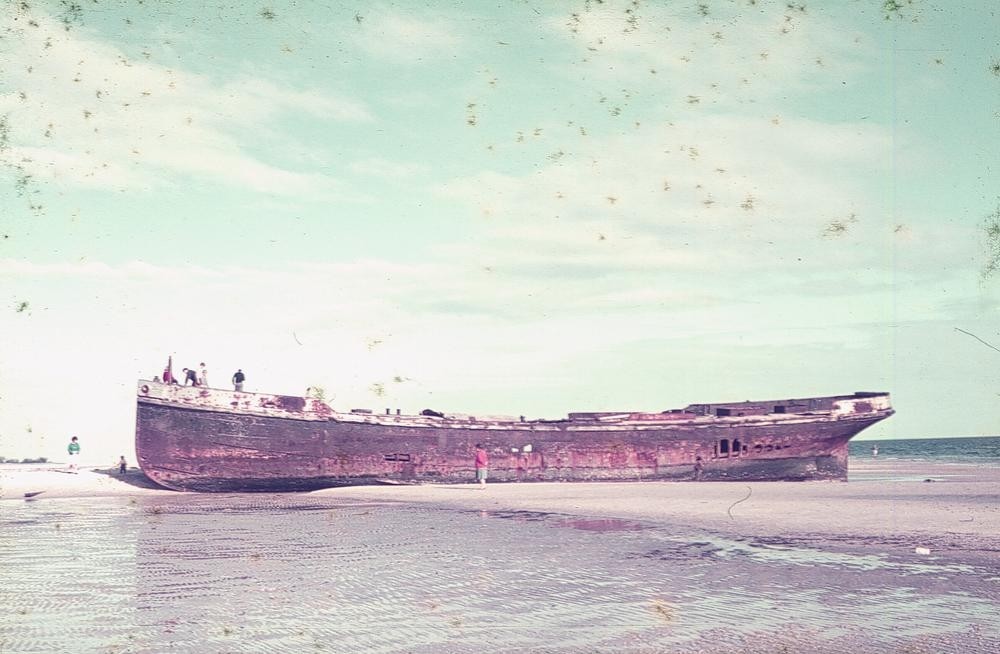 Shipwreck on Bribie Island, Queensland ca. 1955. Image number: lbp00169.
The high volume of sea trade coupled with the treacherous nature of our coastline resulted in many vessels being lost or abandoned. Today, these shipwrecks continue to attract attention, both from a historical and a tourism viewpoint. Yet, despite its profile there is much we do not know about our maritime heritage. The Department of Environment and Resource Management (DERM) is conducting a five year survey of Queensland's historic shipwrecks to draw together all the available information, establishing a more complete picture of where the wrecks are and what they can tell us.
On 20 April as part of its Out of the Port series of lunchtime lectures, in the State Library's auditorium 2, Queensland Government Shipwreck expert Paddy Waterson talked about this project and brought some of these fascinating stories to the surface.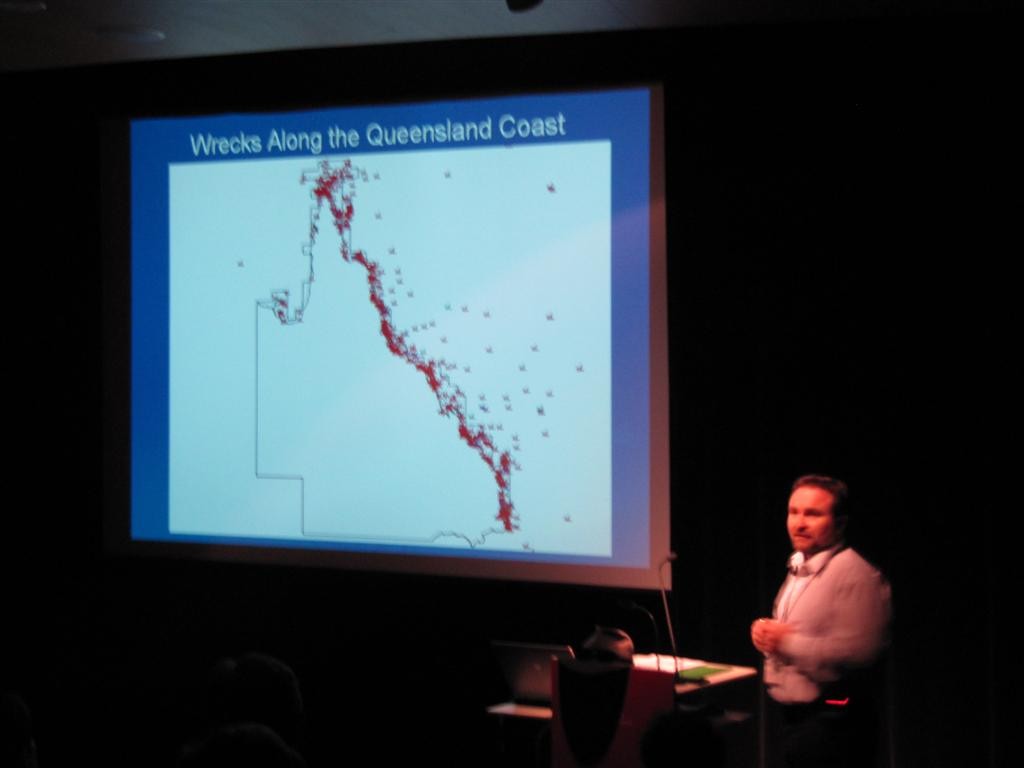 Paddy points out the large amount of wrecks that dot the Qld coastline.
Paddy is a Principal Heritage Officer with the DERM's Heritage Branch and has worked throughout Queensland, especially in the Far North, Wide Bay/Burnett and South-Eastern Districts. Initially trained as a general archaeologist/historian, Paddy has since completed postgraduate qualifications in forensic osteology and maritime archaeology.
Thanks to Paddy for a fascinating presentation that was greatly enjoyed by those in attendance.
Keep your feet in the water for our next Out of the Port session at 12.30 in Auditorium 2 on 18 May when Dr Jonathan Richards will discuss the topic of Death at the Beach: surf drownings, shark attacks and other marine fatalities in Queensland from 1900-1960.
Out of the Port is an initiative of the John Oxley Library and the Department of Environment and Resource Management's Heritage Branch. Talks are held at the State Library of Queensland on the 3rd Wednesday of every month at 12.30pm in Auditorium 2. Sessions are recorded and made available as webcasts.
Comments
Your email address will not be published.
We welcome relevant, respectful comments.